The stone-cold truth of the matter is that most of us guys absolutely suck when it comes to pleasuring women. Therefore, if a girl is lucky enough to find a man who gives fantastic head all the time, she will think twice about leaving him.
Thankfully, with just a little bit of practice and our six-step guide included below you can join the ranks of "elite few" who know exactly how to eat her out like a champion.
The best part?
This s*it really works. You will give her the kind of oral sex that she will brag about in front of her friends. I bet they will beg you to talk to their boyfriends and "train them up".
The Stallion Style Guide
Set Your Mind To It
Step #1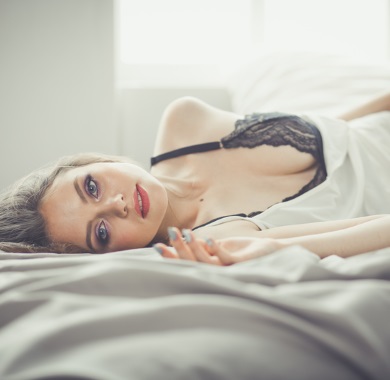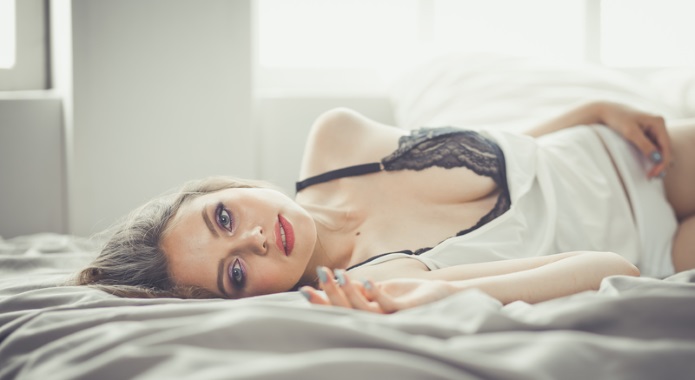 If you want to be the best at giving her oral sex you will need to have an attitude that's entirely different from 99.99% of everybody else's. You see, most men are eating pussy like it's a chore, like they're being asked to take out the garbage or something.
They go through the motions, do this, touch that.
They wiggle back-and-forth for some weird reason without actually ever focusing on giving her pleasure first and foremost. So, the first thing you need to do to master this practice is to change your mindset.
My advice is to imagine that you are starving.
Now, her clit and her pussy are the only things that you can eat after several days or even weeks of hunger. Set in your mind that her pussy and her juices are the best food you can ever get and you can't get enough of it.
That's what you're trying to do.
Just keep in mind that you are not mastering some "Buddhist pussy eating technique". You need to lead her body, adjust, and elevate the experience for her and her alone. Remember that and she will always be happy.
Tease Your Way Down Her Body
Step #2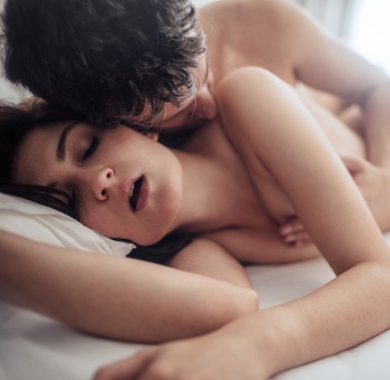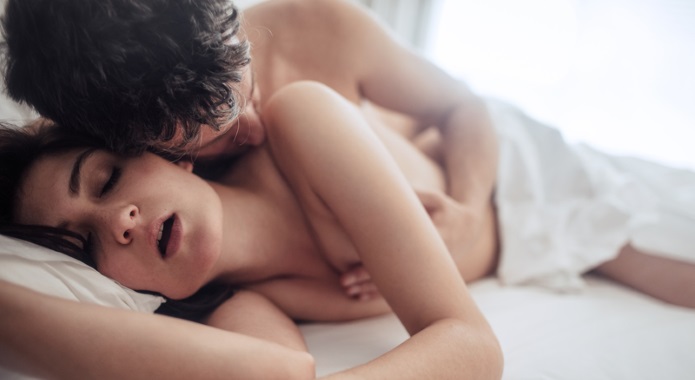 After setting up your mindset the next step here is to tease your way down her naked body (I assume you have already undressed her during foreplay). The main purpose of this step is to build enough anticipation in her to make her achieve orgasm much more easily.
Here's the deal:
Start kissing her whole body (you can even throw a bite or two if she likes that).
Always start at her neck and work your way down very slowly (be patient, as you will be all over her pussy in no time).
Don't spend too much time on her breast and nipples (you should have done that already before and during the undressing phase).
The primary focus of your attention should be her belly, pelvis area, and pubic bone.
Use your hands and fingers for extra stimulation as well.
Just remember not to go inside her. Your primary goal at this stage is to playfully tease her.
Actually, if you do all of this properly, she will be wet enough already and want you to go directly to lick her pussy and clit. She may even push you softly with her hands in that direction.
However, this is the perfect time for you to do the opposite instead. Just check out the directions in the third step of this guide.
Use Kiss, Bite & Deep Breath Method
Step #3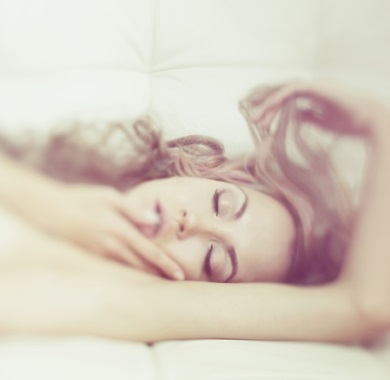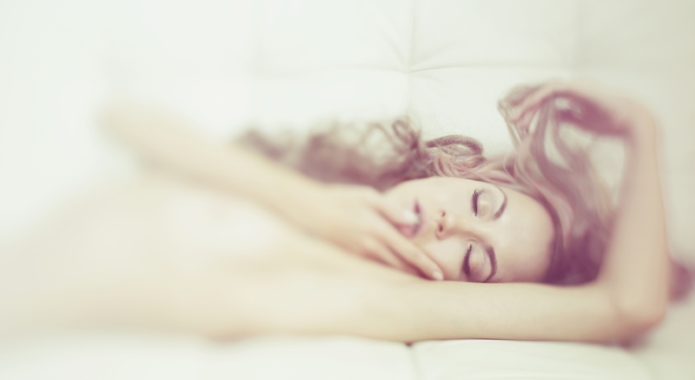 So you have ended by kissing her lower belly and pubic bone and she is all ready for you. She expects you to put your lips all over her clit.
However, as your mouth slowly reaches her pussy all you need to do is to just apply these steps:
Blow your warm breath onto her pussy and continue with kissing inner sides of her thighs.
Never blow air into her vagina as this will cause serious health problems that may have even fatal consequences.
Start kissing her in the area of her knees.
Then go slowly and teasingly from there towards her clit.
You can switch between kisses and very soft bites. Just keep in mind that this area is very sensitive so be extra gentle with your teeth.
Once you are near her pussy, again blow slowly on it and go to another leg.
Repeat the instructions #1-5.
By this time, she should be soaking wet and beg you to eat her out already.
Her tension and anticipation should be at the highest levels now. Finally, this is the time when you can really start playing with her clit. Just follow the techniques below to make her cum easily.
Try These Bulletproof Techniques
Step #4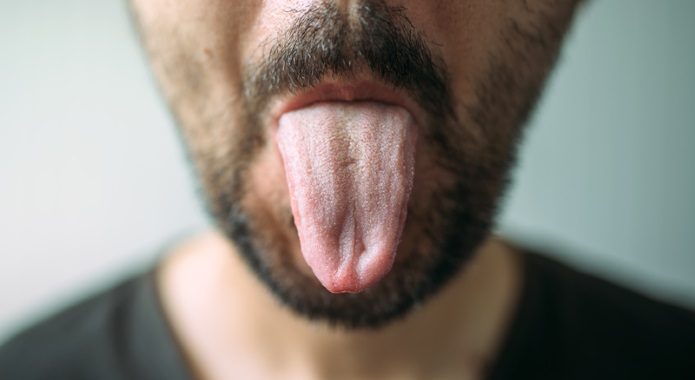 If you have followed all the steps above to the point, she should be dying for you to take action. At this point, you can either choose to further build up her tension by slightly licking her clit with just the tip of your tongue, or you can go for full licks of her whole vulva.
There are many techniques for you to choose from. Based on my own experience, it is best to stick to one technique for a few minutes in the beginning and only then vary your "moves".
The Basic Move (Dog Lick)
Technique #1
The "Dog Lick" technique is one of the basic methods that each and every guy needs to know. It is very simple and all you need to do is:
Make your tongue flat
Relax it as much as possible
Lick her whole vulva (including her labia, vaginal opening, and clit) with your flat relaxed tongue in a slow motion
Do this from the bottom (her vaginal opening) to her clitoris
When returning down just follow her inner and outer labia on one side by the tip of your tongue
The second time you need to focus on her lips on the other side
This is a very simple technique each and every guy should begin with as it shows your interest in her and that you enjoy her pussy.
The Lips Check Up
Technique #2
The "Lips Check Up" may sound like something that is a part of a daily job of a gynecologist. However, it's an excellent way to build anticipation when "going down on her".
All you have to do is to follow these few steps;:
Make your fingers wet (use your saliva or her pussy juice)
Spread her labia from each other with your hands
Begin with kissing her outer labia (both right and left)
With a flat tongue, lick her outer labia from bottom-up and return with the tip of your tongue in the space between her inner and outer labia (both right and left)
You can continue by sucking gently on each of her inner lips
Just keep in mind to pay attention to each of her labia as there is nothing worse when some part of her vulva gets absolutely no attention at all.
Tongue Penetration
Technique #3
The "Tongue Penetration" technique is very easy to follow. All you will need is your tongue and a little bit patience.
Here are a few instructions:
Stick out your tongue
Make it as firm as possible
Penetrate her with your tongue and mimic "in and out" movements you normally do with your penis when having sex
This move is great as it leaves her clitoris without your attention for a while and in this way it builds more anticipation in her. By the way, expect pain and soreness in small muscles around your throat after doing this technique for some time.
The Clit Flicker & Sucker
Technique #4
The "Clit Flicker & Sucker" is a very intense method that focuses directly on her clitoris. Therefore, avoid this technique if she is too sensitive in that area and cannot handle direct stimulation.
If she can, congratulations – you can proceed to these steps:
You need to expose her clitoris by pulling its hood away with one of your fingers (use either your thumb or index finger)
Once exposed, put your lips and mouth all over it
Place your tongue under her clitoris and start flicking it slowly and gently
Move your tongue up & down and increase your speed gradually
Add side-to-side and circular motions into the mix
As she gets closer to climax, suck on her clit a little bit and escalate your vacuum and suction power until she reaches a very intense orgasm
Some women can't handle direct stimulation and sucking of the clit. Therefore, change this technique according to her preferences.
Dive In With Your Fingers
Step #5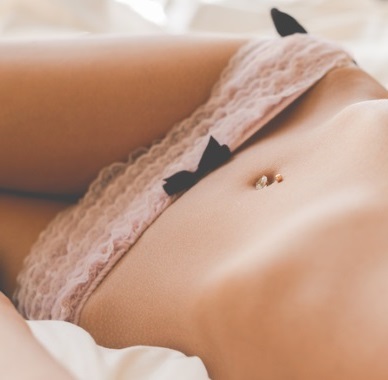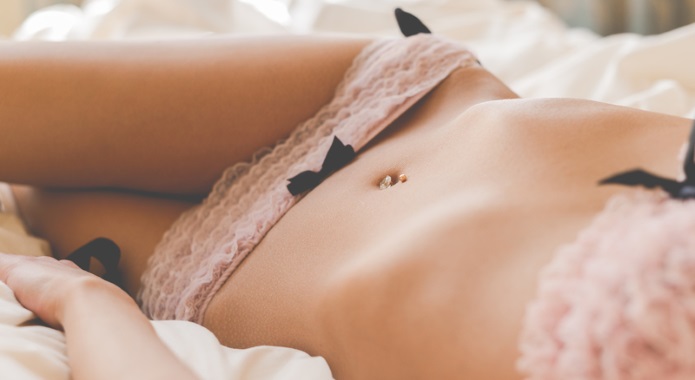 This last step is rather optional than necessary as not every girl loves it. You can add some fingering techniques to your cunnilingus efforts.
If you decide to add fingers into your love play, you need to do some preparation first:
Don't forget to trim & file your fingernails
Make your fingers wet to avoid skin irritation upon entering her pussy
Once everything is in order and prepared, you can try this "Come Hither" technique:
Enter her pussy with your middle and index fingers. You can use two fingers because she will already be well aroused from your work on her clitoris and that means one would be too thin.
Go for an "in and out" motion at first.
Then slope them upwards against her frontal vaginal wall.
Do a "come here" motion with your middle and index fingers inside her.
You need to rub her frontal vaginal wall (where her G-spot is) with your fingertips.
Start slow and gradually increase the speed and rhythm up to an explosive finish. Some women prefer this motion to be fast while others like it slow and steady.
Always try to adapt to her rhythm. It will change according to her arousal levels – the hornier she is, the more you should speed it up. You can always identify how aroused she is by listening to the way she breaths.
I have already got some comments and messages from girls who say that they don't like any fingering when guys are eating their pussies and licking their clits.
They consider it distracting.
As you can see, each and every woman is individual and you need to either have an open discussion on this topic or you need to "test the waters" by yourself.
Do Not Stop At Orgasm
Step #6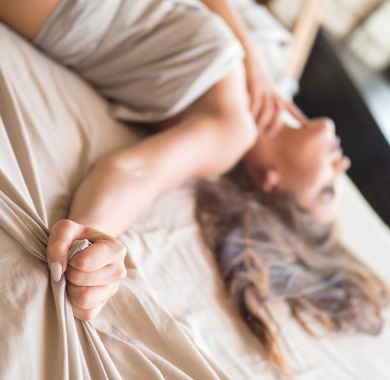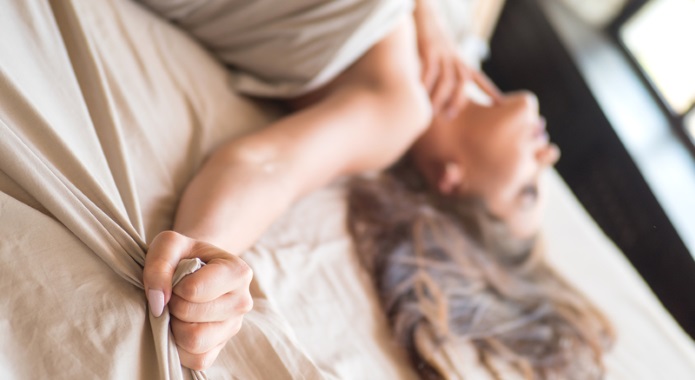 Do not, I repeat – DO NOT – stop if she is reaching her climax. If you are wondering how to recognize that she is on the verge of an orgasm, then read the next passage carefully.
There are several bulletproof signs you can look for while eating her pussy. Just keep in mind that each and every girl is unique and shows an individual collection of signs she will be reaching orgasm soon:
Hard nipples – While you are working with your mouth on her clit, let your hands wander up to her breast. Are her nipples hard? Sure, she may be cold but I bet she is so aroused she is going to cum soon.
Reddish skin – If you are eating her pussy for some time and you are worried she is not even close to her orgasm, just kiss your way up to her breast and suck a little bit on her breasts and nipples. As you are there just check the color of her skin on face and breasts. Does it have a reddish color? She will be reaching orgasm soon, trust me.
Fast & heavy breathing – Girls have this in common with guys; once they are reaching an orgasm, their breathing becomes fast and heavier. So if you notice her breathing pattern changes this way, you are on the right track.
Warmness in her lower belly – Right before a girl reaches an orgasm, all her lady parts, and lower belly will become aroused and the blood flow in these parts will increase significantly. This leads to a buildup of body heat and warmness in her lower belly.
Spontaneous muscle contractions – A lot of girls do experience spontaneous muscle contractions when reaching climax. In general, her legs and thighs will be shaking and trembling and she may be arching her lower back and lift her pelvis. If she is lifting her pelvis, you should copy her movement with your head and never fight the movements of her body.
My last piece of advice is to keep working on her clit once she is close to climax. Try to leave your tongue on the bottom of her clitoris while stimulating its hood by your lips at the same time.
This way you may give her even multiple orgasms at once.
Just keep this guide in your mind the next time you are going down on her. I bet that if you follow it to the point she will experience the best oral sex of her life and will be glad to return the favor.
Trust me, this is one of the best skills you should master so keep practicing.
"Think of a clit as the head of your penis. You know how you don't like teeth rubbing on your penis when you're getting a blowjob? It's the same thing with a clit, but get this: a clit has more nerve endings than a penis. You know what that means? IT'S EXTRA FUCKING SENSITIVE."
"So, you need to begin by licking her softly. As in, barely making contact the first few strokes of your tongue. Not only is this necessary, in the beginning, but it's going to make her want more. Then you can begin to push through her outer lips (labia majora) with your tongue, move in to her smaller lips (labia minora), and to her clit."
"Keep it soft for a while, making soft strokes with your tongue (licking up, slightly pulling your tongue back into your mouth to bring it back to its starting position to lick up again) it's going to feel amazing to her."
"You do not want to overwhelm her by going too hard in the beginning. I promise you when she wants it harder, she's going to pull your head closer or tell you harder."
"You need to know this: while the clit gets all of the praise, it's not the only game in town. The labia minora and labia majora are super fucking sensitive, too. You cannot just keep lick, lick, licking her clit and expect her to get off. Remember, it's sensitive and there can be such thing as too much."
"Give her clit a break and pay attention to her lips by licking and sucking on them, and licking them as you're sucking on them. You can also give her clit a break by sucking and biting on the inside part of her thighs."
"If I may add some thoughts:"
"This slow love-making style begs for some background music. Nothing too loud or carries a fast/dance tempo. Best to play something with few/soft lyrics, check erotic lounge."
"Before you reach the part where your kissing/licking/sucking on her boobs, don't forget the power of finger touch. Try licking your index finger and barely touch her nipular area moving in circles around her nipple without touching the tip."
"You might wanna take your shirt off a bit sooner. The feeling of bare chests touching each other is a huge turn on for lots of women (and for me as well). A good time to do that is after kissing your way down to her pants/skirt and pulling them down."
"As you're kissing your way up her legs/thighs, keep going up one last time all the way up to kiss her lips again. This time you're giving her the bare chest feeling moving up and then moving down again to continue with your scenario."
"After you reach the g-spot area by moving up with your finger on the front wall of the vagina in a 'come to me' gesture, I noticed that this area is very sensitive to pressure even more than rubbing."
"Try to slow the motion of your 'come to me' gesture and instead apply a bit more pressure to that area with the tips of your fingers when they r at the end of the motion pattern (just before they are pointing at you)."
"You mentioned the finger fucking while licking the clit and rubbing a boob style, I wanna add another. While you're inserting 2 figures (index+middle or middle+ring) and pleasuring her g-spot, try reaching for her clit with your thumb (make sure it's moist)."
"This creates the opportunity of your other arm having a long reach to actually hold her and your mouth to kiss/lick/suck not only her boobs but her lips/ears/neck as well."
"Some women are extremely sensitive in the clitoral area and can only take a firm licking when they are near climax, others need it to even get there."
"If she seems responsive and makes sounds as if she likes that and wants more, keep softly licking her, side to side across her clit and up and down over it. Use your lips. Place them around her clit and use them to pleasure her, but don't suck too hard."
"Imagine gently holding a delicate grape in place between your lips. Enough pressure to hold it in place and manipulate it but not enough to bruise or break the skin."
"Alternate between that and licking, increasing pace and pressure as she responds and gets closer to climax. As one person mentioned above, if she starts to really moan and move her hips in time with your ministrations, or says "don't stop", don't stop."
"Don't increase your pace or pressure unless she says so, if she says don't stop it's because exactly what you are doing and how you are doing it is going to make her come. Hope that helps, have fun."