Finally – underwear that's fun to wear! They take self-pleasure – and couple fun – to new heights. They're discreet, quiet and easy to control.
Make sure you read as well for kinky inspiration:
With some featuring remote controls, you can tease your lover in public – without anyone ever knowing!
If you're looking to spice things up in the bedroom, these top nine pieces of vibrating underwear are sure to please – literally.
Women Try Vibrating Panties for The First Time
Click on the Image Above to Watch the Video
#1 – FixSation Couple´s Vibe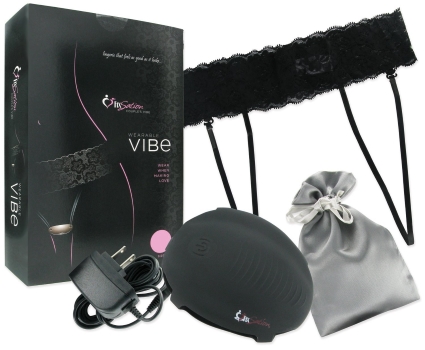 Read More: Eating Pussy 101: Become Her Master with These Tips and Tricks
With three speed of vibration, the first model on our list is a tireless lover that can tend to your every need. Wear it under clothes for discreet fun on the go, under lingerie for even more fun in the bedroom or during sex to bring your pleasure to the next level!
With a pretty black lace band, this model is:
Feminine and oh so much fun to wear.
And it's quiet too, so you can stay focused on the moment.
Rechargeable and designed to help women achieve orgasm during sex.
It's easy to use and designed for uninterrupted penetration.
Rechargeable, the vibrator can go two hours on a single charge. This model is fun for both you and your lover with stimulation that will take your love-making to the next level!
Price: For $99.00 on Vibrators.com
#2 – Love Rider Self Pleasurizer by California Exotic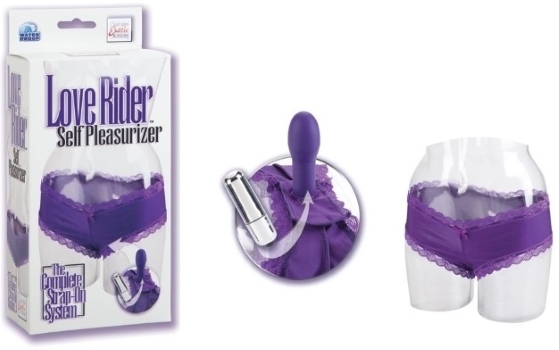 Read More: 5 Fabulous Tips to Make Any Woman Squirt Easily
Finally – an underwear that doesn't look like a vibrator. Trimmed with lace and silky smooth, these boyshort panties have a little secret hidden inside – a 3 1/4" probe.
Just slide these on, slip the probe inside and press a button to enjoy endless pleasure:
With a soft bulb tip, the probe always stays in place for discreet, quiet use wherever – and whenever you want.
A 2 1/4" bullet vibrator slips right into the probe, which is sewn into the panty.
With this set, you get two free watch batteries, so you can enjoy a little self-teasing right out of the box.
Unlike other models on our list, these don't stimulate her clitoris. The Love Rider's secret is in the probe's vibration. It's discreet and super quiet. Wear it while you're running errands, working out or enjoying some time alone.
Price: For $35.95 on AdamEve.com
#3 – Wireless Venus Butterfly by California Exotic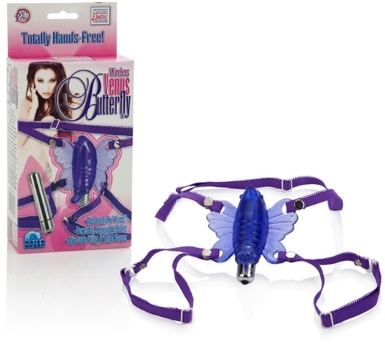 Read More: How to Give Perfect Fellatio: The Ultimate Guide
The Venus Butterfly has been a favorite for more than 25 years, and now you can enjoy all its pleasures without a wired controller. With an adjustable waist and thigh straps, this vibrator stays where you want it:
It's perfect for couple's fun or an evening of self-pleasure.
Just position it wherever your heart desires and the Butterfly will land perfectly on all your erogenous zones.
Tighten or loosen the straps to keep your Butterfly in place.
If you want to experience the teasing of a vibrator without having to hold onto it, the Venus Butterfly will set you free. This model features a bullet vibrator with push button. It runs on 1 AAA battery (not included).
Price: For $24.95 on AdamEve.com
#4 – Neon Vibrating Crotchless Panty & Pasties Set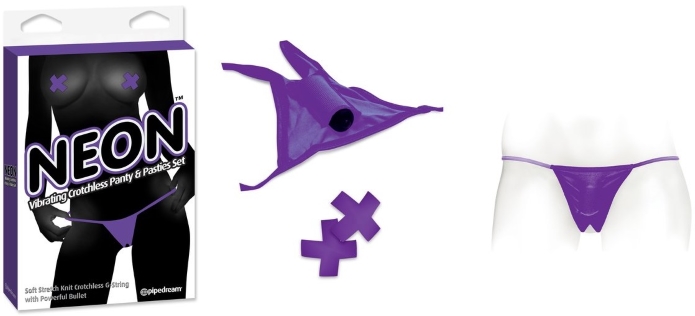 Read More: Ben Wa Balls Will Improve Your Sex Life, Trust Me
This set will turn an ordinary night into an extraordinary one:
The G-String looks like any other ordinary underwear, but hiding inside is a powerful bullet that stimulates you where you want it most.
Crotchless, you can wear these panties during sex for the ultimate in pleasure.
With a whisper-quiet motor, you won't be distracted from your pursuit of pleasure.
You can wear them in the shower or hot tub to turn your bath time into teasing time! Did we mention these come with a set of pasties for even more fun in the bedroom?
Price: For $19.95 on AdamEve.com
#5 – Power Bullet Panty Vibrator & Lace Boyshorts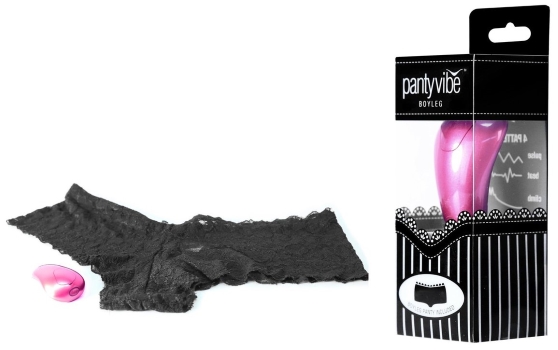 Read More: The Best Pussy Pump Guide You Need to Read Today
The Power Bullet vibrating underwear should be in every woman's bag of pleasure tricks. Made of gorgeous lace, these boyshorts panties have a secret hidden compartment. Slip the PantyVibe vibrator inside to take self-teasing to a new level!
This model comes in three sizes, so you can find the perfect fit for you.
With 4 vibration patterns and three speeds, you're sure to reach new heights.
Made from ABS plastic, the vibrator is smooth and sleek.
Powered by batteries, you can enjoy hands-free, wire-free pleasure anytime and anywhere you want. Six LR44 batteries are included, so you can get started right away.
Price: For £40.00 on SimplyPleasure.com
#6 – Vibrating Panty from Fetish Fantasy Elite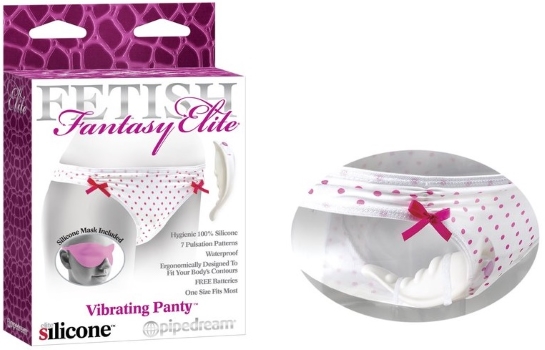 Read More: 10 Most Popular Female Sex Toys
Want underwear that will rock your world? The model from Fetish Fantasy Elite has a naughty little secret – a hidden clitoral massager that's perfectly placed to give you mind-blowing pleasure:
Tucked away discreetly inside this low-rise underwear, the vibrator will stimulate you in all the right places.
Soft and comfortable, you'll forget you're even wearing panties.
The clitoral massager features seven pulsation patterns from a light flutter to a powerful throb.
With a touch of a button, you can find the right rhythm for you!
It's hypoallergenic and expertly crafted to fit right inside the panties.
Made from medical-grade silicone, this model quickly warms to your body temperature, giving you incredibly realistic stimulation.
Wear these wherever you want – at the office, in the car or at home. As an added bonus, the set comes with a silicone mask for even more naughty fun in the bedroom.
Price: For $35.00 on Amazon.com
#7 – Ohmibod Club Vibe 2.Oh!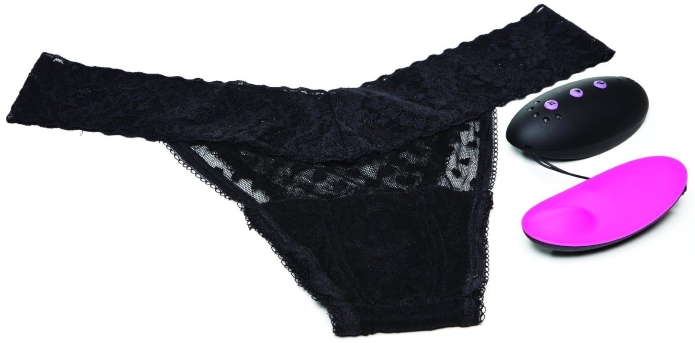 Read More: The 10 Best Male Sex Toys That Are Worth Your Money
Experience pleasure like never before with a product that's powered by music. The Club Vibe 2.Oh! is designed for seriously naughty fun in public. Featuring a sexy black lace thong, a vibrator slips right inside a pouch for a night of pure joy.
This is no ordinary vibrating underwear. Your partner can get in on the action by:
Controlling the vibrator from as far as 20 feet away.
Get her going with more than five speeds and patterns.
She'll never know when you're going to hit the button!
Surprise her while she's ordering a drink, or drive her crazy on the dance floor.
This model will sync with the vibrations of the music for seriously dirty dancing! Running on rechargeable batteries, these panties can keep going for up to four hours on a single charge.
OhMiBod's Club Vibe 2 OH
Click on the Image Above to Watch the Video
Price: For $79.00 on Shop.OhMiBod.com
#8 – Fetish Fantasy Series 10-Function Remote Control Fantasy Panty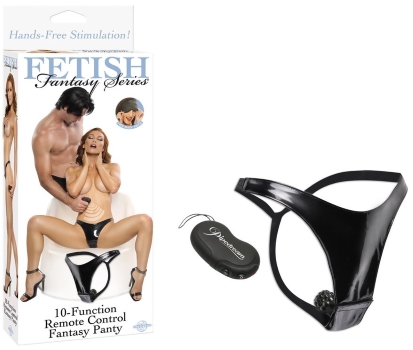 Read More: 13 Female Erogenous Zones You Need to Pay Attention To
This Fantasy Series model will put your pleasure in his hands! Tucked inside these little black panties is a powerful vibrator that your lover can control from 25 feet away with a discreet remote.
Simply slip the bullet vibrator into the textured rubber plug for quiet teasing anytime, anywhere. With a simple push of a button, your lover can take the pleasure from a flutter to a throb. Wear them out to dinner or at home for a naughty evening of fun.
Price: For $115.70 on Amazon.com
#9 – Little Black Thong by California Exotic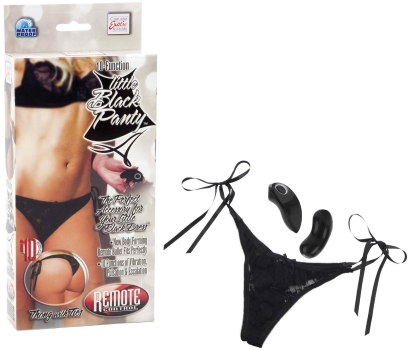 Read More: 10 Tips to Turn a Girl On and Make Her Horny
The name says it all. This little black thong is the perfect accessory to your little black dress. Discreet and sassy, a tiny 2 1/2" bullet vibrator is hidden inside the thong's liner:
With a separate remote control, you can enjoy pleasure whenever or wherever you want.
Or, put the remote in your lover's hands for spontaneous fun on the go – or at home.
Experience 10 vibration patterns even when under water.
With elegant satin ties, these panties will fit most women with ease. The remote works from up to 19 feet away. Use discreetly in public, or the bedroom for foreplay fun.
Price: For $59.95 on AdamEve.com
Read these posts next to improve your sexual skills: