When it comes to sex toys, nothing is off-limits. Just as men, women nowadays can enhance sensations with a vacuum pussy pump. The hand-pumping action of these devices engorges and swells up the labia, increasing sensitivity and making intercourse even more pleasurable.
For spicing up your sex life, check out:
The question is – why to do this in the first place? In this guide, we'll cover everything from what these are to why you would want to use them and what the best models are.
Top 5 Pussy Pumps on The Market 2017
Model #1 – Fetish Fantasy High-Intensity Pussy Pump by Pipedream
This is a simple device that produces fantastic results. This is a larger one designed for the labia, not just the clitoris. The hand-pump action of the bulb raises blood flow to the female genitals to increase sensitivity and get your nerves tingling.
You can use it for fun solo "fun time" or to spice up your sex life.
Keep in mind: This toy is so easy to use and even easier to clean. Just use a mild soap and warm water to rinse the pump thoroughly.
Fetish Fantasy High Intensity Pussy Pump Review
Model #2 – The Clit Kit 3 Cylinder Pump System
The unique design of the 3 Cylinder Pump System allows for use on both the clitoris and the penis. It's a versatile device with three different sized cylinders. With continued use, you can increase the size and sensitivity of your clitoris.
Pay attention: This model is unlike others on the market. It uses a trigger design rather than a bulb. It also includes a mini vibrating bullet, so you can take the pleasure to a whole new level.
Model #3 – Fetish Fantasy Vibrating Clit & Nipple Pumps
Go beyond clitoral stimulation with the Fetish Fantasy pumps. This set creates a trio of sensations with suction cups that attach to the clitoris and both nipples. A hose attached to the hand pump creates the vacuum.
Each cup has mini vibrators attached to heighten the pleasure!
Keep in mind: This set is waterproof, so you can enjoy it in hot tub, shower or bath anytime you want. Batteries are included as well as a lubricant sample, so you can get started right away.
Fetish Fantasy Series Triple Suckers
https://www.youtube.com/watch?v=DkfWRDYmj5g
Model #4 – Butterfly Clitoral Pump by California Exotics
This is a clitoral pump with an adorable design and vibrating action. The suction cup features a cute butterfly with pleasure-enhancing ticklers on the inside.
The multi-speed vibrator brings orgasms to new heights for enhanced stimulation and blood flow to the clitoris. Use it during foreplay, or to enhance intercourse.
Keep in mind: This latex-free toy is sure to spice up your sex life, or make your solo sessions more pleasurable.
Butterfly Clitoral Pump from Cal Exotics
Model #5 – Advanced Waterproof Vibrating Clitoral Pump
This advanced toy features a mini vibrator and waterproof materials. With this one little device, you can give your clit the attention it truly deserves. What is more, it features a flexible neck that allows you to position it any way you want.
The nodules inside of the cup heighten the sensations and increase blood flow to your pleasure center. With just the push of a button, you can choose between three speeds of vibration, making the pleasure as gentle or intense as your heart desires.
Keep in mind: Because this model is made from waterproof materials, you can bring your toy with you in the shower or hot tub.
The Ultimate Buyer's Guide to Pussy Pumps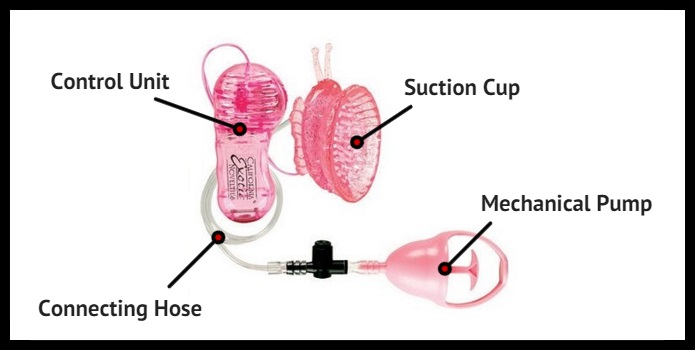 The technical name for this device is a clitoral pump. As you may have guessed, this is a sex toy designed for women. It's applied to either the clitoris or the labia to increase blood flow and sexual pleasure.
These toys look more like oxygen masks than something sex related, but they'll get your blood pumping and may even help ladies with inhibited arousal. Girls who've tried it say it raises sensitivity, while guys say it creates a tighter sensation.
Pay attention: While there are classical versions purely designed to increase blood flow to the vaginal area, you'll also find models dedicated purely to pleasure. These stimulate the clitoris and are used more as a masturbation aid than a sex-enhancing device.
6-Step Guide to Use These Pumps
Pussy pumps are so easy to use. Vibration-free models don't require batteries; just some good old-fashioned hand pumping power. Here's how they work:
Apply some water-based lubricant to the edges of the suction cup to prevent skin irritation.
You can place the pump over your labia, clitoris, its hood or even your nipples (if you have model especially for that). Wherever you locate it, just make sure that you create an airtight seal.
Begin squeezing the bulb and continue until you feel and see your labia swelling up.
At this point, the cup should remain on your skin. If it falls down, you need to pump a little bit more.
Once you have reached a comfortable level, press the release valve to let the air escape.
Remove the suction cup and let the fun begin.
The pumping of the bulb creates a vacuum between the device and your skin. As a result, more blood is directed to the clitoris, causing it to throb and engorge.
Pay attention: You have complete control over this effect, and you can stop at any time by simply pressing the release valve.
If you have insensitivity issues, vaginal discomfort or pain, consult with your gynecologist before you try this device.
3 Best Materials & Features
https://www.youtube.com/watch?v=4JHS9Z6JRHs
Watch the Video Above and Discover Awesome Info
Clitoral pumps may be made from various soft materials, but the most common ones include silicone, gel, and rubber. However, if using a silicone model, you'll need to make sure that you use a water-based lubricant to avoid any discomfort during use.
There are three main types of pumps:
Those using vibrators and teasers are designed more for self-pleasure than intercourse preparation. Teasers may include small bumps or spikes inside of the device that make the stimulation more intense.
Keep in mind: Some vibrating models may also give you the option of removing the vibrating bullet, so you can use the product as a simple pump as well.
How Does It Feel Like?
Reddit User Feedback #1
"…Whelp, since nobody else is going to respond… My SO and I use a pump (We have an acrylic pump set including 4 nipple pumps, 1 cock bell, 1 vaginal cup, and 2 full breast cups) for various things. We probably use it for vaginal pumping once a month or so.
Here's how she describes it:
At first, it's a bit painful, and you have to keep your legs pretty far apart as well as elevate your pelvis to keep the cup from losing suction. This part sucks, as it's pretty uncomfortable. After 20-30 minutes, the swelling gets pretty significant, and the effects will linger for a day or so. It's a mixed feeling.
On the one hand, it makes things way more sensitive. On the other, my labia can get pretty swollen and sore. By far the worst part is that my labia stay swollen through the next day, and walking can be a little bit uncomfortable because of that. Overall, though, it's pretty fun, and I like the way [he] attacks me after pumping.
She requests it infrequently because she knows I enjoy it, and she seems to enjoy it a bit as well. I think if it weren't for the lingering swelling/minor bruising, she would probably request it more often.
The one thing she does seem to enjoy, is that it makes clitoral orgasms a lot stronger. I tend to spend 45 minutes or so going down on her during sex, and she says that's where she gets her strongest orgasms. Using the pump, they get even stronger, so as much as she plays up the annoyance of the lingering effects, she actually does seem to enjoy it a lot more than what her response would indicate."
Reddit User Feedback #2
"We have 2 right now. One is a small pink Doc Johnson one, the other is an elongated clear and purple one with a rubber seal. The pink one is nice, but it looses suction quickly and I have to often pump it back up, the purple one is nicer in that I dont fill it up but the seal comes off to much when I use lube and the pump on it pumps too slow.
I like using it. Getting it situated on my pelvis is a bit of an annoyance, it normally takes a few tries for me to get it to feel comfortable. The first pump though is amazing to me. Feeling my labia getting sucked up, its really hard to explain, but it is always one of my favorite parts.
We normally pump until it feels slightly uncomfortable or until I fill the cup, whichever comes first. If we have a small bullet on hand some times we turn it on then put it on my clit before we pump and that feels amazing.
We have to wait 30-45 minutes until its pumped to where we like it(nothing extreme, just swollen all around and pinker than normal) and the waiting is slightly uncomfortable, I normally start it when we start a show on netflix otherwise he gets impatient.
After we pump it up, I like him to rub all around my pelvis and even eat me out some. The sensations are amazing and so are the visuals of engorged labia. Then we have have sex. Just like normal, but it feels…..different. You have more pushing up against you. My orgasms come faster and they are normally more intense this way too.
However, my swelling tends to only last between 20-30 minutes. I would love for it to last longer but dont know how to achieve that."
You can read more user stories and feedback on Reddit.
3 Safety Recommendations & Possible Dangers
While these products are generally safe to use, there are some safety recommendations that you should keep in mind:
If you feel any discomfort, stop immediately.
Avoid over-doing it. If you pump to the maximum limit, you may injure or damage your pussy and the device.
Always use lube when playing with these to maximize your comfort.
Keep in mind: If you plan on having sex or masturbating after using this toy, make sure to use a lubricant to avoid feelings of dryness.