The Text Your Ex Back program (TYEB) was designed to help users reconnect with their exes – all by sending simple but effective messages. Created by Michael Fiore, this interesting system focuses on four key things:
Knowing and admitting that you made a mistake.
Appreciating and missing your ex.
Rekindling your spark and connection.
Finding a resolution for the problems that caused the break-up.
This is an 8 week program that teaches you exactly what you need to do to get him or her back. You'll learn what to say and what not to say. More importantly, you will find out when to send your messages as timing is ultimate key! All this and much more is explained by Michael in 11 modules of this program (more on that later).
Michael Fiore – Author & Relationship Expert
This guy is the creator and author of this effective program. Fiore is known internationally as a modern relationship expert, and made an appearance on the Rachel Ray show in 2011.
At the time, he was promoting his Text the Romance Back guide, which Rachel Ray says gave her "chills." Since then, he's authored several relationship-focused things, including TYEB and Make Him Beg to Be Your Boyfriend (which made him an Amazon best-selling author).
11 Modules Included in This Program
This system is broken down into 11 modules. It's essential that you follow the program step-by-step and exactly as Michael suggests. Let's take a closer look at each module so you know what to expect when you buy this guide.
#1 – Introduction
The first module introduces you to this program. You'll learn some unique tips and techniques on how to deal with the pain of breaking up. It's important to pay close attention to this one!
Why? Because this is where the ground rules are laid out on when and how to re-initiate contact. It's so crucial to wait 30 days before contacting your ex again.
Sadly, there are many users who get so excited and start texting their ex right away. Most of them wind up failing and never get back with their former lovers and partners.
#2 – Understanding What Happened
In the second module, you'll start to understand why the two of you broke up. Fiore lists reasons for just about every breakup you can imagine and even includes written examples of what your ex may have claimed was the reason.
This helps you formulate your own strategy for getting your ex back. Essentially, the module explains what your ex said was the reason for the break-up, and what this really means from a psychological standpoint.
#3 – What Do You Want?
The third module is all about finding out what you really want from your relationship, and why you want to return to your former partner. At this stage, you find out if you really do want to get back with your ex, or if your emotions were just getting the best of you.
You need to be sure that you still want to be with him or her before you really commit to the program.
#4 – Preparation Stage
The fourth module is where you start prepping. This is where you learn how to prepare for contacting your ex for the first time and how to make sure that you've truly forgiven him or her.
Fiore emphasizes the importance of having no "bitter" feelings as this could drive a wedge between you. This is also good for helping you get your confidence in check.
#5 – The Heart of Text Your Ex Back
The fifth module is really the heart of the program and the most important part. This is where you will see step-by-step instructions on how to use your ex's emotions to get together with him or her – even if these are negative.
You will learn how to use past emotional experiences to create a powerful reaction and start rekindling lost feelings for you.
#6 – Making Contact
The sixth module explains how to make the first contact with your ex. It includes written examples of what to say and how to make them want to talk to you.
Fiore shares some iron-clad rules that will help prevent this stage from going wrong. The techniques shared will have your ex chasing after you, rather than you appearing desperate. Cool right?
#7 – Be The Influencer
[Worth reading as well: 6 Strategies for Overcoming Fear of Rejection]
The seventh module is all about influencing your former partner´s feelings and thoughts about both your relationship and you. This step is all about bringing up past experiences that you've shared, which associates positive emotions with you.
HACK YOUR SEX LIFE:
Some of the techniques are bit sneaky and manipulative, but will have your ex warming up to you.
Text examples:
I just came across those pictures we took in the photo booth at the mall. Those always make me laugh. They made me think about you for the first time in a long time. I hope you're doing great.
Do you remember that time we drove that golf cart back backwards down that embankment? We were so terrified, but couldn't stop laughing when we hit the bottom. I'll never forget the look you gave me.
I know that finals are coming up, and you're probably feeling stressed. I know you'll do great. I just wanted to let you know that I was thinking about you.
#8 – Creating Jealousy
In this module, you will learn subtle ways to make your ex jealous, and make them wish they were with you. To make this work, you need to exactly follow the message formula that Fiore shares with all of you.
Text example:
A friend and I just saw that new action flick. Great movie. I really think you'd like it.
#9 – Plating Reconciliation Seeds
This stage is all about planting the idea of reconciliation in your ex's head. You'll learn how to send intimacy boosting texts and how to write messages that reinforce a strong intimate and emotional connection between the two of you.
#10 – Boosting Attraction
[These are worth getting – 7 Must Have Seduction Books for Every Stallion out There]
The 10th module explains how to write "attraction-based" texts that really boost your ex's attraction towards you. These should reawaken the desire your ex had for you and encourages them to act impulsively.
You will learn how to:
Tease your ex.
Make them want you.
Stay in control.
#11 – Round-Up
The final module is a general round-up of the techniques laid out in the Text Your Ex Back system.
You will find plenty of examples and templates here that you can follow while rekindling your relationship.
5 Pros vs. 3 Cons
The Good (5 Pros)
The system is so easy to use and effective.
Step-by-step instructions on how and when to send texts to your ex.
100+ Message templates, formulas and written examples.
PDF, video clips and audio clips available.
Tips on how to strengthen your relationship.
Great User Feedback
Source #1 – Experience of User Jennifer Engel (2:53 Minutes)
Source #2 – Forum Response from LoveShack.org
Pay attention: Michael Fiore has helped countless users to get their exes simply by sending the right messages at the proper time.
Final Verdict: Amazing System for Just $47.00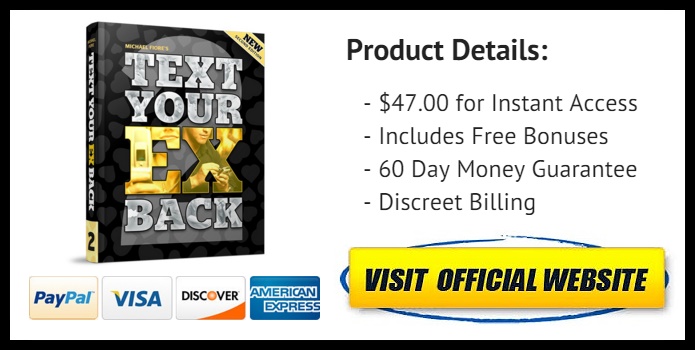 This program is now available for a reduced price of just $47. You can purchase this whole package online directly through its official website (see the link under the image).
Once you land on that page, you will have 2 options to choose from, one for men and the other for women. Then, after watching a video for a few minutes you will be given the opportunity to order this guide.
Best of all, this product comes with a 60-day money back guarantee. If this complex guide doesn't help you get him or her again, you will receive a complete refund – no questions asked.
Read Next on THE STALLION STYLE