Hooking up after meeting online is not a new concept, but it's only in the last ten years that it's become somewhat socially acceptable. In fact, you would probably struggle to find someone aged between 18-35 who has never signed up to an online dating website or used a hookup app.
Because so many people are using dating apps these days, you're massively missing out on lots of opportunities by not using them yourself.
Since the boom of Plenty of Fish (POF), many other companies have jumped on the dating and hookup app bandwagon, so if you are new to the scene, you may feel overwhelmed by just how many different apps are actually available currently.
Some apps come and go, as dictated by social trends, which is why we have picked seven of the best dating apps that you should be using in 2017, so you don't need to waste your time with the ones that have a minimal user base.
While there are hundreds of hookup apps that advertise themselves as being for people looking for "one night stands", what's the point in using them if nobody in your area has it downloaded?
BEST FREE DATING APPS IN 2017
#1. TINDER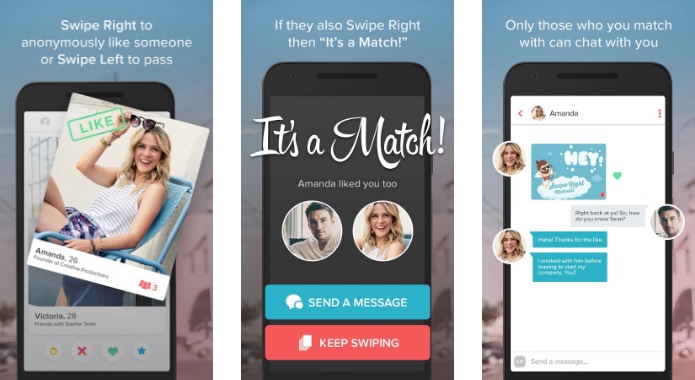 APP OVERVIEW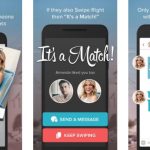 Name of application: Tinder
Signup fee: Free
Official website: gotinder.com
Version for Android: Yes
Version for iOS: Yes
If you mention hookup apps to anyone, Tinder is likely the one that will pop up every single time. To use Tinder, you must be over 18 years olds and have a Facebook account that you can use to log in with.
Once you are verified, you will then be able to set up a very small profile that consists of a 500 character bio, and up to 6 pictures. Tinder takes your employment and school information straight from Facebook and will publicize it on your Tinder profile.
What made tinder so popular initially, is that it's like speed dating on steroids.
When you're ready to browse potential hookup partners, Tinder will show you a photo of a person, with their age, and name, and you can choose to either like them, by swiping right, or to pass them, by swiping left.
If you liked someone who has also liked you back, you will both then be invited to message each other. You also have the option to "super like" a profile, which will send them a message telling them that you have done so. If two profiles don't mutually "like" each other, they will never be able to communicate.
Tinder has a very user-friendly interface.
The photos are large and clear, and setting up your profile couldn't be faster, assuming that you already have a Facebook account. As nobody will be able to message you unless you have a mutual interest in each other, it means that you will receive no unsolicited messages in your inbox.
#2. OKCUPID
APP OVERVIEW
Name of application: OkCupid
Signup fee: Free
Official website: okcupid.com
Version for Android: Yes
Version for iOS: Yes
To start using OkCupid, you must create a username and then fill out all of the very long profile fields. You can also link it to your Instagram account.
When setting your profile, you answer questions by giving your own answer, as well as what you want your potential match's answer to be. This then lets the app creates a compatibility score.
You can choose to display answers publicly or hide them altogether.
All of the options are located in a slide out menu, including the ability to view profiles. When you are ready to browse, simply tap the matches option. This will then show you people that you could potentially match with, rather than show you people that you have actually matched with.
You have the choice to either like a person or to message them, although only people that have upgraded their account will be able to see who has liked them, so messaging is the way to go.
The photos on the app seem a little too small, which is ironic because when you tap on the small image, the larger image feels too big.
You will find that you will have to scroll through someone's profile unnecessarily, and if you exit a profile, there isn't any guarantee that the profile list will be in the same order, which can make it somewhat difficult to remember who you have or haven't viewed yet.
You are also only able to see the last five most recent visitors that have viewed your profile unless you upgrade your account. Anyone can message you too, which means that if you don't reply, you may find that they keep messaging you.
#3. COFFEE MEETS BAGEL
APP OVERVIEW
Name of application: Coffee Meets Bagel
Signup fee: Free
Official website: coffeemeetsbagel.com
Version for Android: Yes
Version for iOS: Yes
Coffee Meets Bagel is cute in design and cute in nature. Once your profile is fully set up, you will be able to send one bagel daily, which is basically a profile of a potential match. You are then given 24 hours to decide if you wish to "like" or "pass" on the bagel.
If you have liked your bagel, and they have liked you back, you will connect.
This means that you will be able to message each other in a private chat, similar to how Tinder works. However, the chat room will expire after just eight days, regardless of whether you have interacted with your bagel or not.
It's also possible to earn "beans", which works like the app's own currency system, which will allow you to purchase extra functions. These can be purchased with real money, or you can gain beans by recommending the app to your friends.
Apart from having a ridiculously cute name, this app actually has a lot of specific options available, which allows you to narrow down your choices a lot more than some of the other apps.
You can even restrict your search to specific religious beliefs or ethnicities if you wish.
You are able to upload up to 9 photos, as well as icebreakers, which will automatically be sent to a matched bagel the first time you connect with them. Because the chat room expires after approximately a week, it puts a small amount of pressure on the users to exchange information, although if your purpose is to hook up, you should be sealing the deal within the first day.
The app user interface utilizes clean text, as well as having large photos, which makes everything pretty user-friendly.
One of the downsides of this app is that you can only send a single bagel once a day, which slows the pace down considerably. You can speed things up a little by using the "give and take" option, but that will cost you your precious beans in order to do so.
DOWNLOAD COFFEE MEETS BAGEL
#4. HINGE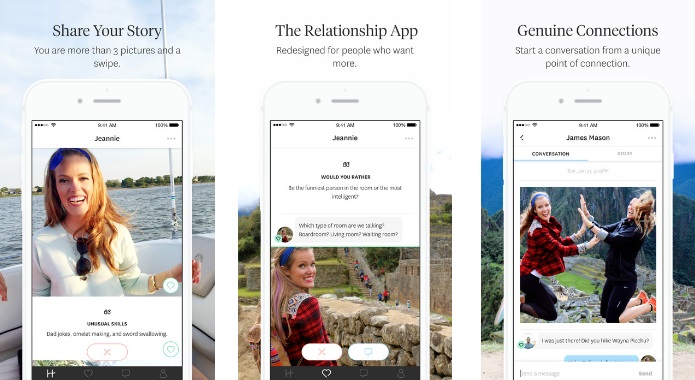 Hinge is extremely similar to Tinder, but it does have some features that do truly make it superior. The main difference from Tinder is that Hinge relies more on your Facebook friends in order to make connections, rather than just location and age.
The Hinge can go as far as to connect you with friends, of friends, of friends, (that's a lot of friends!), as well as show you all of the things that you have in common.
It does this by making you answer questions through a swipe left, swipe right interface.
For instance, have you been to the USA? Swipe right. Do you love football? Swipe left. Not only does it make answering tedious questions fun, but it makes it a lot easier and a lot less time-consuming than filling out a profile.
The great thing about Hinge is that if you wish to know more information about a specific person, you can always just ask the friend that you have mutually in common, so you can get real information about them, rather than just reading a profile bio.
You can also only message each other if you have matched, which helps to reduce spam messages. There's also the option to display what sort of relationship you are looking for, which helps reduce any awkward conversations if they were looking for a serious relationship, whereas you just want to hook up.
#5. TASTEBUDS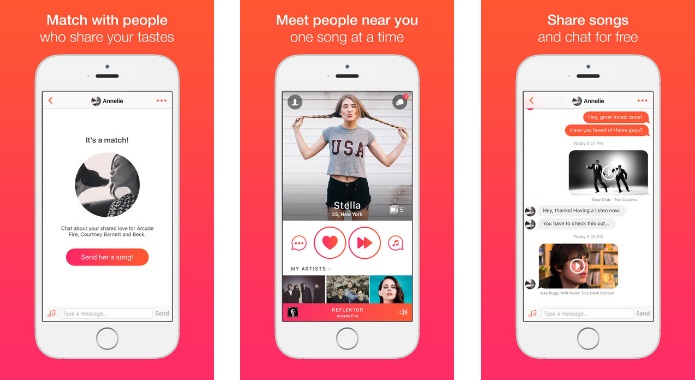 APP OVERVIEW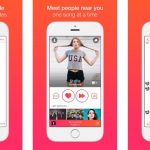 Name of application: Tastebuds
Signup fee: Free
Official website: tastebuds.fm
Version for Android: Not available
Version for iOS: Yes
Tastebuds is entirely different than regular dating apps, as it primarily focuses on music taste to gauge compatibility. You can choose to link your Facebook account when creating a profile, although it isn't needed.
When answering the initial questions on your profile, you are allowed to be as detailed or as sparse as you wish, and most of the questions are music based. Once you're done, you will be able to flick through other people's profiles to view the information that they have available, including any song clips that they like.
It reminds me of the original MySpace profiles back in the day, where you would place your favorite song to play whenever anyone visited your profile.
You can either like the person if you are interested, or skip them altogether.
You can send a song or a message to anyone, even if you do not match. The user interface is very simple and creating your profile is not complicated in any way.
You can choose to load photos from Facebook or to upload them yourself. The app also seems to be used by people who are looking for people to visit music concerts with, not just for dates or hookups.
#6. MATCH.COM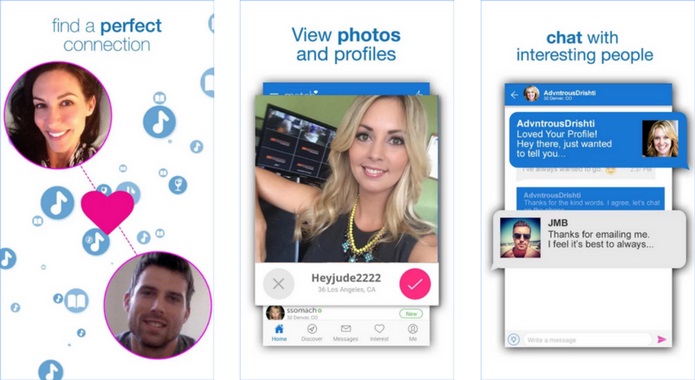 APP OVERVIEW
Name of application: Match
Signup fee: Free
Official website: match.com
Version for Android: Yes
Version for iOS: Yes
Match.com was a very popular service, way before they released an app. You don't have to sign up via Facebook, but you will be required to add some photos, as well as answer some questions about your matchup preferences.
The login details you create on the app can be used to access the browser version too.
Rather than "liking" a profile, Match.com's version is to send someone a "wink". You can find people by searching through their database, although the app will send you personalized matches to you on a daily basis, which will take into consideration your interests and preferences.
To gain the most out of the app requires you to pay for a subscription, which isn't cheap. The premium subscription allows you to see who has recently viewed your profile and who has liked your pictures, as well as a few other features.
#7. BUMBLE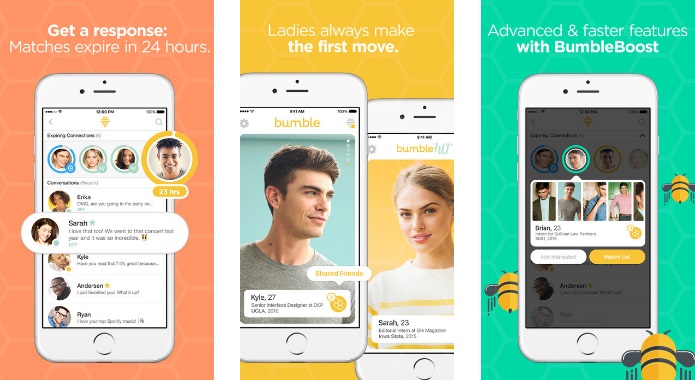 APP OVERVIEW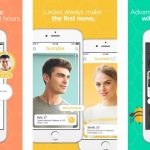 Name of application: Bumble
Signup fee: Free
Official website: bumble.com
Version for Android: Yes
Version for iOS: Yes
Bumble in aesthetics looks very similar to Tinder but has a few adjustments that make it unique. The big difference with Bumble is that the woman has to message the man first, meaning that women have full control over conversation initiations.
The woman will have 24 hours to send the first message before the opportunity disappears, although the man can extend the match for an additional 24 hours if they really want the woman to speak to them.
For same gender matches, either person is able to initiate the conversation first.
Bumble requires that you have a Facebook account to be able to sign up, although this is likely to reduce spam. Profiles are fairly compact, and by swiping up, it will allow you to view any additional photos that they have uploaded.
This is a much better feature than Tinder, where swiping up would "super like" the profile.
If you have a group of friends that frequently use Tinder, it's likely that you've heard many stories of accidental super likes, which are usually done on profiles that the person really has no interest in whatsoever.
5 TIPS FOR BETTER RESULTS WHEN USING THESE APPS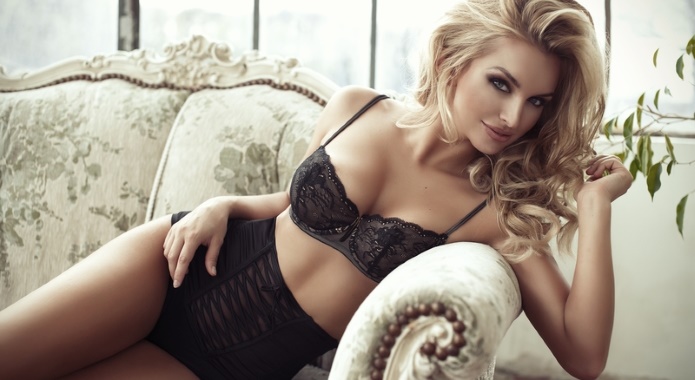 It's important to understand that the more effort you put into your app presence, the better results you will have. This doesn't mean that you should spam and harass as many people as you can, as that is completely counter-productive.
But by following some of these tips, you will definitely achieve better results than you would otherwise. Your goals should be to find and attract as many attractive people as you can, get their phone number as soon as possible, and to hookup within 24 hours.
What you don't want to do is to end up texting someone endlessly and passively wait to see if they initiate a meet up eventually.
#1. SET UP YOUR PROFILE PROPERLY
Even though most won't even bother to read your profile if their primary interest is hooking up, having your profile empty is not recommended. Just 2-3 sentences to get some general information out is enough, though.
Try to use this small amount of text to stand out against the sea of people you are competing with. Simply saying that you are "outgoing" and "lover of good food" makes you seem like the most non-outgoing person possible, and, who doesn't love good food?
Be witty, if that's your style, but don't try and write any clichés or cringey jokes.
#2. FOCUS ON YOUR PHOTO
For hooking up, everything on your profile is pretty irrelevant except for your pictures, although it still mustn't be blank. These are superficial apps after all, and the first couple of seconds counts when making a first impression.
First image:
Your first picture should have a clear view of your face. Try to angle it so that it captures your best side, and if you aren't very good looking, be sure to smile.
If you are considered good looking, and you'll know if you are or not, then you can get away with a neutral face.
Second image:
Your second photo should be you in some sort of social situation and having a good time. It should show off sophistication and maturity, and not be a photo of you being completely wasted with beer stains down your front.
Third image:
As your purpose is to try and get laid, rather than finding your one true love, then your third photo should show off some skin. Be sure that it isn't a mirror selfie though unless you have an incredible body.
Natural looking photos, like those taken at the beach, are perfect for this.
#3. CREATE A SEPARATE FACEBOOK ACCOUNT
This only works for apps that allow Facebook integration, or those that don't rely on friend recommendations.
By creating a new Facebook account, you will be able to "like" certain TV shows, or other mass popular media productions, that your desired gender is in too, to increase your chances of being "compatible".
This works really well with apps like Tinder.
If a girl isn't sure whether she thinks you're attractive or not but can see that you have over ten mutual interests, she'll surely consider liking you back.
#4. MESSAGING
As your goal is to hook up, you don't want to waste time being passive. As soon as you have matched with someone, or if you're using an app that lets you freely message anyone, send a message straight away.
This is to confirm whether they are actually interested and to get their phone number as soon as possible. Being able to text them lets you stand out against all of the other people that could potentially be messaging them on these apps, and makes you seem more "real".
Being passive is completely counteractive, don't ever do it. You always need to be proactive.
#5. MEET THEM THE SAME DAY
It's extremely important that you meet up that very night. Not only could they change their mind the day after, but it's likely they will be receiving countless messages from other guys or gals at the same time.
The longer you wait to meet up, the less likely you will secure a hookup.
If you both live in different towns, be sure to mention that you are new in town. This helps break the ice a little, and amazingly, helps to solidify a meetup.
Read these posts to find more tips for online dating:
Read these posts next to improve your dating skills: