Dressing well is an art and well, isn't the same as dressing up. You can be casual, and still look well put together. Remember, your appearance is the first thing people see, so making a good first impression is important no matter whether you're going in for an interview or meeting new friends.
If you're tired of your typical jeans and t-shirt routine, it's time to change up your wardrobe to something a bit more classy. Here are 12 helpful tips to help you master the art of dressing well.
Tip #12 – Find Someone with Cool Style for Inspiration
Not sure where to start? Find someone who dresses well, and use them as your inspiration. This can be a celebrity, a friend or even a co-worker. Pay attention to how he dresses and how his clothes fit, and start building your wardrobe off of this.
Keep in mind: It's okay to mimic his style to get started. Once you have a feel for how to properly dress, you can start experimenting with your own ideas.
Tip #11 – Find Your Tailor & Keep Your Measurements for Future Purchases
The fit is the single most important aspect of style. Clothes that don't fit properly look sloppy – period. The right fit can make your figure slimmer, taller and more athletic.
If you're on the short side – or even if you're average height – finding a good fit is nearly impossible off the rack. That's where a good tailor comes in handy.
Keep in mind: A tailor will take your measurements, and help you find the perfect fit for your body. And you can save these for future purchases.
Tip #10 – Focus on Wearing Classic Footwear & Keeping It Clean
A lot of guys like to wear running shoes. That's their go-to footwear. And that's okay – if you're running. If you want to dress well, you need a nice pair of shoes, and you have to keep them clean.
Dirty shoes can ruin an otherwise great look!
Pay attention: Don't get me wrong – you can still wear sneakers, but keep it classic and clean. And if you're at the office, get a nice pair of boots or dress shoes.
Tip #9 – Get Dark Fitted Jeans & Some Chinos
Jeans can be classy. But if you're still wearing wide-leg, loose-fitting and baggy jeans, you're in trouble. Invest in a few good pairs of dark fitted jeans that fit you well.
If tighter pants are uncomfortable, try a slightly looser fit, but don't go overboard. And while you're at it, get yourself at least one pair of chinos – every man's wardrobe should have a pair.
Keep in mind: They're smart, classic, and can be worn to both work and more formal occasions.
Tip #8 – Find a Color That Fits You The Most
Everyone has that one color (or two) that looks fantastic on them. Find yours, and start building your wardrobe around that color tone.
How do you find the right color? Here are two simple ways:
The easiest way is to try on different colored shirts, and seeing which hues suit you well.
Another way is to base your color choices on your skin tone and hair color.
Keep in mind: Color is almost as important as the fit. If the hue doesn't fit you well, the entire look will be off.
Tip #7 – Focus on Layering Your Clothes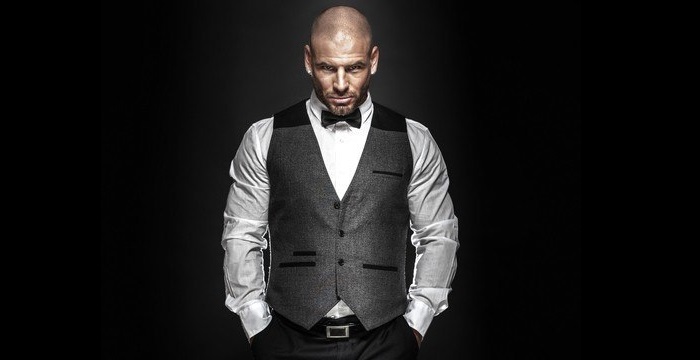 Learning how to layer clothes is an art in itself. It's what takes you from casual and cool to sophisticated and smart.
Here are some tips for layering:
Make sure that your outer hems are longer than your inner hems.
Each layer should be something that could be worn on its own.
Each layer should have a practical function
Choose one to two bright colors at most
Pay attention: If your typical wardrobe routine is a shirt and trousers, it's time to add a little more depth to your look – literally.
Tip #6 – Experiment with Slimmer Fits
Some guys cringe at the idea of wearing slimmer fits, but wider fits are doing you no favors in the style department. They make you look shorter, heavier and more unprofessional than their slimmer counterparts.
Slim fits make you look thinner. But don't go overboard here. Fits that are too tight can have the opposite effect and give the impression that you don't know how to buy clothes that fit you.
Keep in mind: Generally, you want to choose clothes that fit comfortably without grabbing, pulling or bunching anywhere.
Tip #5 – Try Adding Blazer for a Smart-Casual Look
If you're going for a smart-casual look, try adding a blazer. Stick to the double-breasted and two-button classic.
Make sure that the blazer fits well. It shouldn't be too loose or long. It shouldn't be too tight or short either. Use those measurements you got from your tailor to help you find a blazer that fits you just right.
Pay attention: Don't forget to consider color. Black and grey are two safe choices, but you can experiment with different colors, like beige, olive or light blue, if it works with the outfit.
Tip #4 – Always Wear Something on Your Wrist
No look is complete without at least a few accessories. For most guys, this means wearing a watch or leather bracelet. Watches are always a classic choice, but just be sure to choose one that fits the occasion.
Keep in mind: Invest in a good casual watch and a good dressy watch to cover all bases. Leather bracelets are best suited for casual looks.
Tip #3 – Make Your Presence Known with a Manly Perfume
When you walk into a room, you want people to notice you. The right cologne can help you do that. While it has no aesthetic value, the fragrance you wear can complete your look.
After all, when you see a well-dressed man, you expect him to smell good, too – right?
My advice: Choose a cologne that's masculine, but not too overpowering.
Tip #2 – Visit Your Stylist Every 3-4 Weeks for a Perfect Haircut & Grooming
You put all that time and effort into building a smart, classy wardrobe. Don't skimp out on one of the most important things about your look – your haircut.
Make a trip to see your stylist at least once a month to get a trim. The wrong haircut – or a cut that's grown out – can ruin your look.
Pay attention: And don't forget about grooming. If you have a beard, or you prefer the stubble look, keep it kempt and tidy. If you prefer to stay cleanly-shaven, don't slack and forget to shave.
Tip #1 – Learn Taking Care of Your Clothes & Shoes
To dress well, you need to take care of your clothes. It doesn't matter how good the fit is or how perfect the color looks on you – if your clothes are dirty, unkempt or falling apart, you're going to look sloppy.
Here are few tips you should follow:
Always hang up your clothing – especially shirts.
Learn how to iron. Wrinkled shirts (especially dress shirts) are never appealing.
Brush your clothes every now and then. Dust can deteriorate your garments prematurely.
Air out your clothes every so often to prevent odors from setting in and creases from taking shape.
It will take you some time to learn how to dress well, but it's worth the effort. Not only will it help you look more professional in the workplace (remember, appearance does matter), but it will also help you get a little more action in the romance department.
So guys, take notes and start taking steps to master the art of dressing well.