Dating advice is a dime a dozen. When you're struggling to meet women, the last thing you want to hear is how it's so important to just "be yourself." If being yourself was the trick to picking up hot chicks, no man would be single – ever.
The secrets to getting beautiful ladies are well guarded by guys who "get it." However, David DeAngelo shares some of these insights and tips with readers in his Double Your Dating (DYD) eBook series.
David DeAngelo – Author, Pick up Artist & Dating Guru
The DYD is a revolutionary guide for men that want to date and attract more women. Written by the famed pick-up artist David DeAngelo, this comprehensive eBook gives you real-world, practical advice that you can actually use to get the girls of your dreams.
David is a guy just like you. Sure, he authored the DYD system, but he started out struggling to meet ladies just like you are right now.
Before writing his eBook, he had just moved to a new city and was single. After months of trying seminars and reading books on picking up women, David was getting nowhere.
To gain real advice and insight, he decided to head straight for the source – men who are naturally good with ladies. After observing techniques how these guys picked up hot chicks, he started employing them himself and (according to him) he's dated supermodels and even famous women.
Pay attention: What he has learned from these guys is actually quite astonishing, and opposite of what you think works.
[Must See! 6 Strategies for Overcoming Fear of Rejection]
3 Ways How This Program Work
Way #1 – Dating Myths
David starts out his series by busting some of the myths that guys have about dating. The first myth he busts is that women only want men who are powerful, wealthy, and attractive.
This is just not true!
He gives compelling evidence to support his argument and offers advice on how to manufacture the traits that actually do attract chicks. The guide also goes into great detail about how not to pick them up. What is more, he offers up advice on how to get rid of your inner "wussy" or "submissive" behavior that is holding you back and turning her off.
Keep in mind: It may be hard to believe, but she doesn't want you showering her with gifts and affection. So, what is it that ladies want? David addresses this in his next section.
Way #2 – Personality Traits That Drive Women Wild
Ladies don't want a "nice guy." They want the confident, aggressive man that knows what he wants and how to get it. For ladies, these are traits that are attractive on a subconscious, biological level. They communicate security and protection, which is what females instinctively look for in a mate.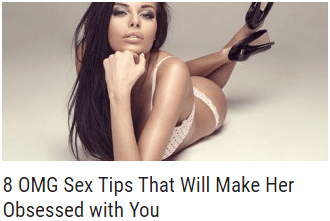 Does this mean that you should be arrogant? No. David details his "Cocky but Funny" attitude that walks a fine line between being arrogant and highly confident. The blend of confidence and humor is irresistible to females.
He tells you exactly what to say, how to behave and when to act. Half the battle is getting her to laugh (with you; not at you). In this section of the series, David outlines 19 key personality traits that will have women falling all over you.
Keep in mind: You don't even need to master all 19 to succeed; you only need to learn a handful.
[Are you making these? 8 First Date Mistakes That Might Ruin Your Future Relationship]
Way #3 – Situational Advice from Real World
Unlike other dating guides, this one offers real-world, situational tips. David outlines different scenarios and gives ideas on exactly what to do. As a bonus he also outlines:
How to handle complaints in a way that makes her feel loved.
Nine words that will make her comfortable going back to your place – even if you don't know each other.
Three ways to tease her so what she starts making the moves.
Four things to do before you bring her home.
Pay attention: You will get to know all this and that will drastically change your life!
The Good (6 Pros)
Instant download.
Real-world, practical advice.
Exercises at the end of each chapter to practice what you learn.
Details the most common mistakes guys make when dating.
Money-back guarantee.
Double Your Dating System + 4 Free Bonuses
This revolutionary system is an instant download and comes in a PDF format. Along with it, you will also receive the following bonus guides:
Bridges: From the 1st Meeting to the Bedroom
8 Personality Types that Attract Women
Free Interview with Dating Guru (Optional)
Pay attention: These are all full of awesome tips, tricks and proven techniques that work on almost any woman out there who is looking for a guy!
Valuable User Feedback & Experience I Was Able to Discover
Double Your Dating has helped many guys pick up the girls of their dreams. Just take a look at what readers are saying about the book:
"Every man should be required to read this stuff before even attempting to pick up women."
"When you put these techniques to use, ladies become powerless, and you become powerful."
I bet you will be able to discover even more positive responses to this program on the internet.
Final Verdict: Well Known Program for Just $14.97
This system is now available for a reduced price of $14.97, which is a huge discount. At regular price, the system sells for $129.94 on the official product website. From time to time, David is offering a free seven day trial of his series.
If you're finally ready to stop living in the shadows and start meeting and hooking up with the women of your dreams, you can purchase the Double Your Dating eBook series by clicking on the yellow button in the image above.
Hurry, though; the special discounted price may not be around for long!
Read Next on THE STALLION STYLE