Do you want to be the perfect dominatrix? Then you need to have some toys and equipment at hand to be able to realize all your client's (or your partner's) fantasies. Other thing you need is to possess the perfect traits, I wrote about them in the previous article.
Each dominatrix should project authority and power and to do that, you will need the right kinds of clothes, tools, toys, and accessories. In this article, I will try to guide you through an extensive list of must-have items and pieces of clothing each dominatrix should have in her "arsenal".
I will give you suggestions on where to get the best deals online and also what are some of the free household alternatives that can unburden your budget.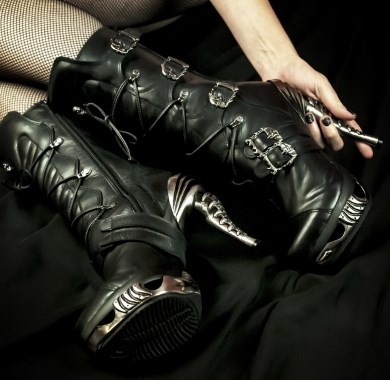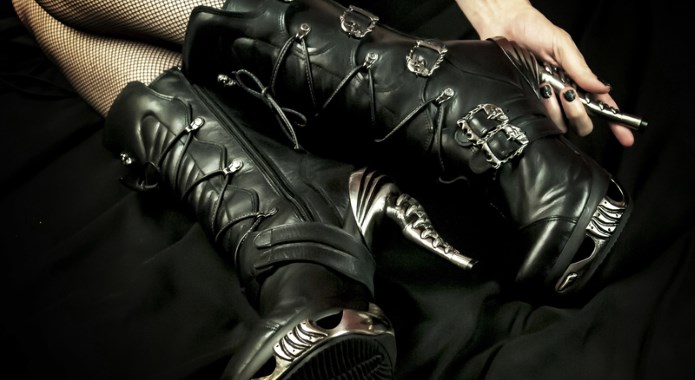 One of the most important pieces of clothing that can help you project a dominant presence as a dominatrix is a proper footwear. Most Dominatrices tend to favor high-heel shoes so they appear to be much taller and stronger.
Not only that, thanks to high heels, your footsteps will produce a distinct sound adding to the air of your authority and power.
My advice is to choose shoes that are made out of leather. Not only that, welcomed features of your shoes are:
Fetishy vibe
Dark color
High heels
Platform
Pointy toe
Adjustable buckle straps
If you need to have a look at various designs of shoes that are perfect for a dominatrix, then feel free to visit ShoeCup.com or Exotichighheels.com. The price range there is between $35.00 – $160.00 and they also offer a wide variety of designs.
Another great website that offers a wide variety of fetish shoes is ExtremeRestraints.com. Look for those higher priced items as they are truly luxurious and seductive as well. You can't go wrong with their Black Patent Knee-High Ballet Heels ($150).
Although your footwear should always project an air of high presence, you should also focus on the setting and theme of the fantasy you are trying to recreate.
Sexy Corset From Leather Or Latex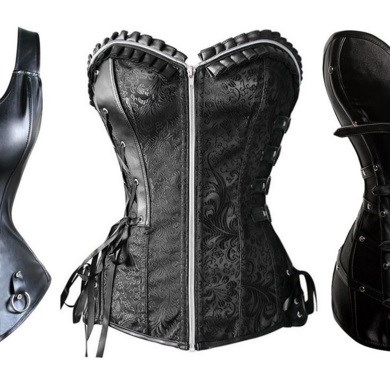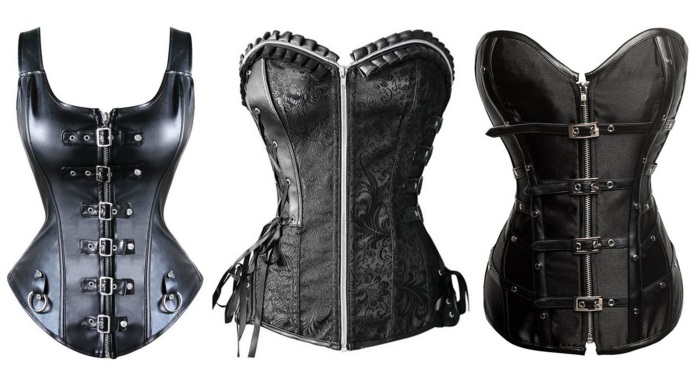 A corset is perhaps one of the most important pieces of clothing for a dominatrix. It's something that will give you that curvy, tight look in the midsection.
Not only that, it will help you to project that dominant presence.
My advice is to go for a real corset if you want to feel comfortable in it. It should have all steel boning in it and not acrylic as the steel (when heated by your body temperature) adapts to your curves once and forever while acrylic bones tend to go out of shape or even break.
If you need some inspiration on where to get your corset, then don't forget to check out Amazon corset bestsellers section, the dominatrix corset section or RebelsMarket.com. You can find corsets made of various materials with different extra features. The price range there is from $10.00 up to $100.00.
For luxury corsets that are made out of high-quality materials and have steel bones in them, you can visit Vollers-corsets.com. Just expect a higher price range between $160.00 – $500.00.
If you want that perfect look, just try to wear your corset over dark lingerie. Trust me that this combination will give your subordinate quite a view to see (if he or she gains your permission, anyway).
Few of the notable and high quality corsets & bustiers can be found on Trashy.com, Etsy.com or LingerieDiva.com as well.
If you don't want to wear a corset, then try getting a latex or leather lace-up dress or put on a leather vest or a jacket that has that punk vibe.
Smaller Pieces Of Clothing & Lingerie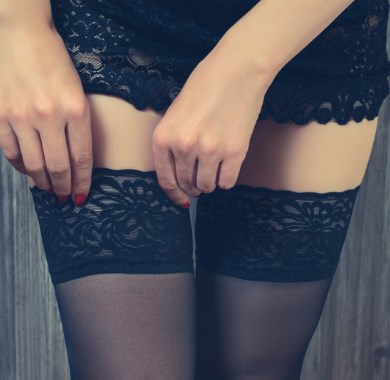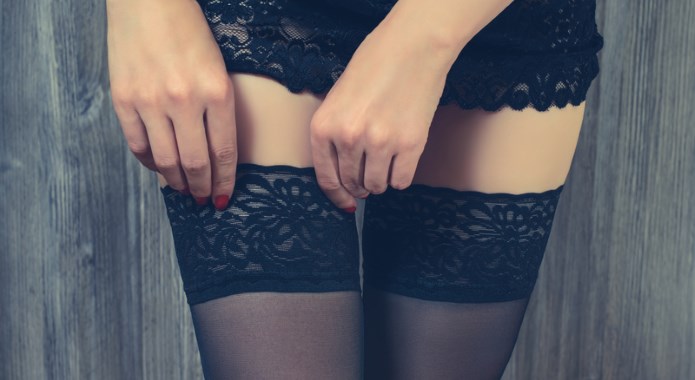 A dominatrix would never have that sexy, sharp look and towering presence without some smaller pieces of clothing and lingerie.
You can significantly improve the whole experience by wearing these extra items:
The price range for these smaller items can vary depending on the style, manufacturing precision, and the materials used.
Obviously, you need to think about the theme and setting of the fantasy you are trying to recreate and the type of attire you already have. Just make sure the materials you are going to get can be combined together.
If you overdo the variety of materials used you could end up looking like a scarecrow.
Tools & Items For Bondage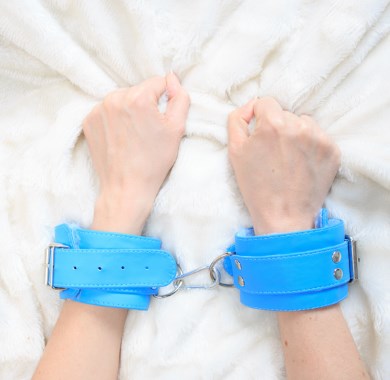 Each and every dominatrix should have at least a couple of items for bondage. There are many sex toys that are perfect for binding your "partner" into a submissive position.
As always, I recommend choosing items that were designed for this purpose:
If you don't want to purchase expensive sex toys you can try some household items. These include scarves, ropes or cords, and neckties.
Just keep in mind that you can harm your submissive more easily when using these items.
Tools & Items For Causing Pleasureable Pain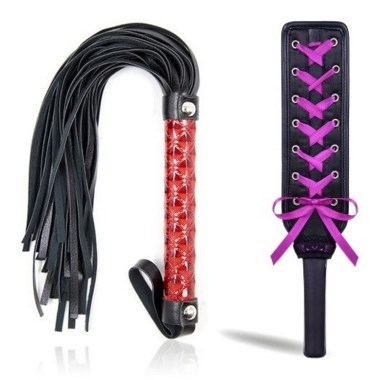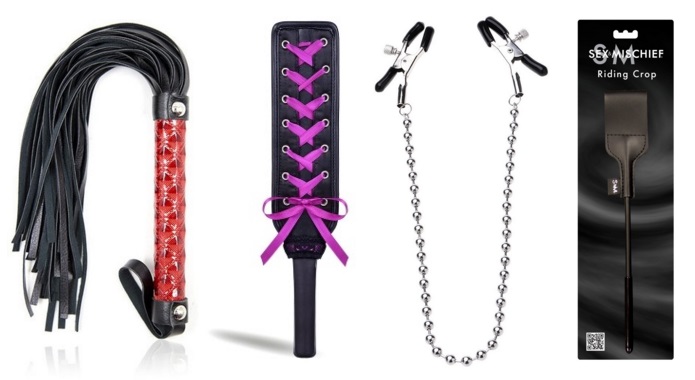 Another group of items each dominatrix should have at her hand are those, that can cause a pleasurable pain. This is also known as impact play. My advice is to use professional tools or toys as these are less likely to cause any injury to your submissive.
For example, you should get your hands on:
Again, if you don't want to purchase expensive whips, paddles, and pinchers, you can try some household items. These include spatulas, wooden spoons, dog leash, belts, rulers, and canes.
Just keep in mind that you can harm your submissive more easily when using these items.
Items For Sensory Stimulation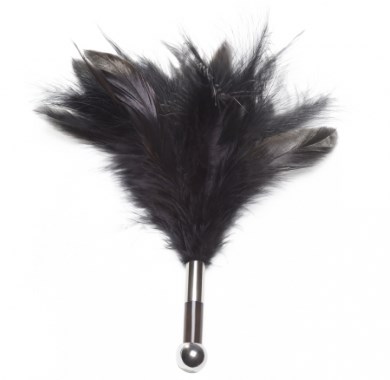 The last group of things each dominatrix should have in her repertoire represents sex toys and items perfect for sensory stimulation. There is nothing better than a submissive client who is restrained, blindfolded and teased.
The best way to engage his or her senses is to use the following things:
Candles – There are many candles with a low melting point that are suitable for BDSM play and it is easy to get lost when choosing the right one. That is why I am linking for you a great guide to a safe and fun wax play. I personally like the massage candle made by Lelo the most.
Feather teasers – Feather teasers (such as this one also made by LELO) are perfect for altering between painful and soft teasing sensations. Sure, you can use a single feather but more robust ticklers provide for more sensations. These cost between $9.00 – $30.00 and have various designs.
Ice cubes – Stimulation by a cold temperature is a fun way to spice up your dominatrix play. The best part? It costs you almost nothing. However, ice has its dangers and that is why you should always follow this guide during your ice-play.
This is the least expensive group of items that provide a lot of fun. That is why you should have these always at hand and use them often.
Here are some great interviews: