Perhaps you've grown a little tired of your extensive adult library collection. Or you are too embarrassed to buy new books or ask for recommendations at a bookstore.
Thankfully, the internet now offers an ever-expanding collection of erotic and sex stories covering each genre of sex life for immediate download or purchase. The quality is often very superb, written by both female and male, young and old, published and unpublished authors.
Actually, there are so many websites offering these stories now that you may get lost easily. Therefore, here is a list of the best online sources with reasons why you need to pay them a visit!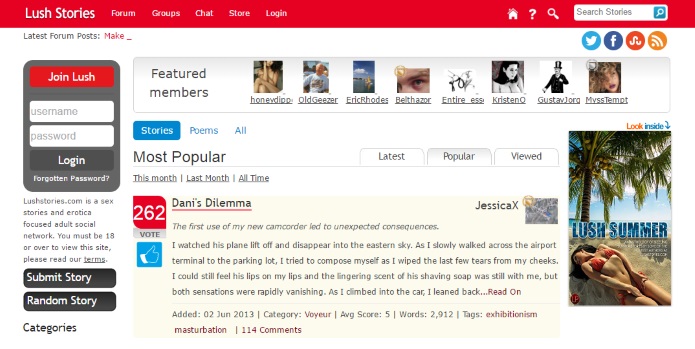 Lush Stories is more than just a website to find erotica or sex articles. They have various cool contests, chat rooms, visitor forums and blogs. It's a great place to discover writings from every genre.
Not only that, you can also hear from other members directly without relying on just feedback or comments associated with uploaded writings. If you are searching for new things to try during sex or just amazing authors of adult novels, this is one of the best places for you!
Pay attention: Creating an account with the site is absolutely safe but never provide your info on discussions since there is no way of knowing who else could be in the chat room.
Just talking about sex and adult stuff, this is an absolute top-notch portal with plenty of amateur but quality works readily available for you to read.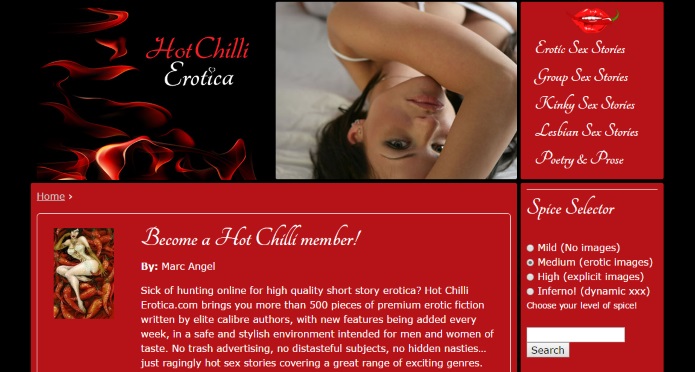 Formerly known as "The Erotic Women" this website bills itself as an XXX playground for both men and women – and boy is it ever. It is another very social site with links to watch porn, erotic photo galleries, and, of course, read various kinky stories and novels.
These are usually very well written, user submitted, and short. This online source also offers a very extensive collection of erotic poetry and excerpts from longer works.
Pay attention: You should be warned that there is a lot of explicit material on this site, perhaps more so than any of the others I was checking into. Still, it comes highly recommended for anyone looking for great free sexy stories.
In order to remain without any regular fees, it does ask you to voluntarily donate some money but you don't have any membership fee to join so it's entirely up to your good will.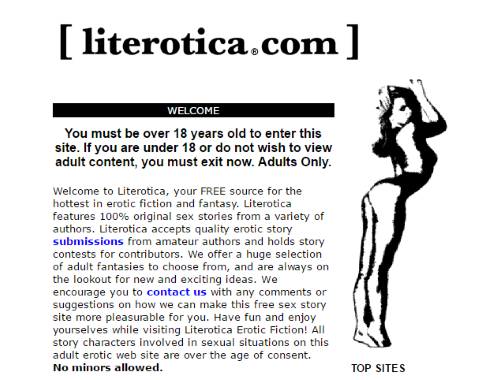 All stories that are uploaded to this website are reviewed and accepted for online publication. There is absolutely no self-uploading or self-promotion allowed. A team of editors, as well as resources for authors, means that the quality of the published material is among the best.
Luckily, you will find Literotica very easy to navigate. Genres widely vary but there are some limitations.
For instance, there are no articles involving underage characters nor is there bestiality. You will, however, discover a large variety of stuff about beasts that fall under supernatural such as werewolves, unicorns, and ghosts to name just a few.
Pay attention: Literotica is also a social site which features chat rooms, bulletin boards, webcams, and personal ads. There's also a VOD page where visitors can pay for adult movies by the minute.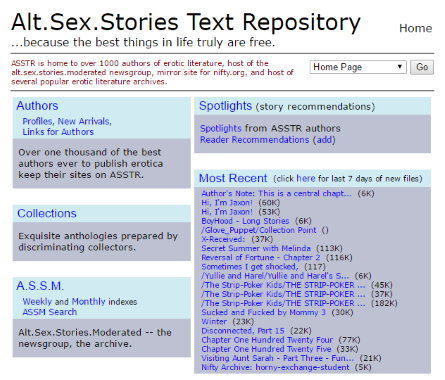 User websites and profiles, spotlights, anthology collections, and reader recommendations all make this one of the best online collections of erotica stuff there is.
There are over 1000 submitting authors on the site and readers just like you have the opportunity to put together collections of short pieces of work so that other readers can check out what you're reading.
Pay attention: Their profiles make this portal especially good because if you find someone you like you're able to check out what else they've written not just for this one but for other portals as well.
If you are an aspiring writer Alt Sex Stories Text Repository is certainly awesome place to get started and have your works spread by recommendation.
Resource #5 – Nifty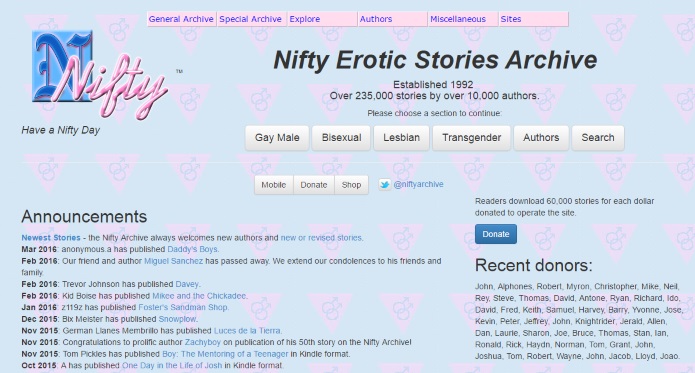 This non-profit website targets gay, lesbian, bisexual, and transgender people. It is completely ad-free and won't use any cookies or collect any of your personal information.
They do give recognition to their recurring donors and patrons (by just mentioning their username) and have an excellent way of showing how every donated dollar helps the site continue to grow.
With over 200,000 adult novels written by over 10,000 authors, you're sure of finding something to your liking.
Pay attention: Their easy to browse Announcements section lets you scroll for all the latest stories as well as congratulatory announcements for reaching publication milestones so you can see who are the most prolific.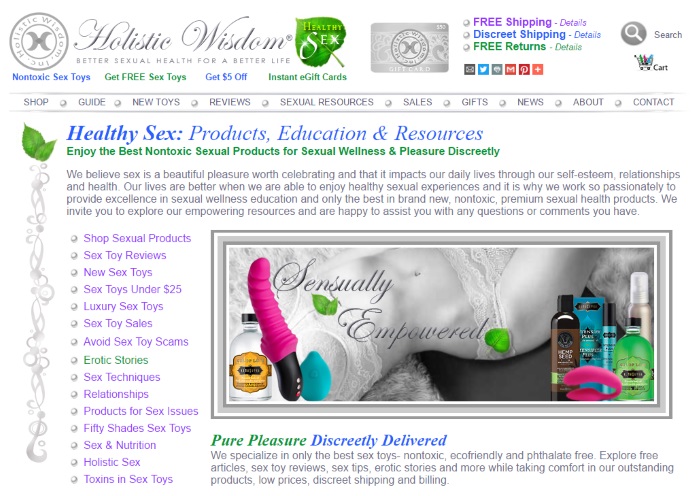 The "Holistic Wisdom" is a one stop shop for all of your sex and erotica needs. From stories to actual products, from toys to adult gifts, you'll find something for everyone, including yourself.
This website targets people who don't like the extremely explicit material, but don't shy away from the intimate encounters and all that comes with it.
Keep in mind: This online source is very well-respected in the XXX community. Among other publications, it has been featured in Men's Health, Women's Health, Playboy, Playgirl, and The Huffington Post.
For writers, it even provides a free sex toy with the first published story to this site.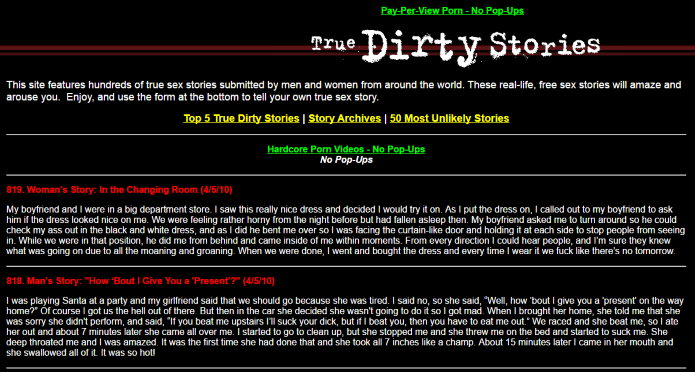 One of the perks about visiting the "True Dirty Stories" is that you won't have to experience any annoying pop-ups that come from some other kinky pages. It has a very simple form-based submission process and features dozens of subjects and genres.
Their story archive section lists as many as 26 subjects to pique anyone's interest. By looking at the content you'll see that they really encourage "straight to the point" type of stories but are happy to take quality writing of all lengths.
Pay attention: For the more adventurous the site also offers a hard-core porn video section.
One can't possibly ever have too much erotica. It's fun, enticing, and simply seductive. Try any one or all of these pages to find whatever suits your style – happy reading!
Read these posts next to improve your dating skills: