Hey, are you looking for some kinky toys for your lovemaking but still do not know where to get them? Well, look no further as I am going to analyze 13+ of the best online sex shops (some have brick & mortar stores as well) where you will find everything you desire!
All of these are professional and well-established brands that have already built some reputation so you do not have to be worried about being ripped off your money.
So let´s dive, without any further delays, into individual brands, their assortments as well as price levels, and special deals. These are not listed in any special order from best to worst or vice versa.

Pros
Sale Section – There is an amazing selection of products on sale with discounts up to 50-60%.
Many Choices – Thanks to the wide range of products offered you can get items whose price range from few bucks up to couple hundreds.
Business Leader – The Adam & Eve company is considered the business leader that has branched out into almost all aspects of sex-related products.
Discreet Shipping – Their website is a great place to shop for those that like to keep their purchases discreet.
Comfortable Outlets – This company has many outlets that make you feel really comfortable shopping in them.
Cons
Technical issues – I have noticed that their website is having from time to time some technical issues and is unavailable for international customers.
Adam and Eve is one of the top-selling stores both in online as well as brick and mortar sales. The company still maintains its headquarters in North Carolina. However, there are several branches across whole America (in 18 states).
Assortment
This leading company provides one of the widest selection of toys and other adult stuff, including:
Adult Movies & How-To Videos
Sexy Lingerie & Costumes
Various Categories of Vibrators
Different Types of Dildos
Toys for Him (Cock Rings, Pumps, Anal Toys & Masturbators)
Toys for Her (Ben-Wa Balls, Nipple Toys, Bondage & Anal Sex)
Items for Couples (Kits, Extras, Swings, Sex Furniture & Strap-Ons)
Various Types of Lube, Oils & Lotions
Pay attention: I have written a more detailed review of Adam & Eve company that includes some of the best coupon codes and discounts you should see.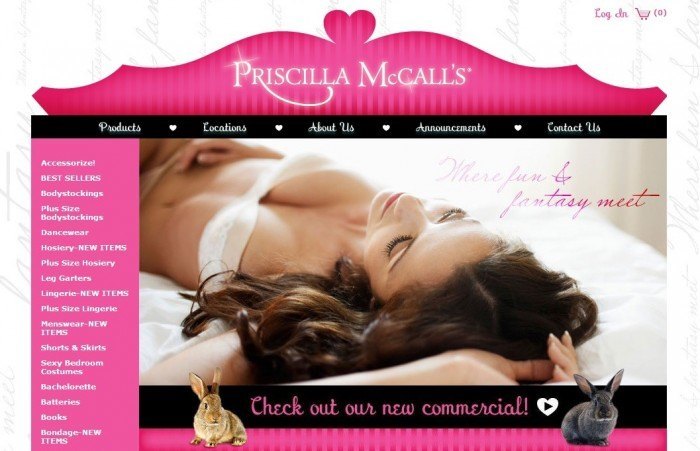 This is a well-known and popular brand in the south-east. It is a family owned business that was established in 1991 with first branch launched in 1994. Priscilla McCall´s is one of the industry leaders and it offers a wide range of stuff and their prices are more affordable.
Products – Sexy clothes (kinky lingerie, costumes, hosiery, thigh highs & stockings – even plus size), lubes, male toys, vibrators, stuff for BDSM, bondage & fetish.
Locations – It is head quartered in Greensboro NC with 26 outlets in total. These are located in: North Carolina (15), South Carolina (2), Virginia (4) and Texas (5).
Available at – You can also order online at the official website available through the link under the image on the right.
Store designs – What is more, its boutiques are well-lit and the inventory is presented in a fun atmosphere!
This brand is one of the most popular in the south-east and it really was quite ground breaking when they opened their doors in Fayetteville NC.
This conservative city had never seen something quite like Priscilla's in the town (known for its military and strip clubs) before. It has brought pleasure industry out into the open.
Although it was first met with strong opposition from the administration and the local military base, it quickly became apparent that people wanted it in their town and after the very first year they rang up sales that totaled over $1 million!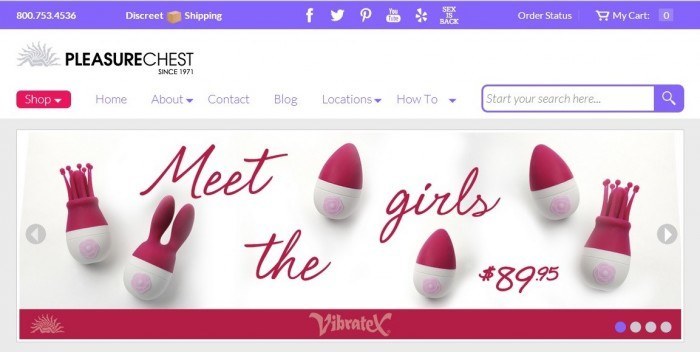 Founded in 1971 in NYC, this is a high-end boutique shop that simply is luxurious. They offer all the wares you would expect to find in an XXX store but they are probably one of the most expensive in the industry.
Assortment – Well, this business has many categories of products (17 – each one divided into several subcategories as well) including basic stuff (such as vibrators, dildos & lubes) as well as stuff for BDSM, bachelorette & sexual enhancers.
Located in – New York City (2), Illinois (1) & California (1)
Website – They have an online venue at the link under the image. It is well laid out and has a good representation of provided assortment.
Extra features:
How to section – This includes very informative and educational articles (16) full of various sex improving techniques as well as videos (55) on how to safely use products available on their e-shop to your maximum satisfaction.
The Pleasure Chest does not look like any ordinary XXX place. It rather feels and looks more like Saks Fifth Avenue. They offer a full inventory of kinky devices. Within the boutiques that are located in NYC, Chicago and Los Angeles the presentation is sophisticated and the prices match high level of sophistication.
My Verdict: Definitely worth your visit!
The Liberator site is very customer friendly. Their products are broken into categories that are easy to find and you can get free shipping as well!
Assortment – Plenty of sex toys, erotic arts, oils, books, DVDs etc.
State of origin – This brand is headquartered in Atlanta, Georgia with boutique locations all over the states (7).
Privacy – Visiting Liberator.com is a great way to browse in private.
My verdict: This page is tastefully done and uses both categories and price ranges to help you find what you want. What is more, their prices seem to be on par with industry standards.
Eden Fantasys is an online retailer that sells various gadgets and has tons of other sexy merchandise to choose from. I would like to emphasize, that the site is simple to navigate.
Its Assortment – It has huge variety of toys for him & her, lubes, guides & stuff for fetish.
Online Version – On their e-shop you will find a full range of devices and aids at minimal costs! Just see the link on the right!
What is more, there are a few other advantages to it that are worth mentioning:
Free Delivery – You get free shipping with purchases over $99 as well as a gift with every order.
Sales – Additionally, there are also quite a few discounted items that are available as well.
Summary: This is kind of no-frills site. The products are shown as thumbnails and their descriptions are pretty simplified. This may help to keep their prices low because they are lower than industry standards!
Compared to other places that are in the same business this one falls a bit short. The pricing was not really a saving grace either as it was just average.
Assortment – This brand is slightly disappointing because the inventory is very limited. Each category had maybe 4 or five items for sale on the internet.
Official website – Its online version is available at link under the image on the right.
My verdict: I really hated that there was not enough selection!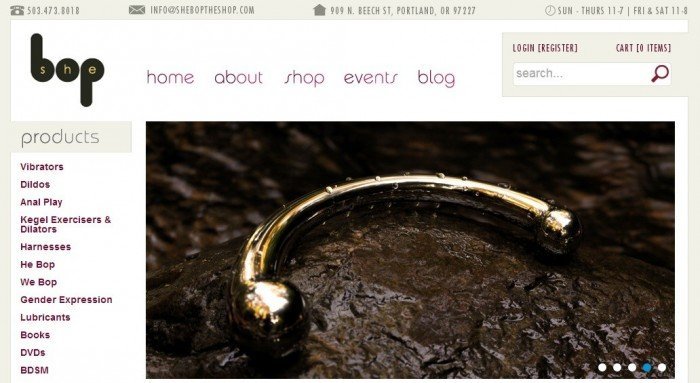 This one bills itself as a female friendly website. It caters to women which is a nice touch.
Assortment – It offers wide variety of dildos, vibrators, books, lubricants, BDSM stuff, kegel exercisers and many more.
Location in USA – This brand has one store located at Portland, Oregon.
e-Shop usability –

This place is easy to navigate and the inventory is plentiful.

You do have to click on the picture to pull up information about the item which is not such a big deal but it would be easier if all the information was simply listed next to each individual item.
My verdict: Their prices are standard for this industry. You have to count with the fact that there are not many "deals" online and shipping is not for free.
Their homepage is very user-friendly, they offer variety of products and the pricing is right. This brand also has brick and mortar stores that you can visit personally.
Assortment – Babe Land has a full range of toys, lingerie as well as kinky gifts!
Locations – Babe Land also has outlets located in New York City and Los Angeles.
Online sales – There are discounts that are available on the site although the costs are a bit steep on some of their items.
Extra features:
Community – What is more, their internet business provides a community section where you can take classes and discuss matters with other members.
Live chat – It also has a live chat feature so you can connect with customer service online which is a nice feature.
My verdict: The actual shops are upper scale ones and feel more like intimate erotic boutiques than those big warehouses that typically offer tons of toys.
The Store For Lovers is a unisex place that is geared toward the couples market. The ambiance of its outlets throughout Ohio as well as of its website is very nice.
Assortment – You will be able to find tons of toys, lingerie, stuff for bondage, books as well as DVDs.
Locations – The actual brick and mortar shops (8) are located within Ohio.
Available at – Their page is easy to use and carries the majority of the items that you will discover in the real boutiques.
Price range: The pricing is what you would expect it to be. There are many products that are on sale and there are regular promotions that include free shipping.
Shop #10 – Vegas Adult Super Store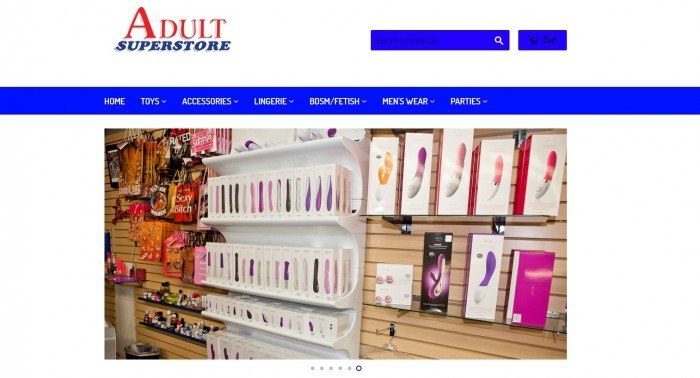 This brand has three Las Vegas locations. What is more, it is like the Walmart of XXX businesses. This warehouse type shop has inventory that is simply mind-blowing.
Assortment – Any toy, movie, book or device that you can imagine is available in these. You can find everything from the simplest to the most exotic including DVD rentals, an kinky arcade and twin screen theater!
Headquartered in – It is seated in Las Vegas, Nevada (5 Branches) and has one of these in city of Pahrump.
Official e-Shop – This brand is accessible even through link under the image on the right.
Like with all super stores you can expect to find great deals. Those provided online are not as good as they are in the actual outlet but they are still abundant.
My verdict: This is awesome place to stop by for all the kinky stuff you could ever want to have.
Shop #11 – The Adult Supermarket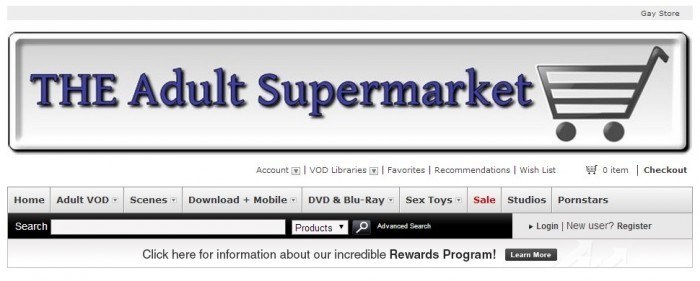 This is a popular brand in Miami because, oddly enough, there are not many of those who would cater to this sector.
Assortment – Its website offers the same items that are available in its stores. What is more, it is user-friendly and has a full range of products from lingerie to movies and books.
State of origin – The Adult Supermarket is located in Miami and has three locations.
Website – You can order discreetly at their page through the link under the image.

Although their webpage is easy to use it is still lacking in some areas.
Pricing: The costs of offered items is hard to determine (to get info on the actual product and its price, you have to click on it). What is more, their prices seemed to me higher than industry standards.
This chain provides everything that you could desire to enhance your love life. Its outlets are well-lit and comfortable to shop in. It is one of the few XXX stores in Arizona.
Assortment – Their online version offers plenty of stuff, from stuff like condoms & erotic lingerie, through books & DVDs up to sex toys for both genders as well as kinky stuff for BDSM.
Place of origin – This one is located in Arizona and has 10 locations! They also have 6 in Colorado.
Official site – Their website is called FunLove.com. It is easy to use and the products are well laid out which makes your purchase much easier!
Extra feature:
Educational classes – What is more, this brand desires to help people enjoy a healthy and happy lovemaking. Therefore, they provide classes and information on how to enhance your sex life regularly.
My verdict: This is a great place that is very popular because it strives to make you feel welcome and comfortable while shopping. There are regular sales and discounts available online and it provides videos and "need to know" articles as well!
Shop #13 – Secrets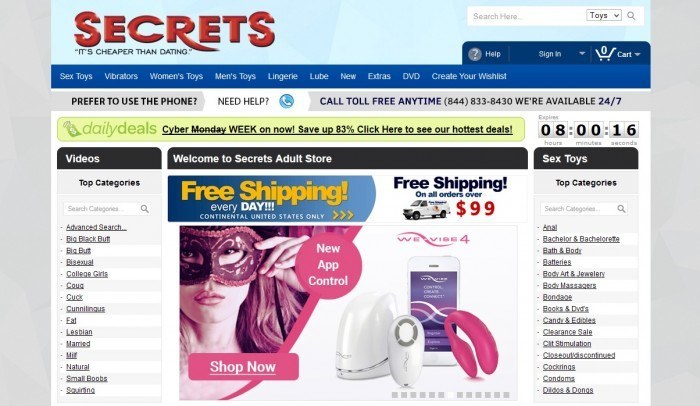 This business has been hailed as one of the best in Colorado and interestingly, it has been recognized (even nationally) for having the largest XXX DVD collection in the US. However, it is not a chain type as it is more private.
Assortment – They have wide variety of dildos, vibrators as well as adult movies.
Location – Secrets is located in Denver, Colorado.
Free Shipping – What is more, their website offers cost-less delivery on all orders over $99.00. It has a special sale section to promote toys, DVD's and other discounted items as well.
You can sign up for their newsletter online which will alert you to their best bargains and events.
Read these posts next for more inspiration: