For many men, there is no better turn on than erotic lingerie on sexy female body.
I bet you are searching high and low for the perfect female underwear.
However, you just aren't quite sure where to get the sexy, fun, kinky, and exciting pieces you are after without breaking your bank account (or want to spend a lot on a truly "special outfit").
If this is the case, then look no further as you've come to the right place. Below we break down eight shops for the sexiest lingerie you can find anywhere around the world – ones that will blow your (and his) mind completely!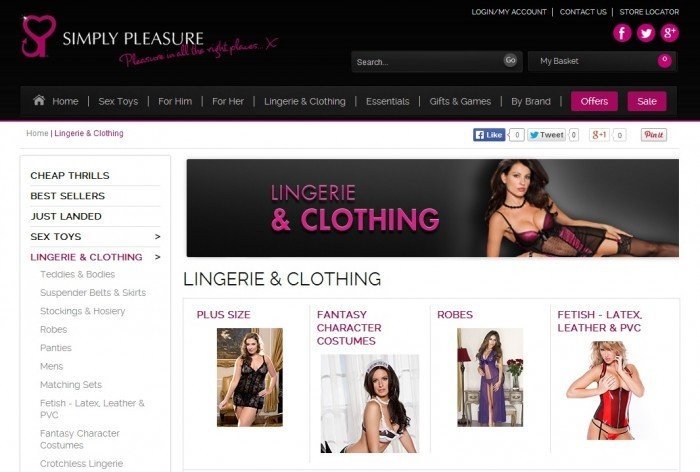 Definitely one of the most fun and exciting places for purchasing underwear (and also offering a wide variety of killer products at a fraction of the price you would expect to pay anywhere else). You should have no trouble whatsoever landing the fun and sexy pieces you're after.
After all, they have full lines of the erotic clothing for men as well as for women, including those for fetish, fantasy character costumes, role-playing outfits, and so much more.
All these for available price points that will never threaten to break your bank account or completely drain budget. Shipping is cheap, discrete, and the customer service is fantastic – so don't be surprised if you find yourself coming back to Simply Pleasure time and time again for a "wardrobe overhaul"!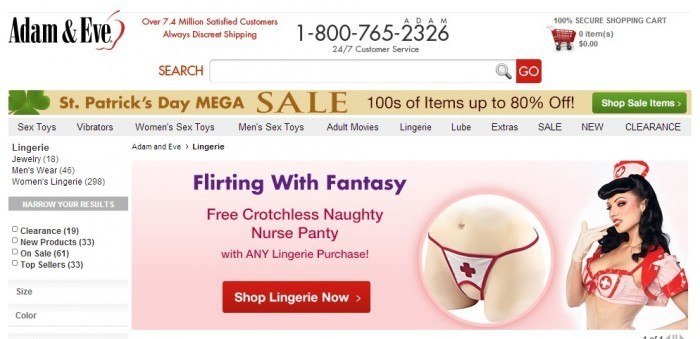 Certainly one of the most recognized names as far as erotic or sexual stuff is concerned, and this lingerie shop is so much more than that – offering you great deals on:
Sex toys
Vibrators
Adult movies
Costumes & so much more!
On top of that, their prices are very, very fair – even though they carry all of the best brands for whatever it is you're looking for.
Frequently offering deals to reduce the costs of their products even more, you will be blown away by the sheer volume offered at Adam and Eve, making them an online shop that you need to check out right away!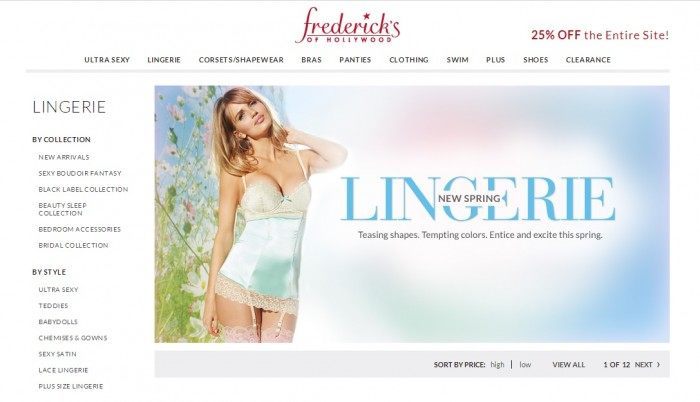 If you are searching for something particular, special, and quite out of the ordinary as far as luxury underwear is concerned, you will get it at Frederick´s of Hollywood. Definitely one of the most world-renowned sexy lingerie shops anywhere across the globe.
If this specific store would go on to influence Victoria's Secret – and we all know just how well they seem to be doing!
The prices here are certainly more expensive than you'll find at most other locations, but then again when you have a Frederick´s of Hollywood product on your hands it's quite unlike anything else!
If it's a downright dirty and fun time you are looking for, you should check out all of the products and erotic clothing offered at Agent Provocateur.
One of the few stores that offer high-end and truly incredible fashion pieces in each and every one of their options. This brand even has "seasonal lineups" that you will want to browse through every quarter to see what new stuff they offer.
One of the more high-end shops, this is definitely the more "French classic inspired" lingerie providers that are operating online today. Trust me that you will know it the moment you invest in their high quality (and expensive) products.
Offering a wide variety of exclusive underwear that is classy, elegant, and drop dead sexy all at the exact same time, you're not going to find any "cheap thrills" when you decide to purchase from this retailer.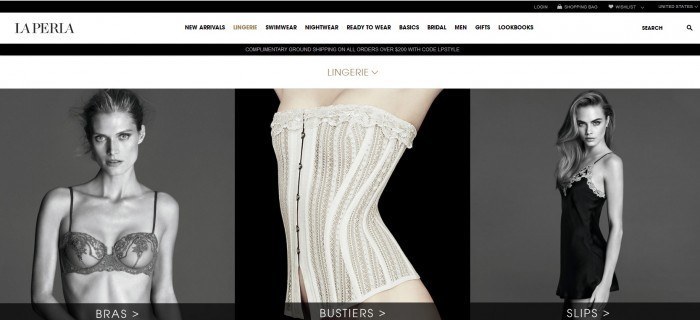 Certainly one of the more recognized names as far as lingerie legends are concerned. La Perla has always been a popular hot-spot for ladies (and the men that love them) and when it comes to finding the "perfect set" for those special occasions.
What is more, this brand is definitely on the more expensive end of things. However, you'll definitely get your money's worth at the moment that you see your special someone in one of these highly erotic outfits!
Though the name certainly sounds at least a little bit "lowbrow", you will find most of the lingerie offered by this shop to be fun, flirty, exciting, and erotic – if not completely classy and elegant.
Definitely designed for partners that are looking to have a lot of fun (and understand that the underwear will come off at some point – if it's not torn off). These are affordable products that are probably made right here in the United States of America.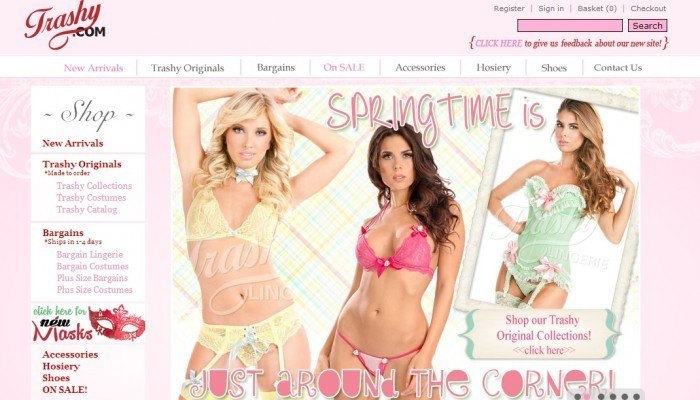 Well, if the name doesn't say it all, you're probably not paying that much attention. Each and every single piece of erotic underwear offered by this deceptively high-end provider is drop-dead gorgeous and certainly built to "show off the assets", if you know what I mean – truly jaw-dropping stuff that you should be able to afford on almost any budget.
Definitely take your time in checking out all of the different options available above, comparing and contrasting the different options and locations to find that outfit for your perfect someone – and great night.
Some of the sexy lingerie shops above will fit different personalities better than others, but all of them (ALL of them) encourage you and those closest to you to embrace your sexuality and your passionate side!
Read these posts next for more inspiration: