You've probably seen the TV commercials for a product called ExtenZe. This is a male enhancement herbal supplement manufactured by BIOTAB Nutraceuticals Inc and promoted by celebrities, such as Ron Jeremy (former porn star), Jimmy Johnson (former NFL head coach), and Kevin Conway (NASCAR driver).
Make sure you read this in case you have small penis:
There are many claims that thanks to this product you should experience more intense orgasms, better sex stamina, as well as fuller, harder, and more frequent erections!
However, are these claims true? Does this supplement really work? Is it better than its competition? Find out answers to all your questions below.
ExtenZe Ingredients & Secret Formula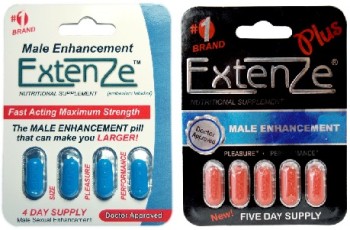 The manufacturer claims that ingredients used are all natural. Therefore, I have decided to take a look at what is inside ExtenZe formula:
Male Prohormone Blend (Micronized DHEA, Pregnenolone)
Bio-Enhancement Blend (Black Pepper, White Pepper, Ginger Root)
Sexual Response Enhancement Blend (Extracts from Yohimbe, Tribulus, Korean Ginseng, Eleuthero, Muira Puama, Licorice, Fo-Ti Root, and Hops; Cnidium; Xanthoparmelia Scarbrosa; Gamma-Aminobutyric Acid; Deer Antler Velvet; Barrenwort; Damiana; Pumpkin; Stinging Nettle; Astragalus; L-Arginine Hydrochloride; and Boron)
Folate (Folic Acid)
Zinc
Pay attention: According to product labels, these pills include a lot of ingredients, including DHEA (dehydroepiandrosterone) – a banned substance in athletic competitions.
In general, there is a rule – the more substances you use, the higher chance of experiencing side-effects or allergic reaction to any pills!
WARNING!
I have discovered 2 warnings released by the FDA about these capsules:
[UPDATED 05-16-2011] FDA notified Biotab Nutraceuticals, Inc. that two lots of counterfeit product purporting to be ExtenZe contain undeclared drug ingredients: Lot 0709241 contains tadalafil and sildenafil; lot 0509075 contains tadalafil and sibutramine (1).
[11-12-2013] FDA is warning about a potentially harmful counterfeit dietary supplement represented as "ExtenZe Maximum Strength." It looks similar to the actual product, but can be identified by lot number 0512058 and the expiration date EXP. May 16 (2).
Many Side Effects You Have to Know About
The manufacturer of ExtenZe pills has claimed that this is an entirely safe product. However, there have been several side effects reported by its users, including:
Heart Palpitations, Sweating, Increased Blood Pressure, and Body Temperature
Headache, Migraines, Nausea, Dizzy Spells, and Insomnia
Periodic Urination, Spasms, and Muscle Twitches
Anxiety, Mood Swings, and Abnormal Behavior
Constipation, Bloating, and Stomach Gas
Pay attention: If you experience any side effects, immediately stop taking these capsules and seek out the help of a medical professional!
I encourage anyone who takes medications prescribed by doctors or suffers from any medical conditions to always consult a doctor before taking ExtenZe pills.
5 ExtenZe Advantages I Really Like
The potent formula of ExtenZe works fast for increasing libido.
You need to take just 1 pill a day.
You do not need a prescription for it.
The price is on par with other supplements of similar power.
Your purchase through official website is protected by a 60-day money back guarantee.
7 Things I Hate & You Will Too!
It does not work for a permanent growth of your maximum penis size.
It may take up to 8 weeks to see maximum results.
Results are individual and based on your physique.
The ExtenZe company makes only a few definitive claims on TV commercials.
You will face many potential side-effects.
Forgetting to take a pill will make your overall results less effective.
The producing company – the BIOTAB Nutraceuticals Inc. – has been involved in a class action suit and has settled to pay claimants for unfair business practices, false advertising, and deceptive marketing!
Mixed User Feedback That May Confuse You
After browsing the internet, I was able to find a lot of reviews that were describing ExtenZe in 2 extremes:
Those who posted anonymously don't rate it very highly and made claims such as – "It did not work at all in any way that they claim!" – or – "What a waste of money, this product should be pulled off the shelves. Please don't buy!"
Others have praised this supplement a lot and stated that – "These are great, size does expand. My wife and I have never been happier!" – or – "Well worth the cost. I got mine from an internet distributor, and they had it here in just a few days. Results show up quickly, noticeable change in my girth and length. I highly recommend!"
Pay attention: There are many online forums (3, 4) you can visit to read discussions on the effectiveness of these capsules.
The Best Place to Get These Pills & Not Get Scammed
There are dozens of internet portals that sell ExtenZe online. However, I highly recommend you to get your bottle from the official product website – BuyExtenZe.com – to make sure you will really get what you are paying for.
There, you can choose from various packages that come with discounts and free bonuses:
1-Month supply ($59.95)
2-Month supply ($109.95) + 1 Free bottle of lube
3-Month supply ($159.95) + 1 Free bottle of lube
6-Month supply ($309.95) + 2 Free bottles of lube + Free US shipping
Pay attention: The official website offers a great 60-day money back guarantee, week trial, discreet, rush deliveries and many free bonuses with larger packages!
Final Verdict: Too Many Potential Side Effects
Although this supplement is working very well with regards to stamina and quality of erections, for me personally there are too many possible side-effects! Therefore, I can not fully recommend this brand to you, especially when there are better options on the market right now, such as Male Extra or VigRX Plus!
However, for first-time customers willing to give it a try, a trial period of one month's supply might be the best option. And with all supplements make sure to consult your physician before trying any new herbal products!
Read Next on THE STALLION STYLE