Most people don't spend a lot of time shopping for condoms. In general, if you're in a brick and mortar store, your goal is to get in and get out as quickly as possible without being seen by too many people.
Thanks to the Internet, you can make your purchase discreetly from the comfort of your living room.
The best part? There are dozens of brands to choose from, and many of them offer unique and awesome sensations that both you and your partner will enjoy.
We've rounded up the top 10 best "rubbers" that are worth your money!
Top 10 Brands & Types You Need to Try
Trojan's Fire & Ice Ecstasy provides pleasure for both him and her. Its dual action lubricant on the inside and outside of the condom delivers warm, tingling sensations that will drive both of you wild.
Trojan designed this rubber to be comfortable, and you can move freely for a more natural experience. However, this doesn't mean that you have to sacrifice safety.
Its tapered bottom ensures that it stays in place for a more secure fit. What is more, this model is made from premium quality latex, which reduces the risk of allergic reactions!
Trojan is one of the most trusted brands on the market today, so you can rest assured that you're always getting a high-quality product for your money.
Trojan Brand Condoms Ecstasy Fire and Ice
Click on the Image Above to Watch the Video
Durex Performax is designed for maximum performance and intense pleasure. Dots and ribs provide her with great stimulation while the delay lubricant for him prolongs the pleasure.
Like most other Durex condoms, Performax is made with natural rubber latex. The good news is that these have a low chemical scent, and they're a ton of fun to use!
The Performax Intense is comfortable to wear and made from one of the most trusted brands in the world. Each their product is tested electronically for flexibility, strength, and reliability.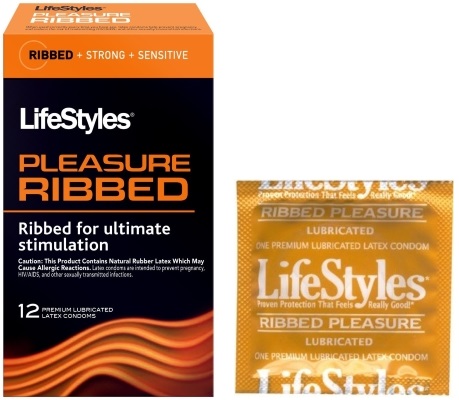 Made from premium quality latex, this innovative model from LifeStyles offers a low scent and a ribbed texture for added stimulation.
Its provides the ultimate level of excitement, thanks to:
Unique design
Lubrication
Reservoir tip
These rubbers are safe and affordable, so you can enjoy yourself without breaking the bank. The only drawback? Some guys complain that LifeStyles condoms are just too big for them.
Lifestyles Condoms Pleasure Ribbed Commercial
Click on the Image Above to Watch the Video
Do you love flavored rubbers but are tired of their chemical taste? Glyde flavored rubbers are ethical, vegan, fair trade, and feature 100% organic fruit flavors!
Available in ultra, maxi, and slim fit sizes, this brand offers five delicious choices, including:
Blueberry
Wild Berry
Vanilla
Black licorice
Strawberry
Also, this brand also offers a SHEER line of condoms that are more luxurious and improve sensitivity, but lack some of the above flavors!
All Glyde models are made from natural latex, and the double washing process successfully removes its unpleasant smell. The flavor of these condoms makes them so much fun to use in the bedroom without worrying about an unpleasant taste.
As far as I know, this is the only vegan, ethical, and fair trade option on the market!
Crown's Skinless Skin allows for the highest possible level of sensitivity. These lubricated rubbers aren't contoured, feature a reservoir tip and have a pink tint.
These are the same condoms used in adult films. Even though they're designed to be thinner than the standard latex protection, they are still strong enough to endure your sexual adventures.
These are thin, tasteless, and odorless so you won't even know you have one on!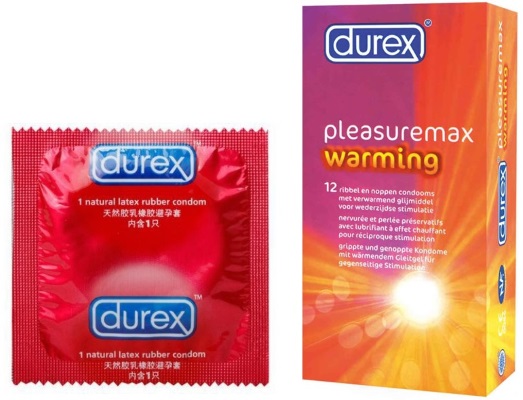 Another product from Durex, the Pleasuremax Warming is all about intense stimulation. It's ribs and dots will stimulate her while the lube provides both of you with a powerful heating sensation!
This model has a wide, contoured shape, and are made from natural rubber latex. However, the warming lube is really what makes this one worth a try.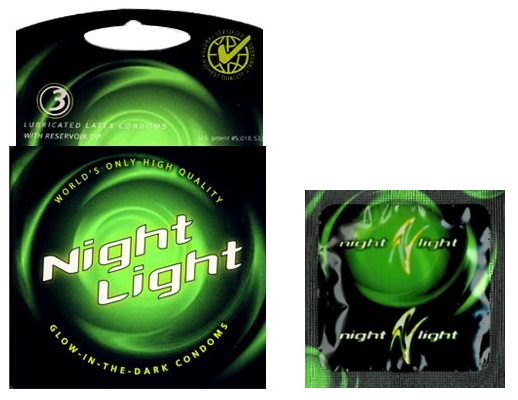 The Night Light brand brings a whole new meaning to the phrase "rise and shine." Produced from a non-toxic, safe, phosphorous latex, these 3-layered rubbers glow in the dark.
The middle layer features a phosphorous pigment that is visible in the dark while both inner and outer layer are created from a regular latex.
The only drawback?
This one is thicker than average condoms, which can make it a bit uncomfortable. But the glowing aspect makes this model too good not to try at least once!
Looking for a snugger fit condom? The Caution Wear Iron Grip is the right choice for you as this model provides a tighter fit.
When flat, it is:
49mm wide
170mm long
0.070mm thick
What is more, these rubbers are parallel-sided, transparent, N-9 free, lubricated and ultra-smooth. Made from clear latex they feature a reservoir tip and are electronically tested for strength and durability.
If you have trouble with slippage or that your regular condom feels more like you're wearing a plastic bag, then Iron Grip by Caution Wear is the perfect solution for you!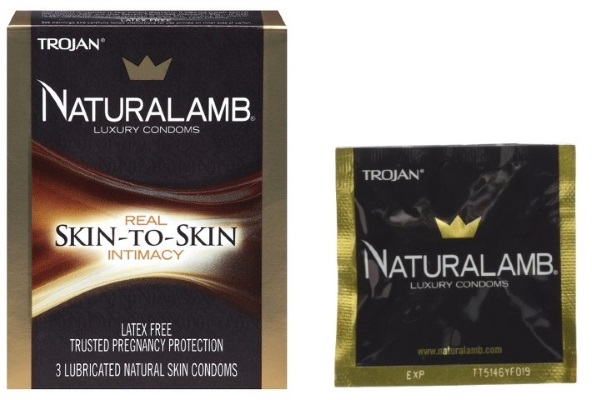 Looking for a latex-free protection? Trojan's Naturalamb is the right choice for you. Although it may be on the pricey side, it offers a sensation and sensitivity that's hard to beat!
Made from natural lamb membrane, these condoms are the closest you'll get to wearing nothing at all and still being protected against pregnancy. Once you try these out, you'll never go back to latex again. Don't say we didn't warn you!
This model isn't a reliable form of protection against STDs though, so keep that in mind!
For a truly intense experience, the Studded condom by Beyond Seven is the ultimate choice. Made from natural latex, these rubbers feature 3 inches of raised studs for a textural stimulation.
They're super thin and lightly lubricated for increased pleasure and comfort.
She won't feel a difference with most studded rubbers, but with a full 3-inches of raised studs, she'll feel know the difference.
Condoms – How to Choose the PERFECT Size and Feel
Click on the Image Above to Watch the Video
We recommend giving all of these condoms a try. Some will add pleasure while others will add a little more spice to your sex life. In either case, you'll have a whole lot of fun giving each one of these a test drive in your bedroom!
Read these posts next to improve your sexual skills: