You know what they say, "What happens in Vegas, stays in Vegas". Well we don't think that should be how it is, especially when there are such awesome and exciting things to see.
In fact if something, anywhere, is cool and worth it then we should spread the word. So then, what's worth talking about?
Well, the US has some of the best strip clubs in the entire world. However, not many people know of these excellent and exotic locations, often situated in many awesome places in the US.
From the desert to sandy beaches to heart of the city, lets take a tour around these and find out what makes them so exciting!
Place #1 – The Spearmint Rhino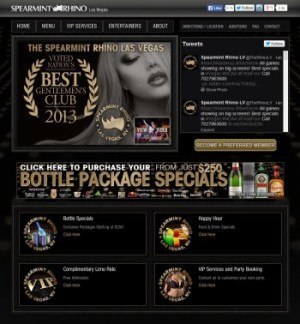 Location: 3340 South Highland Drive, Las Vegas, Nevada
Opening hours: 24/7
We begin our tour at the location known for keeping it's secrets, Las Vegas. The Spearmint Rhino in Las Vegas, Nevada, is a premiere gentleman's club offering a variety of stuff along watching naked girls.
Services offered:
Quality – From bottle specials to complimentary limo rides, this company runs the gambit of services provided by high-end strip bars.
Beautiful stuff – "Rhino Girls" are listed on their website for your viewing pleasure, and offer a wide range of drinks at their location.
Wild fun – In addition, this place is known for their VIP services and party booking. Organizing friend's bachelor's meeting? Well then, see him off in style.
The Spearmint Rhino prides itself on treating you like a king, picking you up in style, providing tickets for upcoming shows, and making your stay wonderful. With a full promotional staff at their beck and call, this company leaves no stone unturned in helping you fulfill your fantasies!
Place #2 – The Larry Flynt's Hustler Club
Location: 641 West 51st Street, New York, New York
Opening hours:
Monday till Friday 18:00 – 04:00
Saturday 20:00 – 04:00
Sunday 20:00 – 02:00
Next we travel all the way to the East Coast, to check out a location in New York.
With branches in Las Vegas, Baltimore, Cleveland, Chicago, and San Francisco, Larry Flynt's Hustler Club offers many types of adult entertainment that are truly spectacular.
Services offered:
Pretty – What makes the New York location of this brand so special are its beautiful interiors, the wide variety of entertainment, and the truly staggering supply of alcohol.
Gigantic – At 10,000 square feet, it is huge and well decorated, with a gorgeous selection of actresses willing to get nude at the drop of a hat.
Stuff to do – From complimentary wine tasting, whiskey and rum tastings to a variety of unique shows featuring an array of beautiful women, Hustler wants to offer it all.
Exclusive – And, when combined with their VIP services, hospitality, and cigar lounge, they seem to do it.
The sheer number of things to do makes this one a kind of Disney World for those interested in high-quality strip bars. As a result, you should keep this place on top places of your list if ever you are in the "Big Apple"!
Place #3 – The Clubhouse Texas
Location: 2250 Manana Drive, Dallas, Texas
Opening hours:
Monday till Wednesday 11:00 – 02:00
Thursday till Friday 11:00 – 04:00
Saturday 12:00 – 04:00
Sunday 16:00 – 04:00
From New York, we travel to the Lone Star State in search of something truly out there.
And, with a place that advertises the "Best Girls in Texas" along with the "Best Deals in Dallas", you are sure to get the Texas Treatment. Less interested in the "VIP" appearance, the Clubhouse works to be as far out there as possible.
Services offered:
Thematic – This includes and is certainly not limited to a "Naked IN wonderland Party" where costumes are judged, caricature artists abound, and the best Alice and Mad Hatter are chosen.
Famous grill – Also, what kind of Texas establishment would it be if it did not offer famous BBQ?
Crazy – Combined with a popular Facebook community and gallery, Clubhouse In Dallas is more about a fun and interesting place less stuck up with "VIP etiquette" and more about the crazy things that can happen.
As a result, it made its way onto our list.
Place #4 – The Penthouse Club
Location: 1401 Mississippi Avenue, Sauget, Illinois
Opening hours:
Monday till Thursday 11:00 – 05:00
Friday 11:00 – 06:00
Saturday 12:00 – 06:00
Sunday 14:00 – 02:00
From well-known Dallas to a town in Illinois, we check out a particular diamond in the rough.
Though known and sometimes criticized because of how expensive it is, The Penthouse Club In Sauget is repeatedly said to be the "Best Gentleman's Bar I've ever been to".
Services offered:
Atmosphere – With an excellent atmosphere, this one is big, beating out the rest of the competition in the area.
Plenty to do – This include features such as beer and or wine only nights, full bar, couple friendly nights, a complete menu, cigar bar, bikini, nude & topless lap dances, private & VIP rooms, featured dancers.
Membership – A more private membership club, you will never be bored or in need for something to do.
With so much possibilities, The Penthouse In Sauget was an obvious choice.
Place #5 – The 4 Play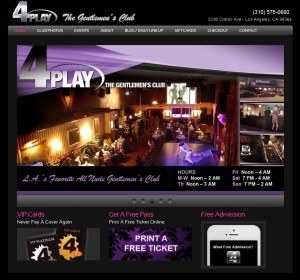 Location: 2238 Cotner Avenue, Los Angeles, California
Opening hours:
Monday till Wednesday 12:00 – 02:00
Thursday 12:00 – 03:00
Friday & Saturday 19:00 – 04:00
Sunday 19:00 – 02:00
Traveling from wheat fields to highways and beautiful weather, we take on a strip club in the heart of LA.
The place called 4 Play prides itself on being well-known and respected, which for this type of business, can be quite challenging.
Services offered:
Respected – Recognized for excellence from Citysearch, Yelp, Zagat, Askmen.com, Men's Fitness Magazine, and LA Weekly, this business has a lot to brag about!
Dedicated – At the heart of their success is a dedication to that so well-known but at the same time so often ignored, the strip tease.
Stress-free – It offers a safe get away from the stresses of life, where the movements of their dancers will entice and treat you to a rare break from the hardships around us.
Hosting a wide array of DJ's events, alcohol, and group plans, it is easy to see why 4 Play In Los Angeles caught our attention.
Place #6 – The Penthouse Executive Club
Location: 603 West 45th Street, New York, New York
Opening hours:
Monday till Friday 17:00 – 04:00
Saturday 19:00 – 04:00
Sunday CLOSED
Giving up on the West Coast, we travel again to New York City for a final East Coast strip experience.
Taking the VIP treatment to the max, the Penthouse Executive models itself as the supreme and most sophisticated one.
Services Offered:
Exclusive – This includes warm hospitality, beautiful interiors, and excellent steak dinners.
Famous steakhouse – On its second floor is Robert's Steakhouse, an eatery focusing on the best of steaks and American dining.
Must see atrium – Sold out weeks and even months in advance, Robert's Steakhouse is just another of the extravagant services offered, including a two-story atrium with room for up to 400 guests. No matter where you are, you will be able to see the lovely ladies.
Private rooms – They have an array of these decorated and themed based on color.
All these make it an opportunity too good to pass up.
Place #7 – Lollipops Gentleman's Club
Location: 643 North Grandview Avenue, Daytona Beach, Florida
Opening hours:
Monday till Saturday 15:00 – 03:00
Sunday 19:00 – 03:00
Finally, we head to some beautiful beaches, with even more sexy women. Sometimes, you just want to party.
And when it comes to partying, no place has a bigger reputation among college frat brothers and veterans alike then Lollipops In Daytona Beach.
Services offered:
Typical – Featuring a classic "strip club" experience while large and open to a great deal of people, this one is an excellent location to bring someone for their first visit.
Big – Lollipops is set up to serve a lot of people. With 16,000 square feet, it is on the very large size for this type of business.
Cool stuff – It has over 150 hired dancers, 3 large bars set up across the place, 7 screens showing sports, 5 screens showing movies or rock videos, 14 VIP rooms, 3 pool tables high-end stage and lighting, VIP seating, and food.
Weekly actions – In addition, Lollipops Gentleman's bar has weekly specials.
Thanks to these and a nod to the classic so strong that it had to be included.
Place #8 – Sapphire Gentlemen's Club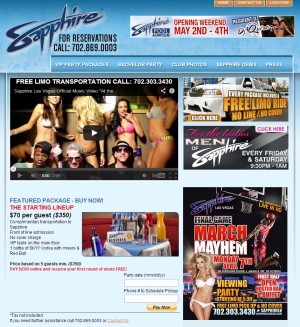 Location: 3025 Industrial Road, Las Vegas, Nevada
Opening hours: 24/7
And finally, we come full circle and arrive back at Las Vegas for the "World's Largest Vegas Strip Club".
Providing fun for everyone, Sapphire caters to those wishing to party with a group.
Services offered:
Variety – Whether it is Bachelor or Bachelorette parties, Vegas pole dancing class, birthday & couples packages, business retreats or even divorce parties, this place is sure to be able to accommodate you.
Non-stop – Open 24/7 for 7 days a week and every day in the year, Sapphire prides itself on always being open and giving superior experience.
Various stuff – In addition, it serves multiple food and drink packs for small groups, including travel, seating, and special VIP access.
From Texas to New York, the farmlands of Illinois to the urban sprawl of Los Angeles, and the party centers of Daytona and Las Vegas, we've toured through some of the best and most popular strip clubs that you need to know about.
So, next time you are planning a trip with friends or planning the ever-important bachelor party, follow our list, make it memorable and have a great time. Regardless, good luck!