Are you looking for a cock ring but do not know which one to choose? You will find dozens versions of this sex toy today – some being just fun while others are very stimulating for both parties.
If you struggle to find the one that is right for you, then seek no further as here is a list of my 5 most favourable cock rings on the market right now!
All these are excellent addition to your love life that will give you and your partner an amazing experience.
Exclusive List of Top 5 Cock Rings Out There
Ring #5 – Wonderful Wabbit by PipeDream ($29.99)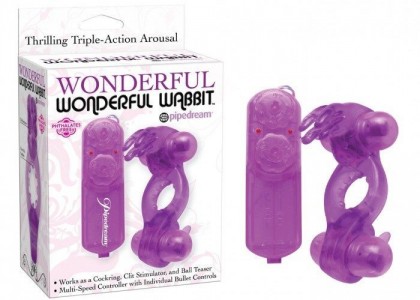 With a name like this, you are probably envisioning an exotic ring that will provide hours of fun. Luckily, Wonderful Wabbit does just that!
This product features:
Multi-speed control for vibrating bliss.
Clit stimulator to make her orgasm harder than ever before.
Ball teaser that adds more fun for you.
Pay attention: This model is made out of a rubber/jelly material and only comes in purple!
Ring #4 – Mio by Je Joue (£74.99)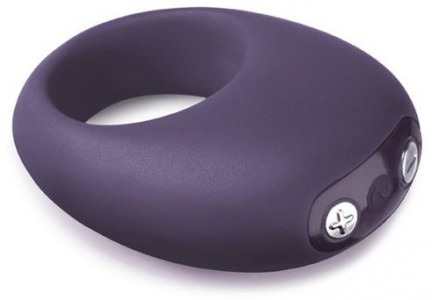 The Mio is a beautiful cock ring made by Je Joue company that has 5 vibration settings for the best orgasm possible.
This model features:
A rechargeable battery with 2-hour life.
A silicone ring that is 100% waterproof.
5 Vibration settings with controls on the ring itself.
Pay attention: You will love its comfortable fit. The only complaint seen is that this model can be noisy when used on the highest setting!
Ring #3 – Beaded Cock Rings ($5.49)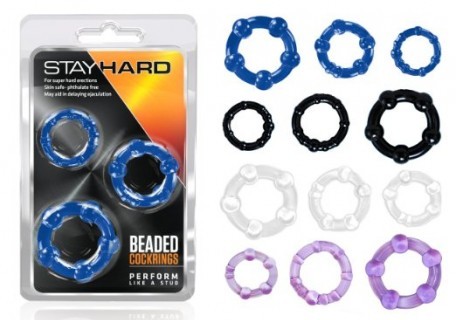 These beaded cock rings are meant to provide you with a longer erection while hitting her in all the right places. These are easy to put on and stretch into the right place.
If you want to perform like a stud, this product is the cheapest option, as you will enjoy 3 ring set that is made out of phthalate-free material – silicone.
Keep in mind: When used, you will experience further pleasure from blood restriction, and she will enjoy the beaded design rubbing up against her clitoris. For the first-time user, these are perfect to buy!
Ring #2 – Nitrile Stretch Cock Rings ($8.50)
Nitrile wants to hold true to a simple design. This brand is made with a rubber O-ring to provide immense stretching capacity without any damage done to the product itself!
This brand offers you following features:
Made out of rubber.
3-Rings (1.5″, 1.75″ and 2").
Keep in mind: The main selling point with this brand is that it is not going to lose its firmness with extended use. For a tight fit and classic design, these are the best choice and cost just over $8.
Ring #1 – Dual Clit Flicker by California Exotic Novelties ($25.64)
The Dual Clit Flicker is meant to provide her with incredible orgasms she has ever had. With her clitoris properly stimulated, your nights will be filled with screams of passion.
This ring features:
A flicking tongue that rubs right against her clit.
Vibration settings for him.
Push button stimulator that can be removed.
Very flexible design.
Pay attention: This is an Amazon best seller and has 225 reviews to back it up. Users just adore this brand, and one thing is for sure – so do their wives!
Do you have any personal experience with these models? Which one is the best? Share with us in the comments section below!
Safety Recommendations & Possible Dangers
3 Safety Tips
Never wear it longer than 30 minutes.
Use lubricants for easy removal.
Check it out from time to time during use to prevent excessive swelling.
4 Common Issues
They can become stuck & cause numbness.
This toy should not be used by those with blood-related ailments (low blood pressure, etc.).
Versions made from metal should be used with caution.
You will want to ensure that your ring is placed appropriately and that no swelling occurs. If it is worn for too long, you may cause swelling, which will result in a very difficult and painful removal.