PRODUCT OVERVIEW
Product name: Promescent
Producing company: Absorption Pharmaceuticals, LLC.
Price per bottle: $59.95
Official website: http://promescent.com
3rd party offers: Amazon (see here), GNC (not available)
Alternative products: Stud100
The Promescent numbing spray is great as a quick fix for those who suffer from premature ejaculation.
LAST UPDATE: OCTOBER 2017
Have you ever heard of "Orgasm Gap"? In general, women can take as long as 40 minutes to reach orgasm during sex while the average man only needs 5-6 minutes. For guys with severe premature ejaculation, however, sex may only last 2 to 3 thrusts.
Therefore, guys all around the world look for various ways to last longer in bed and one way includes using a numbing spray called Promescent.
Originally designed to help guys suffering from premature ejaculation, this topical desensitizing spray helps guys to get better control over their ejaculations and provide their sexual partners with more pleasure.
Based on lidocaine, this spray reduces the sensitivity of your penis for between 30 to 60 minutes depending on your dosage. All you need to do is to apply it on the most sensitive parts of your penis few minutes before sex.
BEST WAY TO APPLY PROMESCENT
Using Promescent is simple and easy, but it may take a few tries because the dosage is individual. So, here are directions you should follow to last longer in bed.
STEP 1 – APPLY PROMESCENT
The recommended dosage for men with serious premature ejaculation to start with is three sprays on the most sensitive parts of their penis. The best place to spray it on is Frenula area – the place (on the underside of your penis) where your glans connects to the shaft.
Just keep in mind that for many men, applying three sprays may be too much as they can get the control they desire with just one or two sprays.
STEP 2 – RUB IT INTO YOUR SKIN
Once you have successfully applied Promescent to your skin, you need to rub it in until it is fully absorbed to make it effective. The best way is to rub it in a dime sized circle area in a circular motion.
My advice is to not to rub it all over the place. You need to stay targeted so Promescent gets down to your nerve endings, and helps steer when you want that big orgasm to drop.
STEP 3 – WAIT FOR 10 MINUTES
Now comes the hard part (no pun intended). You'll need to wait for around ten minutes before having sex. For even more control, you may want to wait around fifteen to twenty minutes.
As you are waiting, you can focus on her pleasure. Try some of these foreplay tips or these techniques of eating her pussy. Trust me that she will gladly repay you the favor.
You can adjust the dosage as necessary, but don't exceed 10 sprays. Most men will want to stick in the range between 1 – 3. There's no need to apply the spray daily – only when you need it!
RECOMMENDED VIDEO ON APPLICATION
https://www.youtube.com/watch?v=8KIJKilDV_8
INGREDIENTS USED IN PROMESCENT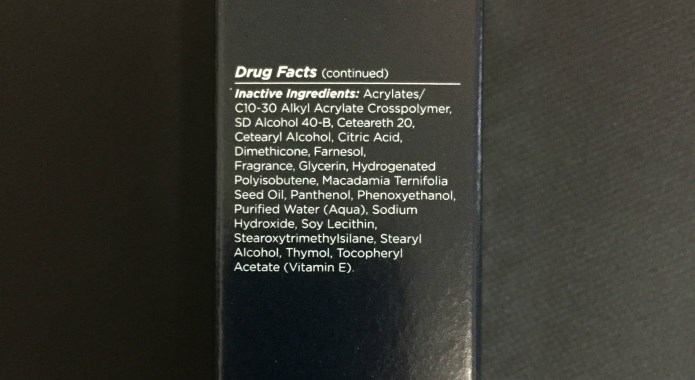 PROMESCENT
Active ingredients: Lidocaine (approximately 10mg per spray)
Inactive ingredients: Acrylates/ C10-30 Akryl Acrylate Crosspolymer, SD Alcohol 40-B, Ceteareth 20, Cetearyl Alcohol, Citric Acid, Dimethicone, Farnesol, Fragrance, Glycerin, Hydrogenated Polyisobutene, Macadamia Ternifolia Seed Oil, Panthenol, Phenoxyethanol, Purified Water (Aqua), Sodium Hydroxide, Soy Lecithin, Stearoxytrimethylsilane, Stearyl Alcohol, Thymol, Tocopheryl Acetate (Vitamin E)
POTENTIAL SIDE-EFFECTS
Usually, manufacturers state that their products are great and without any side effects. However, what does a reputable website, such as Drugs.com says about used active ingredient (last checked October 20, 2017)?
While using this numbing spray, you may experience following side-effects.
More common:
Flushing or redness of the skin
Itching skin
Small red or purple spots on the skin
Unusually warm skin
Excessive numbness
Loss of erection
Less common:
Bruising, bleeding, burning, swelling, or pain at the application site
If you experience any of these, stop use immediately and wash your penis with warm soapy water. If the symptoms last longer than 12 hours, contact your physician.
USER FEEDBACK & TESTIMONIALS
All these user testimonials and feedback are collected from other online websites. Therefore, I can not ensure their validity. Please take these with a grain of salt.
I have gone through a lot of user testimonials available on the internet (Amazon mostly). From what I was able to learn, users usually claim that this product works great. From negative reviews, I have to point out the fact that most men complain that it is way too expensive to use on regular basis.
There were some who complained about a quality of the spray bottle and some over the fact that it either works too well (complete numbness) or works only for a little time.
If you do not trust me, then I have a selection of user testimonials to make the point. Just see for yourself in the user feedback below.
FEEDBACK:
"It lasted for a bit but not longer than we thought it was going to last! Its a very tiny bottle. It lasted 3-4 intercourses… I would recommend a bigger bottle that isn't so expensive for a tiny bottle that cost like $20 that doesn't last long enough. It was good for the most part tho."
"I just want to thank you for creating a perfect solution for my wife and I!!!!! This stuff is absolutely amazing!!!!! Before I would be doing good to last 30 seconds with this stuff the first time we tried it lasted about 30 minutes and could have went much longer if I wanted to. After my wife had the most amazing orgasm of her life I decided it was time for me and it was that easy. The sex still feels amazing for me and for her it was like she had a smile tattooed on her face. You have a new loyal customer in me. Again thank you so much for this product I had no idea I would ever be to make love like this."
– User feedback from Scott G. left on official product website Promescent.com (last seen October 20, 2017)
"This stuff is just amazing, I went through 3 Trial Size bottles in 3 Weeks with my new girlfriend, she has never ever had so many orgasms where she was saying stop stop. I need to get more and it was really great for myself by being able to get her off before me for once and every time I used it. Thank You so much for this product and now you've just made it so much easier to get. I'm heading to Rite Aid next Tuesday as soon as they Open… A VERY VERY SATISFIED HAPPY MAN YOU HAVE MADE ME….OH AND MY NEW GIRLFRIEND TOO……. ."
– User feedback from Don S. left on official product website Promescent.com (last seen October 20, 2017)
"The great news is that, unlike another similar product I tried in the past, this actually worked. And it's done so without numbing her at all and without significantly numbing me. Not sure if it's the unique delivery system or the good application instructions, or both, but this product just made me feel more in control – not numb. Simply put, it was still really enjoyable for me throughout the process, but it took the edge off enough to give me great control. I've done this with one squirt. As to whether this control has made a difference, I'm not exaggerating when I say the response I've received from my wife is as good as I could have possibly imagined."
"Over time I want to reduce the number of sprays and if possible discontinue its use. While I agree the best solution is to have to learn what is causing the PE and eliminating it, for the short term I don't mind using it because it boosts my self-confidence, gets me more used to sex, (didn't have sex till I got married, so it's only been a year – though I've had lifetime PE) reduces my anxiety and gives my wife satisfying sex (she's been great through my problems but she shouldn't have do without good lovemaking till I figure out what is wrong and solve it – that could be a while). So using this spray can actually do things for you to actually eliminate the need for it. I'm definitely a fan of this stuff and would recommend it till you find a permanent solution."
– User feedback from Quickdraw left on PEGym.com (last seen October 20, 2017)
As you can see, not all feedback is just positive. Therefore, be prepared that this product may give various results to different people. That is why I recommend purchasing a smaller supply at first.
OFFICIAL GUARANTEE & WARRANTY
Right now, the easiest way to get real Promescent spray is through the official website or through select authorized dealers worldwide. However, just a quick google search will provide you with a lot of websites that offer these pills as well.
But can you trust these sites that they will send you a real product (and not a fake one)?
That is why I recommend buying any products of intimate nature from the official product website (Promescent.com) if you want to be 100% sure you will not get scammed.
Below I made a screenshot how it should look like:
(Image was taken on October 20, 2017)
Another advantage of making a purchase on the official website is that they offer at least some refund policy (sadly, no risk-free money back guarantee is offered).
Here are details of official refund policy (quote taken on October 20, 2017):
"Due to the intimate nature of our product, we do not offer returns or refunds, but we will exchange any product that is defective or will not spray properly. No credit will be issued for returned items."
"You must contact us prior to returning a defective item so we can note your account and start the reshipment process. Please email us at [email protected] for orders in the United States or Canada. Please email us [email protected] for any order outside of the US/Canada."
On the one hand, I have to say that it would be great if producing company offered even a money back guarantee to try this product without risking any money. On the other hand, they do offer a trial bottle for just $19.95 + shipping so lack of such guarantee is not something that would negatively affect my shopping decision.
PROMESCENT - VS - STUD 100 SPRAY (QUICK COMPARISON)
The Stud 100 spray is the biggest competitor of Promescent, and the product has been around for more than 30 years. While these brands are very similar there are several critical areas where they vary a little bit.
Comparison of Ingredients:
The Promescent website only offers info on the main active ingredient they use in their spray – Lidocaine (eutectic version). This version should work better than its competition (see here).
The Stud100 website also offers only information on the main active ingredient they use in their spray – Lidocaine Base 9.6% w/w.
As you can see, both products are based on the same main active ingredient – Lidocaine. However, Promescent claims that their eutectic version is much more convenient, minimizes partner transfer and retains enough sensations to enjoy sex.
Comparison of Guarantee & Price:
Sadly, the Promescent official website does not offer any money back guarantee for unsatisfied customers. On the bright side, they do offer two sizes of their spray, smaller one that is a travel-size (0.04 fl.oz / 1.3ml) will cost you $19.95 while the bigger one is a regular-size (0.25 fl.oz / 7.4ml) and will cost you $59.95.
Similarly as with the Promescent, not even the Stud100 offer any money back guarantee for unsatisfied customers. The Stud100 offers only one size of their spray (0.43 fl. oz / 12.71 ml), that will cost you $15.95.
As you can see, with regards to money back guarantee, none of the companies offer one. With regards to price, the Stud100 is a clear winner, as it offers a lot more of the product for a much less of a price.
Hey guys, if you are looking for ways to last longer during sex then you have landed on the right post as I have...
FINAL VERDICT: QUICK FIX FOR PREMATURE EJACULATION, BUT...
ADVANTAGES
AFFORDABLE & EASY-TO-APPLY
DOESN´T REQUIRE A PRESCRIPTION
WON´T AFFECT YOUR PARTNER
ALLOWS YOU TO CONTROL THE DOSAGE
DISADVANTAGES
TOO MUCH OF THIS LOTION CAN MAKE SEX VERY UNSATISFYING
SOME MEN CAN EXPERIENCE BURNING SENSATION DUE TO AN ALLERGIC REACTION
The Promescent numbing spray is great as a quick fix for those who suffer from premature ejaculation. However, it does remove a lot of sensations you can experience during sex and makes it much less pleasurable.
If you're looking to last longer during sex or just want to learn to control your premature ejaculation, this brand is a promising solution that will reduce your sensitivity and allow you to please your partner like never before!
Read these posts next to improve your sexual skills: