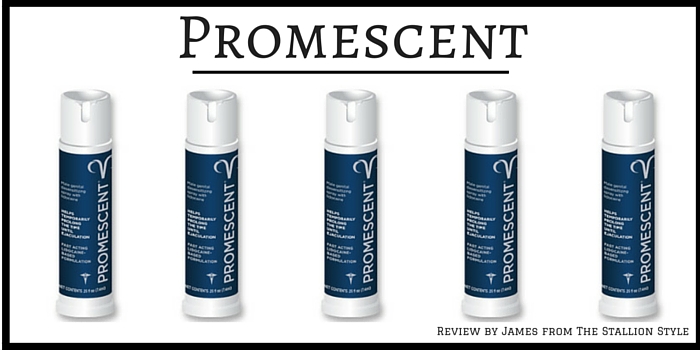 REMEMBER: This Is The Complete Guide to Promescent! DO NOT Buy This Product Until You Read Our Review! These Tips Helped Over 20,000 Readers of THE STALLION STYLE! Videos and Great Tips INCLUDED!
In general, women can take as long as 40 minutes to reach orgasm during intercourse while the average man only needs 5-6 minutes. For guys with severe premature ejaculation, however, sex may only last 2 to 3 thrusts.
Read these posts to MASTER your sex life:
Therefore, guys all around the world look for various ways to last longer in bed and one way includes using a numbing spray called Promescent!
The Basics of Promescent
Originally designed to help guys suffering from premature ejaculation, this topical desensitizing spray helps guys to get better control over their ejaculations and provide their sexual partners with more pleasure!
Based on lidocaine, this spray reduces the sensitivity of your penis for between 30 to 60 minutes depending on your dosage. All you need to do is to apply it on the most sensitive parts of your penis few minutes before sex!
My 4 Recommendations for Successful Application of This Spray
Using Promescent is simple and easy, but it may take a few tries because the dosage is individual.
Men with premature ejaculation should start out with 3 sprays on the most sensitive parts of their penis. For many men, this will be too much as they can get the control they desire with just 1 or 2.
Once sprayed, you need to rub it into your skin until it's fully absorbed.
Now comes the hard part (no pun intended). You'll need to wait 10 minutes before having sex.
For even more control, you may want to wait 15-20 minutes.
Keep in mind: You can adjust the dosage as necessary, but don't exceed 10 sprays. Most men will want to stick in the range between 1 – 3. There's no need to apply the spray daily – only when you need it!
6 Things I Really Like
Affordable and easy to apply.
Doesn't require a prescription.
Can be used on demand.
Won't affect your partner.
Absorbs easily.
Allows you to control the dosage.
2 Disadvantages You Need to Know
Applying too much of this lotion can make sex very unsatisfying.
Some men experienced a slight burning sensation when using the product. This could be due to an allergy.
3 Most Common Side-Effects
While using this numbing spray, you may experience following side-effects:
Burning sensations
Skin irritation
Excessive numbness
Loss of erection
If you experience any of these, stop use immediately and wash your penis with warm soapy water. If the symptoms last longer than 12 hours, contact your physician!
Do not use this product if – You (or your partner) are allergic to lidocaine or have irritated / broken skin in the genital area; if anyone of you is being treated for liver or kidney disease or is your partner is (or may be) pregnant!
Great Video Guide for This Spray
Click on The Image Above to Watch the Video
Promescent vs. Stud 100 Spray – My Comparison
The Stud 100 spray is the biggest competitor of Promescent, and the product has been around for more than 30 years. While these brands are very similar (both use lidocaine as an active ingredient), there are 2 critical areas where they vary a little bit – a speed of absorption and partner transfer!
With regards to absorption, Promescent wins over the Stud 100 as it uses ionized form of lidocaine that is much easier to absorb and can reach your nerve endings sooner!
With regards to partner transfer, again Promescent wins over the Stud 100 due to its unique absorption formula.
Pay attention: One of the biggest issues that users have with Stud 100 is that it makes both them and their partner numb. You need to use a condom to prevent this from happening!
3 Sources of Customer Experience & Feedback
My personal observations were as follows:
The vast majority of Promescent users love it, and most claim that it's helped them effectively manage their premature ejaculation (PE).
Even guys without PE use it to please their partners and last more during lovemaking.
Pay attention: Even though this product is supposed to reduce sensitivity, most guys note that sexual pleasure is not reduced you just enjoy intercourse for longer.
The Best Place to Get Promescent Online without Getting Scammed
If you want to get Promescent, then I have to warn you that it is much better to get it from its official website. This way you will be sure you get what you pay for!
You can expect to pay $79.95 for a standard metered-dose bottle! Not quite ready to commit to a full bottle?
Pay attention: The manufacturer offers a trial version for just $19.95. This is a pocket-sized bottle that you can use on the go! It's about the size of a lip balm tube.
Final Verdict: Quick Fix for Premature Ejaculation, But…
The Promescent numbing spray is great as a quick fix for those who suffer from premature ejaculation. However, it does remove a lot of sensations you experience during sex and make it much less pleasurable.
If you're looking to last longer during sex or control your PE, this brand is a promising solution that will reduce your sensitivity and allow you to please your partner like never before!
Read Next on THE STALLION STYLE