If you're single and looking to mingle, there are more options than ever before thanks to the internet. Instead of staying single and hoping for Lady Luck to play cupid on your behalf, take action and continue reading!
Below are 7 top sites for meeting other people who you can use for absolutely free. Find the one you like or use multiple.
OkCupid started back in 2004 and by 2007 it was already listed as one of Time Magazine's top 10 relationship websites. One unique feature of this portal is that it provides some member-created quizzes as well as personality tests!
The results help OKCupid match you with someone who has a compatible character!
This quiz system is rather sophisticated when compared to similar offerings. When users answer a question, they also provide the answers they would tolerate from a potential match. People also indicate how important they find each question!
Pay attention: There is also a rating system based on how other individuals rate one another. Anytime you are given a four or five-star rating, the site notifies you. The more attractive others consider you, the more people you'll be able to see!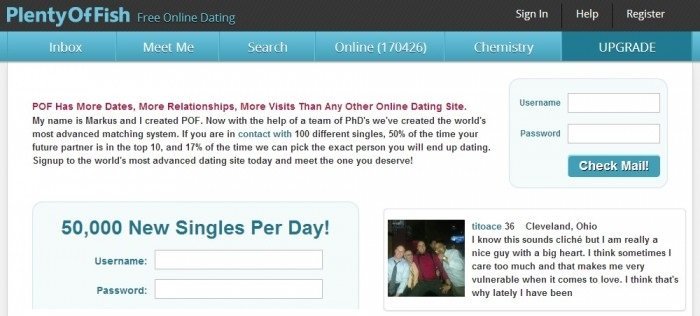 Plenty of Fish (PoF) has been in business for 10 years. As of February 2012, this portal has over 40,000,000 users worldwide. It is the number one website to meet people in the UK, Canada and, by market share, America (18.57%).
This makes it the top-ranked one in the entire world!
Pay attention: One reason for its popularity, then, is that it can be used by people on extended trips to foreign lands. You no longer have to be lonely in a new town; you can use this internet portal to find a quick date.
Site #3 – Casual Kiss
This dating website seeks to be both interactive and even easy to customize, providing a unique experience for each. It provides these features:
Getting social – It offers a network for users that is similar to Facebook, allowing hopefuls to connect with one another.
Webcam chat rooms – You can also decide to meet others in a chat room, where you can talk via text or even use a webcam to better get to know each other.
Hot or not – There is voting, for example, for Member of the Week. People can also vote on whether or not another member is attractive or not.
Track – The "voyeur" feature allows you to see who's been visiting your profile.
By the way: Unlike PoF, Casual Kiss will accommodate those in the mood for a quick hookup. You can also leave a blog post, another feature PoF used to have but did away with.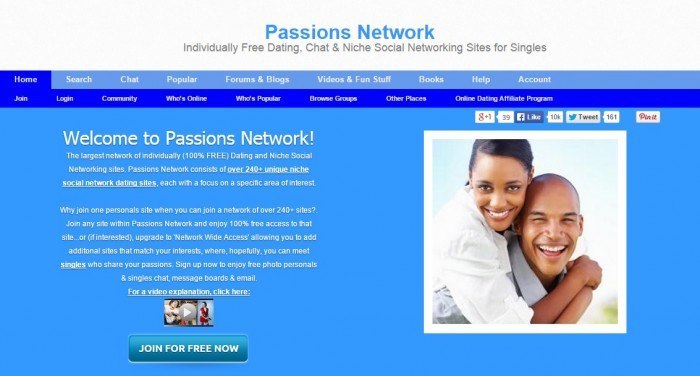 This isn't so much a dating portal as it is an aggregation of over 200 sites. Each of these focuses on a different niche in the market.
The result provides you with a unique way of finding the right person based on their specific interests. As someone's interests are usually more than just one thing, Passions Network allows users to peruse over 200 various options!
Keep in mind: The pages themselves fall into categories based on religion, sexual orientation, politics or weight. However, there are also even more specific categories like environmentalists, those with disabilities, people who are into Star Trek, individuals who love mustaches, etc.
Few years ago The Wall Street Journal listed this company as one of the Next Big Things in 2011. This was its second time on the list.
Today this site supports 25 different languages and is available in more than 70 countries!
Like Plenty of Fish, it's an excellent resource for those who are no stranger to international travel, but would still like to have a personal connection no matter where they are. Of course, Zoosk is helpful to more than just those who are on the go.
It skews to a younger audience. Almost 70% of those who use it are below 35 years of age. One of its unique features is that it utilizes games popularity rankings to keep users engaged.
Keep in mind: Furthermore, once 2 people begin dating and officially become a "couple", this portal will offer them special services. These should support the relationship and, of course, keep them return for more!
This is one of the most niche sites on this list. It seeks to bring hopefuls together based on their choice of music.
Unlike other options on this list, the Taste Buds is entirely free, with no membership program whatsoever!
Users also receive unlimited possibilities when it comes to searching for potential dates and messaging one another. The interface is simple as well, making it less challenging to find a partner. It's as simple as entering in artists you like!
Pay attention: After that, the website will give you profiles of individuals with similar interests. From there, it's up to you to speak with the person and decide if a rendezvous makes sense.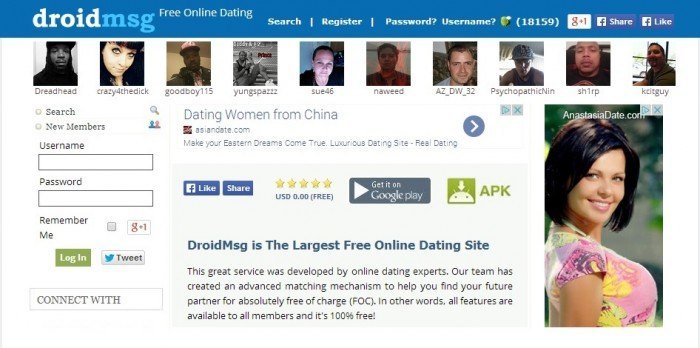 As the name suggests, DroidMsg is a free app for Android phones. Since 2012, it has made international online dating easier by including anyone with an Android phone in on the service.
It also functions as a social network that enables you to be notified either by text or email!
To communicate with your potential dates, you can either choose private emails or instant messaging as your preferred method. Not only that, this app looks to match users by bringing them together based on age, interest and other information from their unique profile.
Pay attention: It also allows you to ask for further information about another person before deciding to meet with him or her.
Read these posts next to improve your sexual skills: