Aneros prostate massagers are some of the best on the market. Built with comfort and pleasure in mind, these toys stimulate male G-Spot to help you achieve an incredible orgasm.
If you're thinking about trying this brand of toys, our beginner's guide can help you find the right model that will fit your needs and your experience level the best.
All You Need to Know About The Aneros Brand
The Aneros Company has been in business since 1996, and their main mission has been to provide customers with sexual aids that not only enhance their pleasure but their health as well.
While the brand offers a range of sex toys for couples, women and men, their hands-free prostate stimulators are the company's top-selling products!
According to Aneros, their products are the safest and most pleasurable toys you can find on the market these days. With more than a million items sold, this is a trusted name in the sex toy industry, and their male devices really do have a reputation for being the best!
This company offers more than a dozen different prostate massagers, but some perform better than others. Let's take a look at the top 4 models to help you find the right one for your needs.
4 Best Aneros Models You Need to Have
Model #1 – Progasm Classic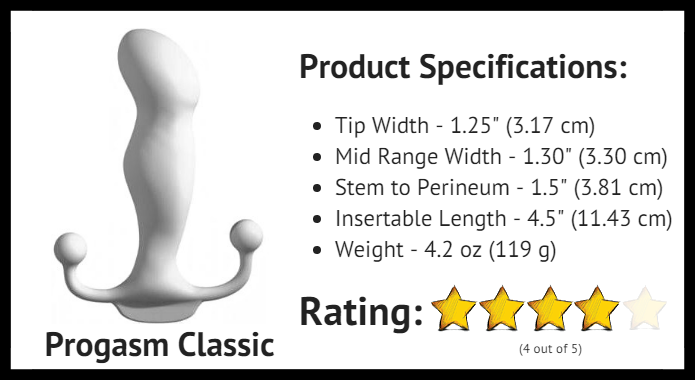 User level: Intermediate / Expert
The Progasm Classic is Aneros' largest model yet. The round perineum tab is newly designed and the product features a special "K-Tab" named after Kundalini – the dormant spiritual energy hidden in your spine.
This feature adds a new level of pleasure by providing stimulation up and down your spine for the utmost pleasure. Even though it is one of the largest versions provided by this company, it's still small enough to be easily portable!
My opinion: Manufacturer states that this model is designed for both beginners and experienced users alike. However, I believe that this model is too big for beginners and will be better for intermediate and expert users.
Model #2 – Vice
User level: Advanced
The Vice is the first and the most expensive Aneros model you can get from their V-Series. It provides you with multi-patterned vibration settings.
Anatomically designed to fit your body, this product takes the pleasure of prostate milking to a whole new level. The Vice's design also includes the famous K-Tab for head-to-toe climax every time you use it!
Pay attention: This product is incredibly quiet and runs on a single AA battery, which is included with your purchase so you can start enjoying it from the moment you take it out of the box!
Model #3 – Helix Syn
User level: Beginner
The Helix Syn is an updated version of one of the Aneros's best-selling models – Helix. The original design has been refined to improve comfort and enhance your experience.
The exterior of the massager includes a thick layer of silicone to make it incredibly comfortable to use. Beneath that layer is a rigid frame that helps you achieve those mind-blowing orgasms.
Pay attention: The tip of the product is tapered to make it even easier to insert than the original Helix design!
Model #4 – DeVice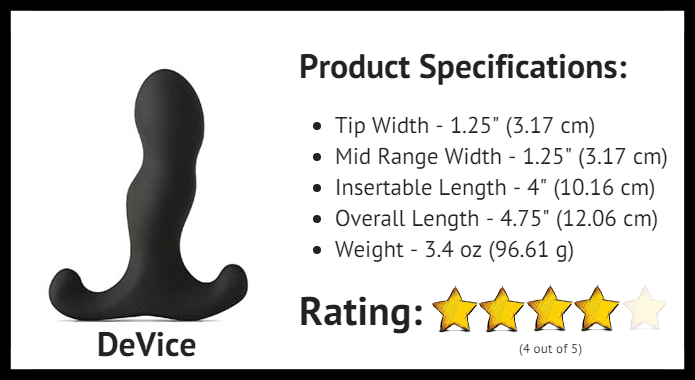 User level: Advanced
This version is inspired by Aneros's Vice model, but the creators went back to the basics by eliminating the vibrating feature altogether. Crafted with pure silicone, this is one of the best prostate massagers on the market.
Keep in mind: Its curves are anatomically designed to fit your body and its hands-free design allows you to use your own muscle constrictions to reach that incredible orgasm!
6-Step Guide to Use Aneros Prostate Massager
Watch the Video Above and Learn How to Find His Prostate
Follow these steps to use your Aneros in a safe, pleasurable way.
Wash it before each use.
Apply lubricant to it and lie down on your side.
Keep your lower leg straight and bring your top knee to your midsection.
Slowly insert the massager. Position the perineum tab against the area between your scrotum and your anus.
Relax your body and allow yourself to become comfortable with the product.
Begin slowly contracting and relaxing the sphincter muscle. These contractions will guide this toy to all the right places and stimulate the Male G-Spot.
You can increase the intensity and frequency of the contractions as you become more comfortable with it.
Read Next on THE STALLION STYLE