Is there anything worse than wanting to be with a girl but not being able to? Maybe you've tried your luck but it was out, or you're admiring her from afar – too shy to do anything about it.
Whatever the issue that is stopping you from being with the chick you desire, maybe it's time for you to try something different! How about learning from someone who knows what they are doing when it comes to women?
After all, in any other area of life, you wouldn't hesitate to seek expert advice, and that's what pickup artists (PUAs) offer. They are men skilled in the art of seduction and attraction! Luckily, this article is going to reveal to you 7 best experts on pickup scene.
Read on, choose one, and get the girl of your dreams!
If you are already familiar with the name Neil Strauss, then it is probably because of his New York Times bestselling book The Game, which detailed his infiltration of the pickup scene. Tons of tips, tricks and techniques are revealed from evenings spent with real-life pick-up artists.
It is also invaluable to see how an ordinary man can transform themselves from Mr. Average into a pickup dude and, with enough work, maybe even a guru!
Pay attention: His internet site features an advice section named The Couch, which offers tips on various topics from girls to self-improvement. What is more, there is also a link to a series of videos called Rules of the game, which demonstrates techniques in a real action!
Joshua Pellicer is an experienced, well-known name in the world of the pick-up artist. As Josh explains on his site, he started out as just an ordinary guy looking for advice on how to get women.
Then he proceeded to try out everything he could find in real life!
Through trial and error, he began to formulate his own system. With borrowing little bits from different techniques and moulding them into his unique way of doing things he was able to create the program called 'The Tao of Badass'.
Pay attention: If you go to the official website of his program – The Tao of Badass – you will be taken to this section, which features articles on things like confidence, dating tips and a series of videos.
You may know this particular guru from the VH1 show titled simply – The Pickup Artist. For over 20 years, this self-styled expert in social dynamics has been providing men with the skills to attract women.
He first came to prominence in the underground dating scene when he took the groundbreaking step of offering live, in the field training.
But it was the earlier mentioned Neil Strauss and his book The Game, which brought Mystery to the attention of a whole new, mainstream audience. The Venusian Arts is a continuation and the latest incarnation of Mystery's school of seduction, which itself has been running for over 10 years.
Keep in mind: Alongside 2 other co-founders, these guys offer a complete range of options to learn from the masters, including boot camps, phone coaching and even in-field training of the art of seducing ladies.
Another pickup guru who benefited from the book The Game, Wayne was a contributing author and character under the name "Juggler". Wayne is creative director of Charisma Arts and is a well-respected pickup artist.
He has been having written for Esquire in the past while also having a blog on the Psychology Today website. He has also appeared on TV numerous times. Charisma Arts aims to help men become masters of sex, love and conversation.
Pay attention: They offer private tuition, articles & seminars. What is more, they have been written about in such places as Urban Daddy and Time Out New York.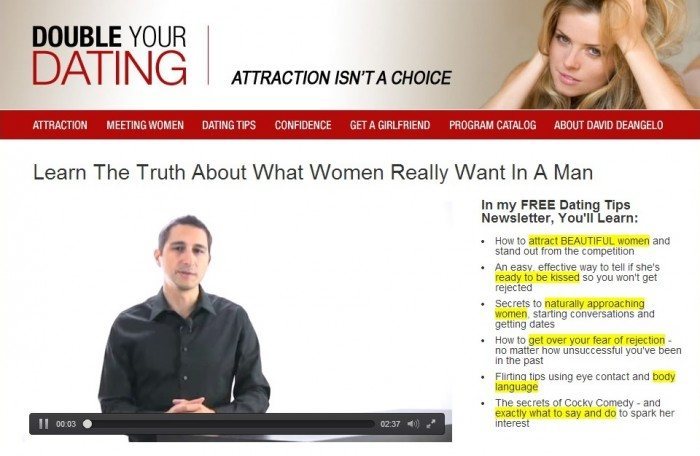 Similar to Joshua Pellicer, David DeAngelo talks about refining his system for attracting women from a lot of trial and error. He talks about things improving when he started hanging out with guys that were already pretty good around chicks, noting what they did, and then applying them in his personal pursuit.
From this, he managed to develop his own system, some of which is based on doing the opposite of what you might have heard from others.
Pay attention: He has a series of eBooks on offer (one of which is called double your dating) and also a video course that promise to bring you the same success he has had.
Voted the top pickup artist back in 2008, Brad's website is a real treasure trove of advice. On the opening page, you will find 2 sections – free Stuff and materials you have to pay for.
The latter one itself is divided into sections from beginner to advanced levels.
The first topic in the beginner section is called 'Instant Attraction'. This gives you the chance to purchase a book that contains all of the opening lines that he has crafted on his journey to becoming one of the best pickup artists around.
Not only that but he'll give you an opener right there as a freebie. As you would expect Brad offers various levels of coaching to help you get girls, including 1-on-1 coaching and even the pickup mansion!
Pay attention: Billed as Brad's most elite training program, you and up to three friends can spend time in a mansion in Hollywood learning first-hand the secrets of the dating artist.
Last, but by no means least, Zan Perrion. Click on his site and you are bound to be drawn right in from one of the first things you will see. Just below the top of the page is the tagline "Have you ever been a woman's fantasy? If not, why not?"
Pretty catchy and I think you'll agree!
Zan is the man who a whole chapter was dedicated to in the book The Game! He even prompted Neil Strauss to say this about "…the undisputed heavyweight of the genre… in four years, he never once asked for advice, he only gave it."
He prides himself on what he calls a more 'natural' approach to the art of seduction that includes improving your whole life. His early work is widely credited with having a big influence on the formation of the 'seduction community.'
Keep in mind: There are a wealth of books, DVDs and courses to choose from but if you want to find out more, Zan provides a free webinar from time to time!
Read these posts next to improve your sexual skills: