Looking to step up your game? The web is the best place to start.
There is a ton of male blogs that offer tips, advice, and guidance on how to improve your "manly" skills. Aside from picking up women, you'll learn how to dress, how to groom yourself and how to behave like a real man.
Check out these 10 popular websites and begin upping your game today.
Ask Men is the ultimate guide to becoming a better man. From fashion to health, sports, dating, sex, power, food, money, and life, Ask Men covers every topic you can think of – from a male perspective!
It's not uncommon to find interviews with celebrities offering advice on life, fashion, and picking up women.
Keep in mind: This site is the ideal resource for pick-up tricks, tips, and guidance on becoming the best man you can be. While you're at it, don't forget to check out the photo galleries of some of the hottest girls in a Hollywood.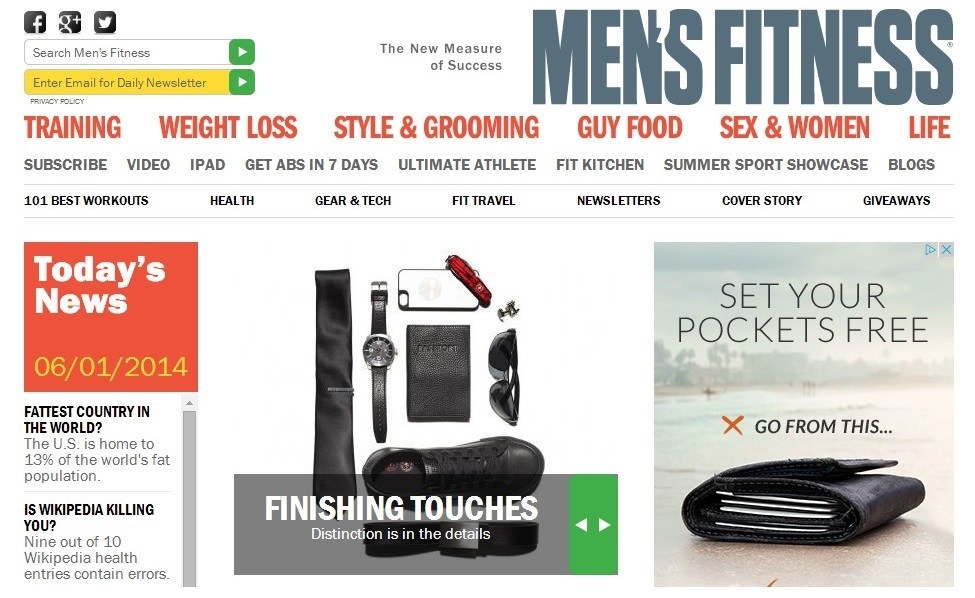 Here you will have all of the health and exercise advice you need to keep your body looking its best. From the top training routine to supplements, food info, and gear, this site is your go-to guide for staying fit.
They also have a ton of newsletters that give daily tips, answers and stuff, including:
The Heat Index – Find out what chicks want.
Daily Gamechanger – Get the most effective nutrition and relationship stories from the site.
Health Report – This section gives answers to the top nutrition and well-being questions that readers have.
Off the Clock – This newsletter offers info on style, money, travel and so much more.
Training Camp – In the Training Camp, fitness gurus and trainers give advice on how to reach your perfect body goals faster.
Remember: Aside from health, Men's Fitness also offers stuff on sex, women, life, guy food, grooming, gadgets and even traveling!
This site is all about wearing clothes like a "grown up". Part of stepping up your game is learning how to dress like a real man.
The website Put This On assists you to do that by giving you excellent tips, pointers, and even advice on where to shop! They even show you how to shop for grown-up clothes on a budget.
Please note: Sit down, grab yourself a cup of coffee, and start reading because you have a lot to learn from this site. If you want to improve your game, you need to start dressing like a real man.
The front page of Co Ed is full of girls, corny pranks, and hilarious videos – every guy's dream! But hidden in the Culture section of the site, you'll find the "Style + Grooming" page with tips on how to dress and groom yourself properly.
Please note: The Co Ed also covers sports, entertainment, college advice, and various "News-ish" stories! Aside from the style and grooming page, Co Ed won't help you that much, but it will keep you entertained.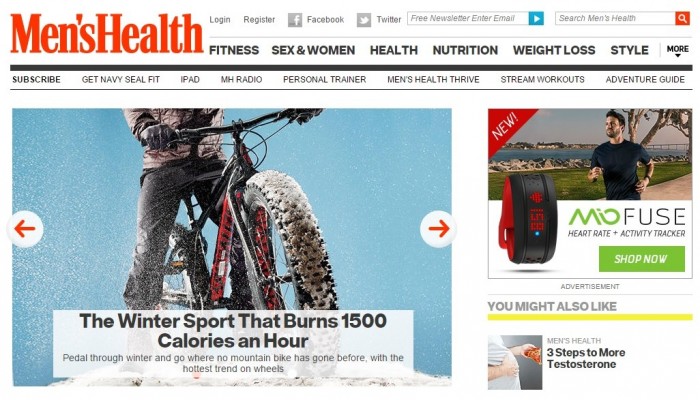 This website is similar to Men's Fitness. It's an all-around lifestyle site for dudes with nuggets of advice on just about everything. In the Sex & Women section, you'll find tips on how to pick up ladies and relationship guides for dudes who are already taken.
You will even discover stuff on how to make your orgasm even better or the most erogenous parts of a woman's body.
Remember: Men's Health also covers fashion, grooming, fitness, and nutrition. In this way, you can make your game better and start picking up the women of your dreams!
This blog is all about upping your social skills. If you want to pick up a woman, you need to know how to talk to her.
Luckily, Social Natural gives advice and tips on:
Improving Your Social Skills – Including stuff on how to make your communication better and how to be popular.
How to Pick up Ladies – Providing even ways to approach a woman, which openers to use and how to meet them.
Boosting Your Inner & Outer Game – Offering help on how to improve your self-confidence, body language and conversation.
Dynamics – Sharing information on the social game and nightlife.
Relationships – Including stuff on friendship and how to expand your social circles.
Sex & Dating – Providing info on attraction, lovemaking, seduction, sexting, and even online dating.
Pay attention: This is an excellent resource for guides on how to step up your game. All the fashion advice in the world won't aid you if you don't know how to hold a conversation with a woman!
This is exactly as its name sounds – a man's assistance. This blog offers tips on how to flirt with women, mistakes to avoid and how to have the perfect make out session.
Aside from sex and dating, you'll also find information on:
Health
Fitness
Investing
Career advice
Pay attention: As a bonus, Man Helper also has a model gallery with photos of beautiful models. The only catch is that you need to subscribe to the site's RSS feed to see the pictures.
Get Frank is New Zealand's top men's online lifestyle magazine. Much like Ask Men, this male portal covers a wide array of topics such as health, lifestyle, entertainment, investing, humor, relationships, and even sports!
If you want to improve your game, head on over to the Love and Lust section!
Pay attention: There are plenty of articles on what women want, how to please them, flirting, meeting ladies and even sex toys. Under the Lifestyle section, you'll find fashion tricks to help you make your look better.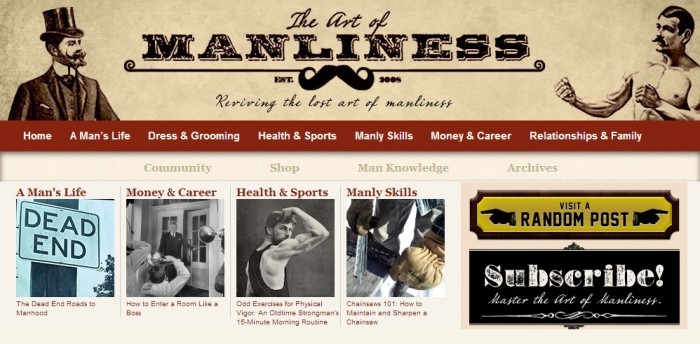 This source is all about reviving the "lost art of manliness" and will provide you with not only advice on relationships, but even info on how to:
Groom like a real man
Dress
Develop "manly" skills
Raise a family
Live like a man
Pay attention: The Art of Manliness even covers some of the most basics of being a man, like knowing when to tuck in your shirt or what your beard says about you.
The name says it all – Real Men Drink Whiskey is the "man's man" of online lifestyle magazines. Aside from whiskey and cocktails, you'll also find articles on other aspects of your life, like sex and improving your game, eye candy, entertainment, and various how-to guides.
These are the 10 most popular that will offer you the best advice on how to step up your look and charisma. There's a lot to get from these sites, so take your time and try not to get overwhelmed!
Read these posts next to improve your sexual skills: