What says "never forget me" better than a cast of your own penis that actually vibrates? Trust me that identical replica of your phallus is a gift of a lifetime!
The Clone-a-Willy is excellent "do-it-yourself vibrating dildo kit" invented and made by Empire Labs company. This crazy product will enable you to make a mold of your penis and replicate it using a silicone and a vibrator for a perfect erotic gift for your significant other!
If you want to know where to get it for the best price and want to learn step-by-step instructions on how to make one for yourself, then read through this unbiased review to the end.
Clone-a-Willy Novice Kit – Stuff That Is Inside!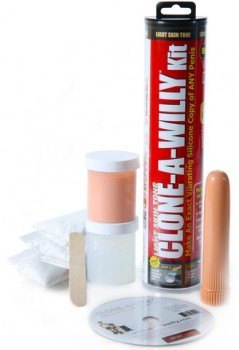 The novice kit is what most people will want to buy at the beginning as this package includes everything you need to get started. Not only is it cheap, but you can get it at larger stores, such as Walgreens, or right online for a more discreet purchase (see the end of this article for places to get it for the best price).
In your kit, you will find:
Clone-a-Willy
Instructional DVD
Extra molding powder
Molding gel
Liquid rubber & skin mix
Multispeed vibrating unit
Be cautious if the package says it includes two extra bags of molding powder as this is normally false. Instead, you will be given 2 bags in total.
Pay attention: The only thing you will need to get on your own are batteries so that your vibrator can actually be used right away! There is an advanced version (that is even better) called – "Clone-a-Willy Plus Balls".
3 Types of Refills Provided by Empire Labs Company
The manufacturer of this great product likes to keep everything as simple as possible! Therefore, instead of buying a new kit, you can buy extra materials and refills to make more copies of your penis.
The following stuff can be purchased:
1 Bag of molding powder ($5.95)
2 Bags of molding powder ($10.95)
5 Colors (light skin tone, deep skin tone, jet black, hot pink, and neon purple) of liquid silicone ($24.95 each)
Extra vibrator ($2.95)
XL vibrator ($6.95)
Please note: You can also get other extra stuff like cock rings ($5.95 – $12.95) or vacuum pumps ($19.95 – $54.95) right from the company.
17-Step Instructional Guide to Create a Vibrating Replica of Any Penis!
Clone a Willy comes with everything you need to get started including instructions and user guide. Many of the kits even come with a helpful DVD!
If you are having trouble getting started, try these simple steps to the first replica of your phallus:
Place your penis into the moulding tube and mark it with a marker.
Cut excess plastic from it.
Warm your tap water to 98 degrees.
Cut open and pour your moulding powder into a mixing bowl.
Measure 1 ¾ cup of water.
Pour it into a bowl.
Mix for 60 seconds.
Pour your mixed powder into the tube. (Note: You have 2 minutes until the mixture begins to harden, so be fast.)
Stick your penis in the pipe.
Stay in this position holding it firmly against your groin.
After a few minutes, touch the moulding to ensure it has solidified.
Once hardened, remove your penis from it.
Pour the liquid skin into a jar and use the stick provided to get out as much of it as possible.
Stir this mixture for 2 minutes.
Pour it into the mould you created and stop when it is an inch from the top.
Grab your vibrator and place it through a small cardboard piece.
Now, put it into the mould with the cardboard holding it to ensure it doesn't slide fully inside and get lost.
Pay attention: Now, you just need to wait 24 hours until it is fully dried and ready for use. Once cured, you can remove your mould, and it is ready for use.
Top 2 Sources of Pictures of Final Clone a Willy Vibrators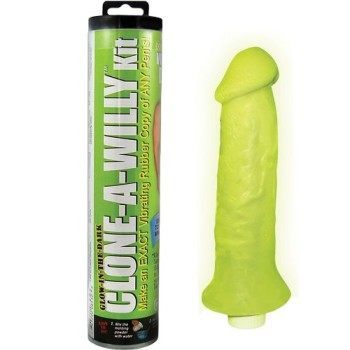 You can view some demonstration and example images online from others that have had success with cloning their own penis.
Just check out these websites:
Official product site offers a gallery where real users can submit pictures of replicas of their penises.
The website Jezebel.com includes article called "Sexual Chocolate: Testing The Clone-A-Willy Kit" where you will be taken through the testing of this product with actual images of a final result at its end.
Pay attention: Just remember, most of these pics will also have a person's penis lined up with the final product for comparison, so they will all be not safe for work!
User Feedback from Various Sources
Final Verdict: Cool Idea for a Naughty Personalized Gift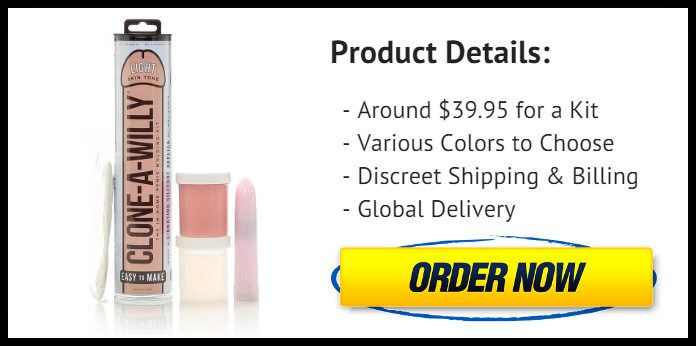 More similar products from the Empire Labs company:
– CLONE-A-PUSSY
– CLONE-A-WILLY Plus Balls Kit