Sex and technology go hand in hand. Each time technology advances, we always seem to find a way to use it to enhance our sexual experience.
Now Fleshlight has introduced a new upgrade that lets you, literally, have sex with your iPad. It's true that most people love their iPads, and the LaunchPAD allows you to show her just how much you adore her.
Now you can bang your way to pleasure town in a hands-free way – all while enjoying the adult movies and naughty content you prefer.
3 Main LaunchPAD Features
This innovative product takes the Fleshlight toy to a whole new level. The LaunchPAD itself acts as a case for your iPad and features a holster that grips onto the male toy.
It features:
Adjustable straps – For quick and easy securing of your Fleshlight. Once the toy is fixed in, you can pleasure yourself while watching videos on your device or while video chatting.
Firm grip rubber – This product is constructed with rubber that grips securely to your iPad, so there's no need to worry about the pad slipping during use.
Possibility to rotate – You can even rotate your device to access the home button or use the camera and share the experience with a friend.
Pay attention: While it is constructed with flexible rubber, it will only work with certain devices, which include iPad 2, iPad 3rd Generation, and iPad 4th Generation.
When you purchase the LaunchPAD ($29.95 on the official website), you'll only receive the mount itself. However, you can buy a bundle pack through the Fleshlight website that includes the PURE male toy or you can buy your favorite model separately.
4 Simple Instructions to Use The Fleshlight LaunchPAD
Its usage is simple and straightforward. Here's how it works:
Wrap the LaunchPAD around your iPad just as you would a regular case.
Place your Fleshlight into the curved mount on the bottom of the device.
Adjust the straps to secure your toy onto it.
Have fun.
You can use it to enjoy your favorite point of view content or chat with a naughty friend through video chat. It's completely hands-free, which means you can adjust the speed and volume of the video without having to stop.
The Fleshlight LaunchPAD allows you to enjoy your favorite adult content in a whole new way, but the product isn't without its flaws. Let's take a look at the pros and cons of this mount.
The Good (3 Pros)
Easy to use – Simply insert your iPad into the LaunchPAD and strap your Fleshlight toy onto the bottom of the device. This simple two-step process lets you get straight to the fun so you can take advantage of those spontaneous intimate moments.
Pleasure overdrive – Immerse yourself in the experience and use your LaunchPAD with a point of view of adult content, or enjoy some intimate face time with a friend. The firm rubber grip allows you to really get into the mood without worrying about it slipping out of your hands.
Hands free – Additionally, it allows you to have hands-free stimulation.
The Bad (2 Cons)
Limited – This product is not compatible with the version of iPad First Generation, Air or any other tablets on the market. Sorry Android fans!
Fixated position – Sadly, you can't tilt it forward or backward. You're stuck with a 90-degree angle, which may be a problem if glares on the screen are ruining the experience.
LaunchPAD vs. 3 Other Fleshlight Upgrades

This brand offers more upgrades to your fleshlight experience. No matter your preference, this company has you covered. I have compared most popular accessories and here are my results:
Vstroker – This upgrade comes with a simple USB device to provide you with the interactive sex session. Just plug it into your tablet or computer to enjoy your most favorite steamy point of view (POV) adult content.
Shower Mount – Just attach it to the wall using super strong suction cup, adjust the angle to your liking and enjoy hands-free pleasure. This is another great accessory to have, especially since you can't use your LaunchPAD in the water.
Phone Strap – Watching your favorite adult movies on your smartphone while playing with your Fleshlight was never easier. Just attach the clip to your leg, insert your device and enjoy your naughty chat sessions in a whole new way.
Pay attention: This brand also offers various mounts, so you can use your toy in a variety of positions and angles.
Final Verdict: Crazy Upgrade of Your Fleshlight Experience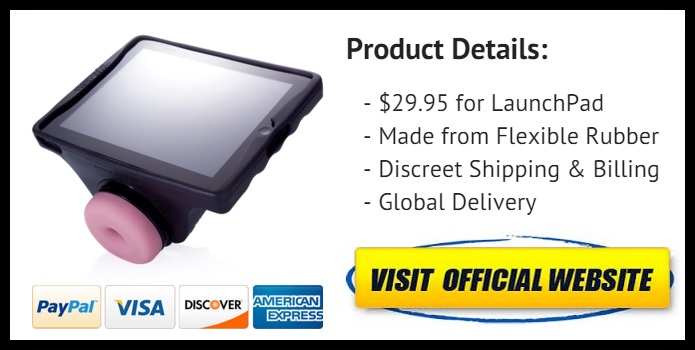 The LaunchPAD is a must-have accessory for any Fleshlight user. It provides hands-free self-pleasure in a unique way. Strap in your favorite toy and go to town while watching your adult content or chatting with a friend.
For the low price of just $29.95, this is an upgrade that every user can afford and will absolutely enjoy!