There are situations when a special night of fun requires something more than just an ordinary sex toy. Sometimes, it calls for serious hardware! "So, what the HELL are you talking about James?" Some of you may ask this question.
Well, stay tuned as the thing I am going to present you in this great article is called a sex swing. Trust me that this product may dramatically change how you look at passionate intercourse!
The Basics of Sex Swings
This product was designed purely for lovemaking and allows either you or your partner to sit in a suspended chair above the ground. The best part?
All your weight will be completely supported!
Depending on the model, this toy can also include stirrups for your legs, making it easier to separate them. However, why should you use one?
There are 2 main reasons for it:
This swing allows you for some serious dominant versus submissive role play.
It increases your mobility, allowing for various exciting angles to hit all her "sweet spots" leading to insane whole body orgasms!
Pay attention: This toy opens wide doors to your fantasies to a lot of new things that can make your sex much more pleasurable and fun!
4 Main Models of Sex Swings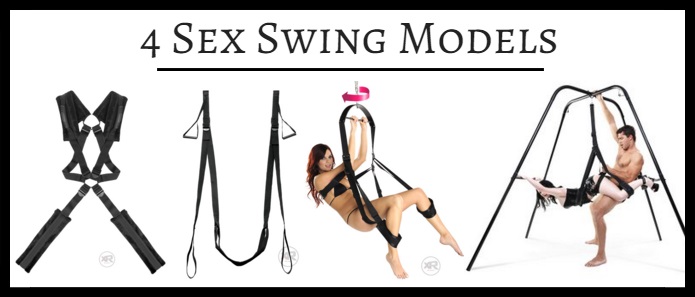 In general, I was able to discover 4 main types of this sex toy:
The body swing that is anchored to a standing man who needs to hold whole weight of his woman.
The door version is fixed to a door frame and can usually support around 200 pounds.
The hanging model is the standard version that is connected to a beam or other strong element in your home.
The self-standing version is one that hangs from its own construction that takes a lot of space and provides for great pleasure.
Pay attention: This toy needs to hold at least 2 times the weight of your partner. Therefore, you need to be extra careful when setting your swing up!
So Then, How to Use One?
Watch This Great 2-Minute Video with Tips for Using Sex Swing
There is no general guide to using sex swings as there are slight differences with each and every model! However, what it usually all comes down to is a very simple process:
First, you need to set your swing up according to manufacturers instructions.
Then one partner (usually a woman) needs to sit naked on the swing with his or her feet in the stirrups.
The other partner (generally a man) needs to stand naked in front of her.
Then both partners use the swinging motion as an aid in every type of intercourse, including vaginal, anal or even oral sex.
Keep in mind: The best part is the freedom for a man to move around, and the possibility to build momentum for intense and incredibly satisfying thrusting power!
4 Questions to Ask Yourself Before Making Your Purchase
Firstly, you need to ask yourself following two questions:
Where do you want to have it?
Do you have any strong supporting beams available on your ceilings for standard hanging swing?
Do you have enough place for a self-standing version?
Is your partner strong enough for body swing?
Pay attention: Honest answers to these questions will help you decide which model will be the best for you. However, if you have enough privacy and access to a necessary supporting beam, then I highly suggest you the standard hanging swing!
3 Must-Have Features to Look For
Once you choose the appropriate model, there are 3 crucial things you need to look for:
The strength of chain/rope – Choose a product that includes a supporting chain or rope that can hold well beyond the weight of your partner as the dynamic loads during swinging and thrusting represent much greater stress on your chain!
Elastic, comfortable material – The materials used in your swing should be elastic and of a high-quality to be comfortable. These include nylon webbing, canvas, leather or even layered latex or rubber!
Accessibility – Remember, the primary goal of the chair is offering access to your (or your partner´s) genitals, mouth, buttocks, and perineum – something that comfortable metal chair on a chain will not provide!
Keep in mind: Be sure that both you and your partner do not have allergies to metals and latex as any allergic reaction will ruin all your fun!
4 Best Models Worth Getting
#4: Trinity 360 Spinning Sex Swing by Trinity Vibes
As you can see in the image above, the Trinity 360 Swing is black and made out of nylon, metal, and ABS. It has various padded supports for your back, butt/thighs, and feet/calves.
What is more, this model has wider nylon straps with self-tightening buckles and a torque bar for added support for your wild love making sessions.
Pay attention: You can spin this sex swing in 360 degrees. While it has lower maximal weight, it will cost you between $70.00 – $150.00 depending on the e-shop you are ordering from.
#3: Pleasure Swing by Whip Smart
The WhipSmart sex swing comes in a "Mystical black" color and has good ratings by verified Amazon customers. As you can see, it is similar to the Trinity 360 Sex Swing and is made out of nylon straps with padded supports and metal buckles.
Pay attention: This product will cost you around 75.00 depending on the place you are ordering from.
#2: Fantasy Bondage Swing (Fetish Fantasy Series) by Pipedream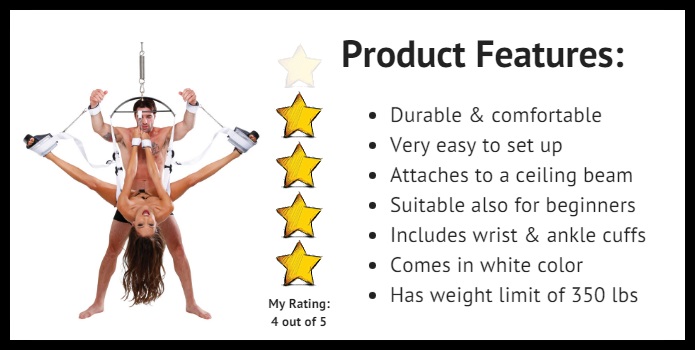 Difficult positions and angles are now easy to achieve thanks to this sex swing that mounts into a ceiling beam or an underside wooden frame of a sturdy doorway.
This swing includes:
– Heavy-Duty Steel Eyelet Bolt, Heavy-Duty Link Chain, Torsion Spring, Metal Support Bar, 2 Large Padded Supports for Butt and Back, 2 Small Padded Stirrups for Legs, 2 Wrist Cuffs and 2 Ankle Cuffs,Strategically Placed O-Rings, 2 EZ-Open Connecting Hooks, Instruction Sheet and a Free Satin Love Mask.
Keep in mind: This is a really great model that is ideal for beginners and its price varies between $100 – $200.00.
#1: Ouch! Deluxe Sex Swing by Shots Media
If you are looking for something that looks like a piece of art, then Ouch! deluxe swing may be just for you. Made in Europe, it offers an exclusive design finished with chrome plating.
Its belts, ties, and straps are all made from comfortable T-shirt cotton that is smooth and soft on a bare skin, offering a very gentle grip, even under pressure. This model is completely latex free so it is great for those who are prone to allergies.
Pay attention: Because it is a luxurious swing, it will cost much more. Its price is between $399.00 – $799.00 depending on the e-shop you are ordering from.
Final Verdict: Must Have Toy for Fun & Passionate Sex
Although there are many different places for you to buy yours, not all models and brands are trustworthy, safe, and durable! However, I have found only 2 places where you can get these sex toys in a high-quality for an excellent price:
eXtremeRestraints.com – The eXtreme Restraints offers numerous models for every type of sex swing currently available on the market.
PipedreamProducts.com – The second site offers fantastic models from Fetish Fantasy Series!
So, next time you are in the market for something to spice up your lovemaking, you should definitely think about your new sex swing.