Valentine's Day is right around the corner. Are you ready? Of course not. If you were, you wouldn't be reading this article.
You're a guy, and you need to find a way to spark attraction in a world filled with cell phones, romantic movies, and impossible-to-meet expectations. Maybe you've been dating her for a long time, and nothing will beat the time you brought her to Rome.
This means that you're in a pickle. You need to find something that's a little bit different and exciting to ensure that you have the best Valentine's Day possible – she deserves it, right?
The following nine ideas will help you get through your Valentine's Day and look like a knight in shining armor.
Idea #1 – Make a Fancy Dinner Reservation
You know what you like to eat. I found out the hard way that I just don't like fancy food. Crabs, lobsters, food that nobody knows how to pronounce – it's not for me.
So, go off of what you already know about her, and book a dinner reservation at a fancy place she'll actually like.
If you're the type of person that doesn't like huge crowds (it will be crowded on Valentine's Day), choose to do it the day before or after Valentine's Day for a quieter meal.
Keep in mind:
A fancy dinner reservation can be made right online, and I recommend choosing a place where both of you can dress to the nines. After all, Valentine's Day comes once a year, so you want to dress your best to impress.
I recommend looking on Yelp or Trip Advisor (trust me here) for good restaurants and using opentable.com to book your reservations if possible.
Idea #2 – Go Out for a Valentine´s Day Cocktail Night
Maybe you prefer not to go out to the club. Why not go out for a Valentine's Day cocktail night instead?
Find a good bar or upscale nightclub that you can go and have a good drink at. I would also recommend going out to dinner, or buying some appetizers or snacks while at the bar.
This is an excellent choice for anyone that is on a tight budget!
Idea #3 – Take Her Out for a Wine Tasting
You're over the kid stuff. You don't really like the bar scene, and you guys got to eat all the time. What can you do?
Be sophisticated!
Nothing screams sophistication like wine tasting. You'll find that many wineries offer wine tasting, and you may also be able to find something a little fun, like wine tasting and painting.
Pay attention:
I recommend going to Groupon or Living Social to see what's available in your area.
Idea #4 – Recreate Your First Date for Her
If there's one thing women love, it's the memories you create together. Recreating the first date you had together is the perfect choice for a Valentine's Day evening.
Try to re-create it down to the very last detail:
Wear the same outfit, if possible.
Go out to the same restaurant or movie theater.
Wear the same cologne.
Play the same song that you heard in the background.
Pay attention: If you can re-create the first date, you will make a memorable Valentine's Day.
Idea #5 – Reserve a Spa Day
Spoil her, and she will spoil you. Sometimes, women want something a little more simple – to be pampered. One of the go-to Valentine's Day presents that a man can give to a woman is to reserve a spa day for her.
Use Yelp to find a good spa, and you can use Groupon or Living Social (or a similar site) to find the best deals!
Idea #6 – Prepare a Surprise Dinner with Candles
A surprise dinner with candles will definitely knock her socks off. I know, I know "what am I going to make her?" The great thing is that the Internet provides you with unlimited opportunities to become a chef overnight.
Don't go out and buy a preheated meal. This will backfire on you! Instead, purchase some candles and learn to cook.
A few great places for easy recipes include: All Recipes, Food Network, Food.com, The Kitchn, Yummly
Pay attention: Roses, candles, dinner – do the works. She'll love it!
Idea #7 – Give Her an Erotic & Relaxing Massage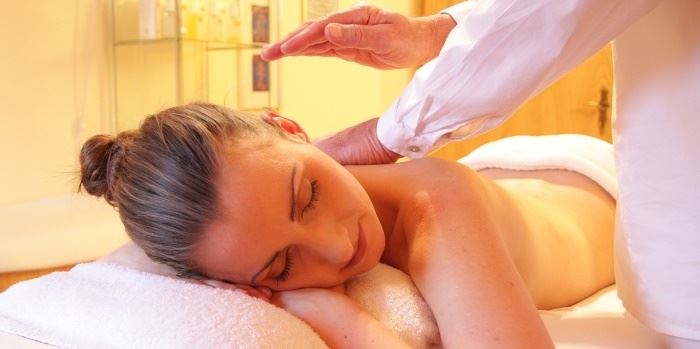 If you think that an erotic massage is something you won't like, you're absolutely wrong. Women may not want to admit it, but a sensual massage, or a relaxing massage, is always a welcomed gift on Valentine's Day.
I know what you're thinking – you're going to be terrible. But this is the time to really shine.
Idea #8 – Prepare a Netflix Night
A night of Netflix may be the best choice if you're on a tight budget. Cue up some movies, and start watching them together.
There are a lot of movies to watch, and a few of the most romantic ones I recommend include:
Amelie
Roman holiday
Moonrise Kingdom
Bridget Jones's Diary
His Girl Friday
Chasing Amy
Shakespeare in Love
The African Queen
A Room with a View
Silver Linings Playbook
Pay attention: Don't get me wrong, most men will not like these movies, but you're doing this for her – remember that!
Idea #9 – Rent a Cabin & Go Skiing
The final idea that we have is to rent a cabin and go skiing. You have a variety of choices depending on where you live, and skiing or snowboarding is always fun.
If you've never been skiing, book a class.
Learning something new, like skiing together, will be a memorable moment that both of you can look back on and laugh about.