This Valentine's Day, why not do something extra special for her? You don't want to be scrambling last-minute to find her the perfect gift, and the big day is coming up faster than you can imagine.
If you don't do something significant and memorable, you'll have one very unhappy lady on your hands.
Don't worry – we're here to save the day with 40 romantic Valentine's Day gifts for her. This extensive list is divided into three parts, and each one includes different categories of presents:

Flowers
Idea #1 – Bouquet of Roses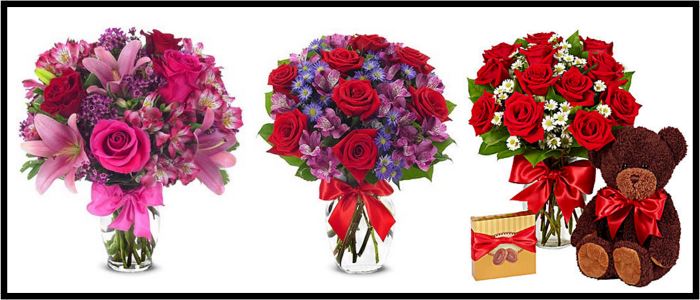 A beautiful bouquet of roses is a classic Valentine's Day gift. We've listed some of the absolute best rose bouquets on the planet, and many of these vendors have next day and the same day delivery!
The best part? These are rather affordably priced, and you'll able to send your own message to her.
For $31.99 – $171.99 on FromYouFlowers.com
Idea #2 – Orchids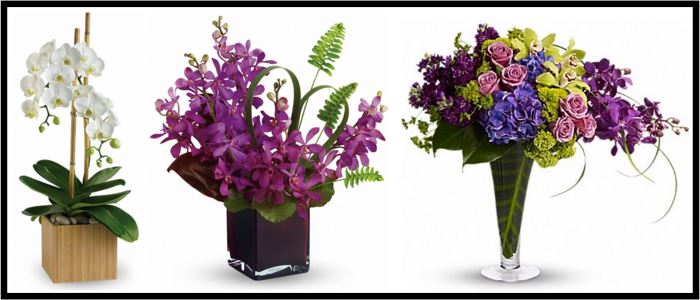 Some women love roses, and some hate them. Or you may be giving a Valentine's Day gift to your grandmother or mother, and a romantic rose simply won't do the trick.
There are several orchid arrangements available in a variety of colors, including blue, orange, white and several other hues that will look perfect and remind her of you.
For $49.95 – $219.95 on TeleFlora.com
Idea #3 – Sunflowers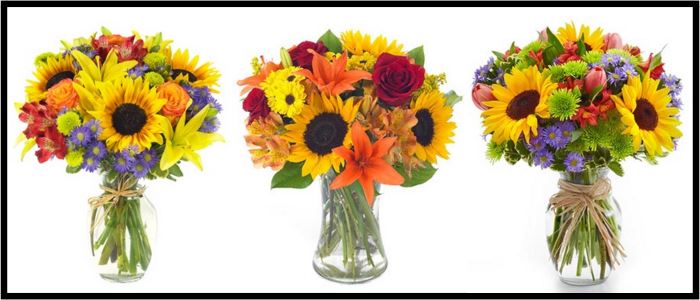 Who doesn't love sunflowers? We've provided dozens of different sunflowers for you to choose from, and the bestseller is just over $30.
We also have the same option as the first two choices where you can choose same-day or next day delivery.
For $27.99 – $95.99 on FromYouFlowers.com
Idea #4 – Tulips

Tulips are a great choice for her because they offer a variety of different colors. You can choose a bouquet that has 30 different tulips included, or a simple multicolored bouquet.
Some of the choices also come with chocolates and wall art to make her day a little extra special!
For $19.99 – $149.95 on ProFlowers.com
Idea #5 – Double The Love Bamboo Sticks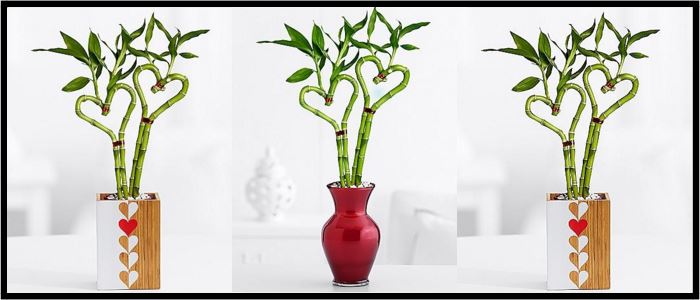 Okay, you don't want to give her something that other women will be receiving, too – I get it. She is special, and you want to give her something that really stands out.
Why not give her double love bamboo sticks? These have been formed into two hearts, and they are just adorable!
For $34.98 on ProFlowers.com
Food, Drinks & Sweets
Idea #6 – Baked by Melissa Mini Cupcake Gift Set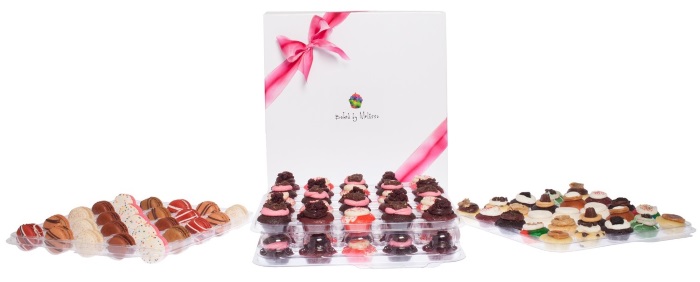 Do you know what she will appreciate even more than candy? Mini cupcakes. That's right, you can buy mini cupcakes in packs of 25. A beautiful gift box will be included, and bite-sized desserts make the perfect gift for her.
Oh, I almost forgot to mention, you won't be the one making these – they can be delivered right to her front door!
For $45.00 – $90.00 on BakedByMelissa.com
Idea #7 – Organic Flowering Tea Set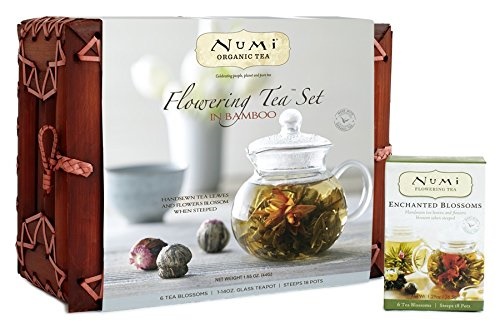 Does she like tea? Why not choose a flowering one? This set offers a handmade mahogany bamboo case and a box that holds all of the enchanted blossoms flowering tea.
You'll be able to watch the blooming tea through the 16-ounce glass teapot that's included – an amazing buy!
For $39.99 on Shop.NumiTea.com
Idea #8 – Giant Gummy Bear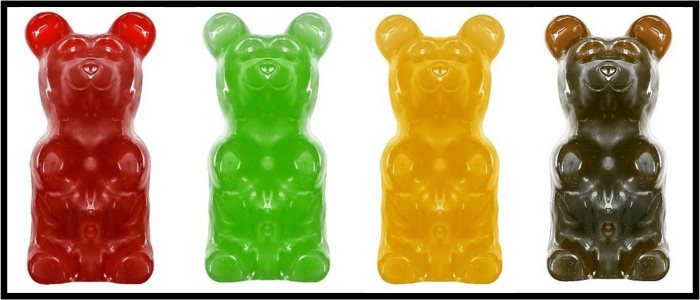 Gummy bears – the ultimate treat!
You can buy a 5-pound gummy bear that's made in the United States and comes in 11 tasty flavors: cherry, cherry cola, fruit bubblegum, grape, lemon, lime, cola, orange, raspberry, sour apple, and pineapple.
For $29.95 – $47.05 on Amazon.com
Idea #9 – Club W Subscription

Club W is the perfect gift for sophisticated women. This subscription can be purchased for just $50, and you can choose the duration (the base price is $50). What happens is that she will be able to choose between some of the best wines in the world, and they will be shipped to her each and every month.
She can choose different wines for different months if you provide her with more than a one-month subscription.
Keep in mind:
It's the perfect way to allow her to choose her own wine, and it's a gift that can keep giving if you select one or more months of subscriptions.
For $50.00 per month on ClubW.com
Idea #10 – Broadway Basketeers Ultimate Valentine's Day Gourmet Gift Tower
A gourmet gift tower that will provide you with a variety of different treats at a low price. These towers can be delivered straight to her door, and they include something that she will definitely like – chocolate.
Some of them include small chocolates, pretzels, white chocolate pretzels, caramelized corn, chocolate balls, organic chocolates, tootsie rolls and other delightful treats.
Pay attention:
If you're going for variety, this is the right choice for her for this Valentine's Day – there's just so many different great treats included.
For $29.95 – $39.95 on BBBaskets.com
Idea #11 – Sugarfina Sweetheart Bento Box

Colorful and delightful, a Bento box includes some of the sweetest gifts that she can get. This particular box has many different treats, including:
Four different types of heart gummies
Lip gummies
Butterfly gummies
Chocolate eggs
Heart/chocolate egg combo
Pure variety is what you get when you choose this gift!
Not only can this be delivered, but this item has been featured in several of the world's biggest publications geared towards women: People, Allure, Cosmopolitan, Glamour, and Food and Wine to name a few.
Pay attention:
The chocolates are also made in Germany, and they are delectable.
For $29.95 – $39.95 on Sugarfina.com
Idea #12 – Cherries and Strawberries Dipped in Chocolate

The final items in this category are cherries and strawberries dipped in chocolate. A delight for any woman. And these aren't just plain chocolates that have no character or personality.
You can buy football strawberries that have been hand dipped and decorated to look like footballs. You can buy little cherries that have cute faces on them, or beautifully designed circular chocolates with white and black chocolate mixed.
There are also cake pops, pretzel rods, and several other items for you to choose from!
Pay attention:
If she's more into the gourmet type of food, this is a great choice because these are very high-quality chocolates. You can never go wrong with chocolate covered strawberries, or cherries.
For $19.99 – $99.97 on Berries.com
Jewelry & Accessories
Idea #13 – Pearls of Happiness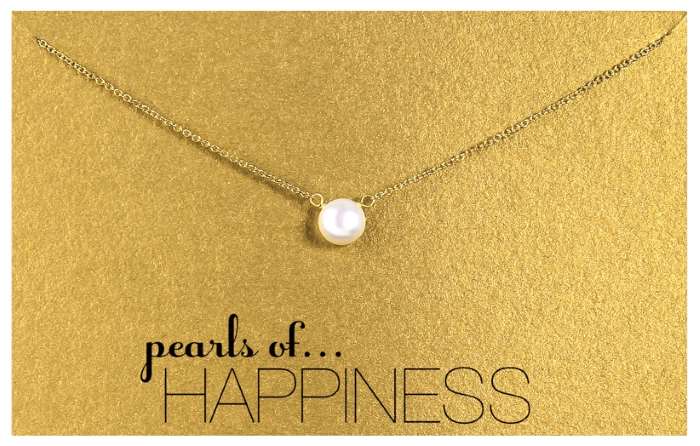 Pearls scream elegance and class, and the "Pearls of Happiness" necklace is the perfect choice for you. A 16-inch gold chain is included, and a 5.5 mm white freshwater pearl is perfectly fitted right in the middle. Your special someone will receive a message personalized
Your special someone will receive a message personalized by you, and this will remind her of just how special she is to you!
For $44.00 on Dogeared.com
Idea #14 – Ruby Heart Devil Pendant with Diamond Accent
Is she a little devil?
If so, this is the perfect gift for you (I promise). This gift offers a 4 5/8 carat Ruby with diamond accents and a 10K yellow gold chain. The Ruby is in the shape of a heart, and the devil's tail goes up into a point, which is a diamond.
There are even little horns at the top of the Ruby that keep it in place to finish off the look. The gold chain is 18 inches in length.
For $99.00 on Jewelry.com
Idea #15 – Personalized Necklace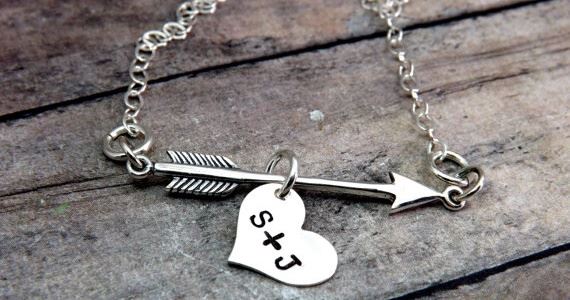 Do you want to make her feel really special? Stop reading, and click on the "Etsy.com" link below!
There are personalized necklaces directly from Etsy, and there are dozens and dozens to choose from. These are one-of-a-kind creations, and you can customize them with sayings, quotes or simply her name.
This is the perfect gift for anyone that wants to feel special and doesn't wish to go the mass-production route. After all, what's so special about a necklace that thousands of other women in the world are wearing?
Nothing!
For $39.00 on Etsy.com
Idea #16 – The True Romance Collection

Are you planning to pop the question or have a lot of extra money this Valentine's Day? The "True Romance Collection" is exactly what you should be looking for.
Diamonds and diamonds and more diamonds are available, and you'll have to contact the company directly to learn more about pricing in some cases.
Here you'll find wedding rings, engagement rings, and rings that will make her melt!
Price and more info on GeraldsJewelry.com
Idea #17 – Teal & Gold Ring Cone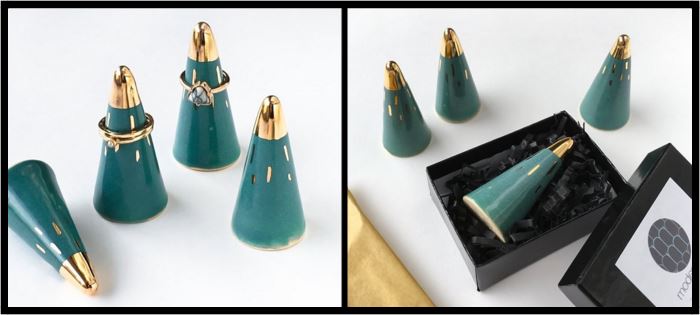 Another beautiful gift from Etsy. This is a handmade, ceramic, gold, teal and white clay design that is shipped worldwide and acts as a ring holder. She can slip her ring off her finger, and place it at the top of the cone for safe storage.
If you plan on popping the question, you can just slip the ring on top of this cone as the perfect surprise!
For $38.00 on Etsy.com
Idea #18 – Personalized Leather Ring Box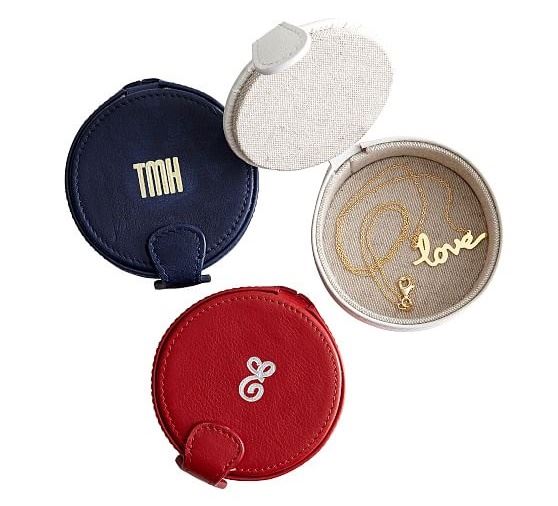 Mark Graham offers the perfect accessory for her. You'll be able to purchase a leather cufflink, as well as a beautiful ring box for her to keep her ring in.
You can select between white, navy and red leather. And you can also customize the leather to have her name, or a simple "I love you" engraved on the classic design.
For $49.00 on MarkandGraham.com
Candles, Items for Massage & Relaxation
Idea #19 – Massage Candle by Jimmy Jane
The perfect gift for you – and her!
Simply light this beautifully smelling candle and let the wax start to melt. You'll then drizzle the warm oil on her skin to provide the perfect, unforgettable massage.
You can also use the oil by pouring into a bubble bath, and simply enjoying the fragrance. The scent is an aphrodisiac, and giving her the perfect massage will get both of you in the mood for a night of fun.
All-natural, this candle does not include sulfates, animal products or phthalates!
For $32.00 on JimmyJane.com
Idea #20 – Edible Massage Oil Gift Set by Earthly Body
Bordering on erotic, why not choose an oil gift set that's edible? This gift set provides the perfect massage oil, and you can have some fun by eating it off of each other.
There are 11 different scents available, and even though the oil isn't sticky, it does provide some added slip for an erotic massage.
For $17.99 on EarthlyBody.com
Idea #21 – Bath Salts

Any woman will appreciate bath salts. When added to a bath, they offer an intense aroma as well as healing properties in some cases.
You'll be able to choose from dozens of different types of salts, and you really can't go wrong with adding this to a gift basket or including it with a box of chocolates.
For $3.49 – $41.99 on SFSalt.com
Idea #22 – Lotsa Love Candle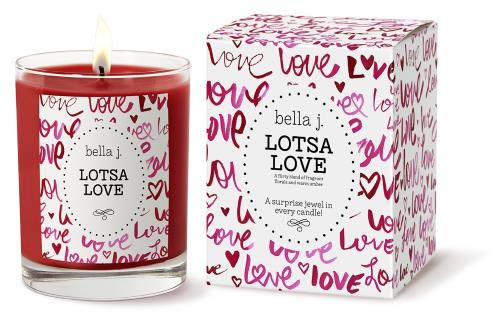 A soy candle that's affordable and built to last. This candle can be lit for four hours at a time, and there's a present hidden inside – a bracelet.
She will love burning the candle and finding the hidden bracelet inside. It's the perfect gift for the budget-conscious shopper.
For $25.00 on BellaJ.com
Idea #23 – Massage Seductions Game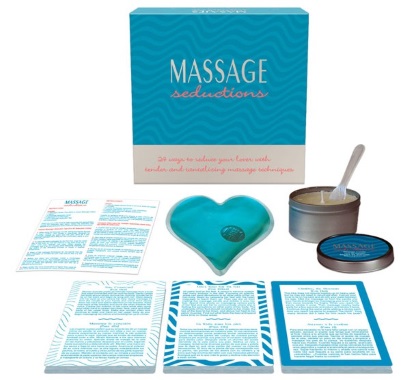 Valentine's Day is about love, but it should also be about the close intimate relationship between the two of you. A fun way to keep the romance going is to play games, and the massage seductions game is a perfect choice.
There are over 24 cards included, and each card has a new way to seduce your partner. There's also an included massager that's good for over 20 uses.
For $22.95 on AdamEve.com
Idea #24 – Luxury Herbal Slippers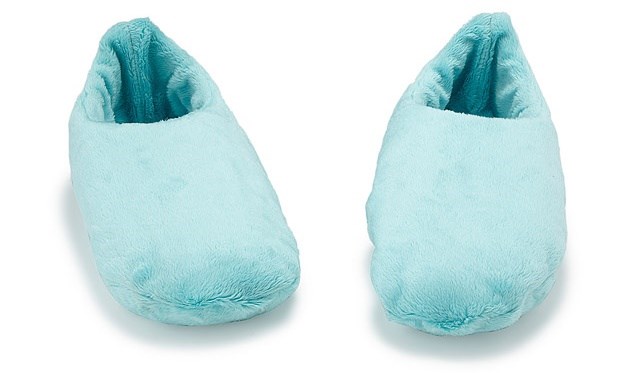 Her feet deserve a break. Luxury slippers are a perfect choice, and these contain herbs inside that produce an incredible aroma while she walks.
This is an excellent choice – especially for moms!
For $29.95 on UncommonGoods.com
Idea #25 – Valentine Amore Romantic Gift Set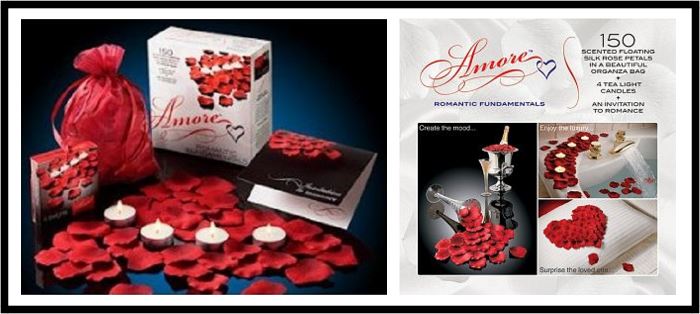 It's time to turn on the passion, and you could use this set to your advantage. This kit includes:
4 Tea light candles.
150 Floating silk rose petals (scented).
Just imagine as she walks into the bathroom to find rose petals and candles illuminating the space. This is a great way for you to spend time with her, and she'll appreciate the romantic touch that this gift offers.
If you're looking for a little bit of romance, you can't go wrong with this gift set!
For $19.95 on Amazon.com
Perfumes & Creams
Idea #26 – Very Sexy Eau de Parfum by Victoria Secret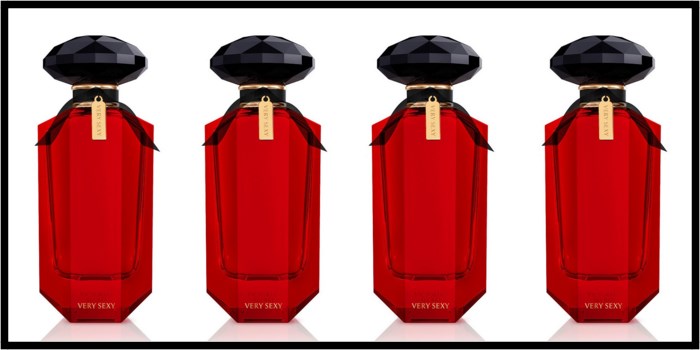 There is one brand that has defined sexy in the 21st century – Victoria's Secret. Very Sexy, the fragrance, offers a warm fragrance that smells like midnight blackberries, vanilla orchards, and sun-drenched clementines.
Offered in a beautiful red bottle, this is one of the hottest perfumes on the market today – and she will love it!
For $52.00 – $68.00 on VictoriasSecret.com
Idea #27 – Coco Mademoiselle Perfume by Coco Chanel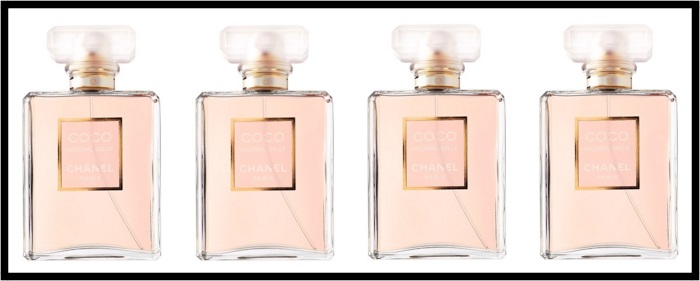 The Coco Chanel brand is a fan-favorite amongst women, and this one is inspired by the spirit of young girls. Very feminine, this is a fresh scent that can be purchased as a spray, perfume or even a body lotion.
The brand also has exfoliants with the same smell. Shower gels are also available, so you have a wide variety of choices with Coco Chanel.
For $70.00 – $120.00 on Chanel.com
Idea #28 – Balenciaga Paris Perfume by Balenciaga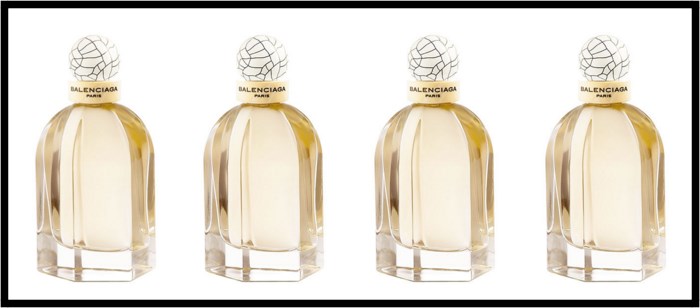 Nothing screams elegance like Paris. This perfume is available in 1.7 oz and 2.5 oz bottles and is one of the company's most prominent perfumes in their lineup.
This is an excellent choice for her if she's been looking for a fragrance that will make her the center of attention in any room.
For $110.00 – $145.00 on Shop.Nordstorm.com
Idea #29 – Bon Bon Lip Balm by TokyoMilk

From cherry to honeybee, there are dozens of lip bombs you can choose from in this collection. Each lip balm is only $10, so this is the perfect gift for anyone that's on a tight budget.
Or if you need a few extra items to add to a gift basket!
For $10.00 on Tokyo-Milk.com
Idea #30 – Aqua Vitae Forte by Maison Francis Kurkdjian

An exquisite scent!
This perfume was inspired by light and heat, and the freshness of light. Floral and woody breeze scents captivate the senses, and you can also have this item engraved with her name to make it extra special.
For $275.00 on NeimanmMarcus.com
Mugs & Personalized Items
Idea #31 – Long Distance Relationship State Mugs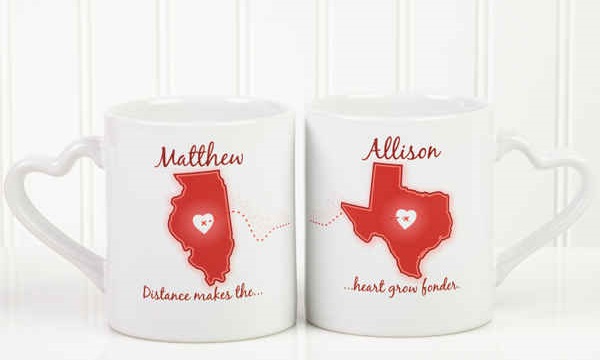 I hate to get personal here, but are you in a long distance relationship?
Sometimes, you simply can't be with the one you love. But this doesn't mean that you can't let her know that you're always thinking about her.
And what better way to let her know that you're thinking about her than over a cup of coffee? Long-distance State mugs are a perfect choice. You can buy her a cup from Texas (where you are from) and one from Florida (to remind you of her).
You can customize these mugs by putting your names or a special message on them!
For $22.95 on PersonalizationMall.com
Idea #32 – Romantic Personalized Coffee Mug Set
Another one that is similar to our last choice. This personalized set comes in different designs, and it offers classic phrases that are perfect for any loved one.
You can also add her name to the side of the mug, or your name to remind her of you!
For $22.95 on PersonalizationMall.com
Idea #33 – Yours, Mine & Ours Decanter Set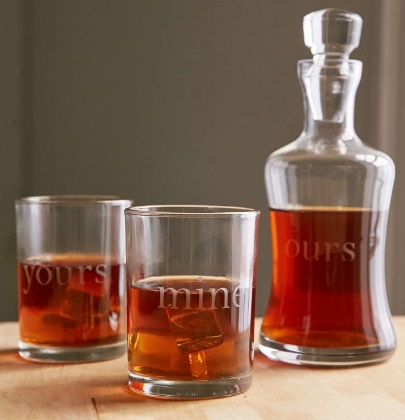 What in the world is a decanter set?
This is a collection of glassware that includes two old-fashioned glasses with "yours," "mine" and "ours" etched on them. There's also a glass stopper for the decanter!
For $39.00 on UrbanOutfitters.com
Idea #34 – Happy Thoughts Glasses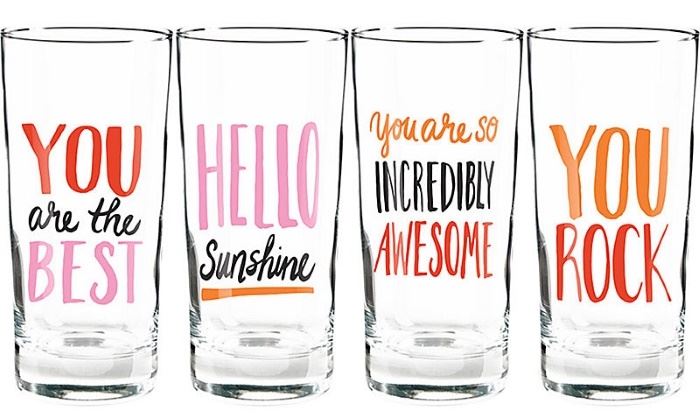 Why give her just one glass when you can give her a whole set? Thought glasses are available with amazing phrases, such as:
"You Are the Best"
"You Rock"
"Hello Sunshine"
"You Are so Incredibly Awesome"
Pay attention: Each of these four glasses can be used on a daily basis, and they will always have her thinking of you.
For $24.95 on PaperSource.com
Idea #35 – Reasons I Love You Stones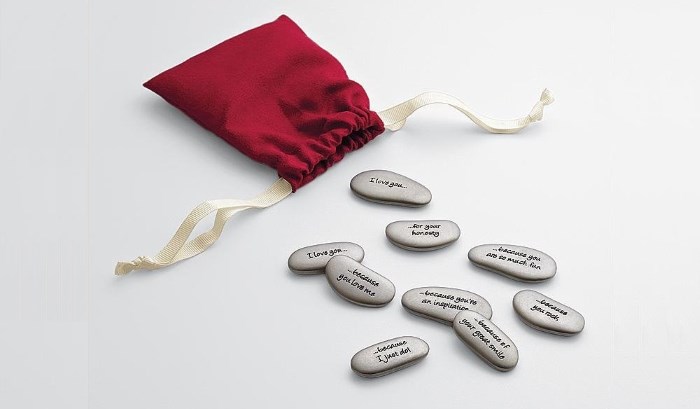 Stones are everlasting, and you can purchase these amazing stones that have etchings on them to tell her why you love her. These are reasons why you love the women that you are spending Valentine's Day with, and she will cherish them forever.
For $39.99 on Amazon.com
Idea #36 – We First Met Here Jigsaw Puzzle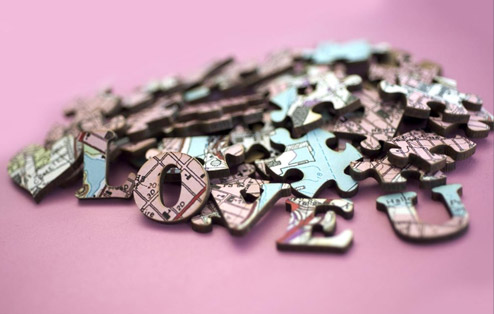 If there's one thing women love, it's to reminisce about the past. This jigsaw puzzle is personalized to remind you both of where you first met.
This is a really neat idea, and you can have a location pinpoint on a map put into a jigsaw puzzle just for you. Imagine her piecing together this puzzle and seeing that the red dot is exactly at the diner where you first met.
You can also order this item in a wooden puzzle for an added price!
For $39.99 on SimplyPersonalized.com
Idea #37 – You Complete Me Jigsaw Puzzle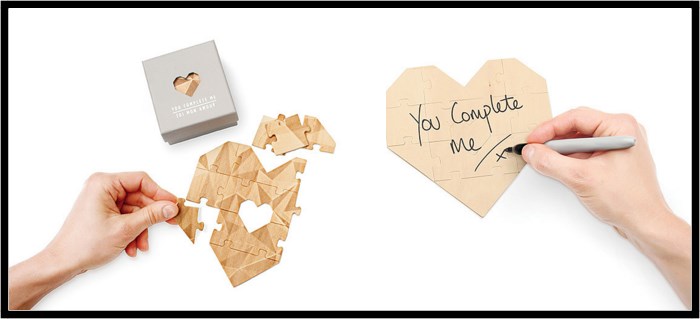 This is an adorable jigsaw puzzle that is shaped like a heart, and has one important message on the back: "you complete me." The puzzle will also say happy Valentine's Day, and includes a way for you to write your own message to your loved one in your handwriting.
This item comes packed in a little adorable square box with a heart in the middle!
For $15.89 on Luckies.co.uk
Idea #38 – Flatter Box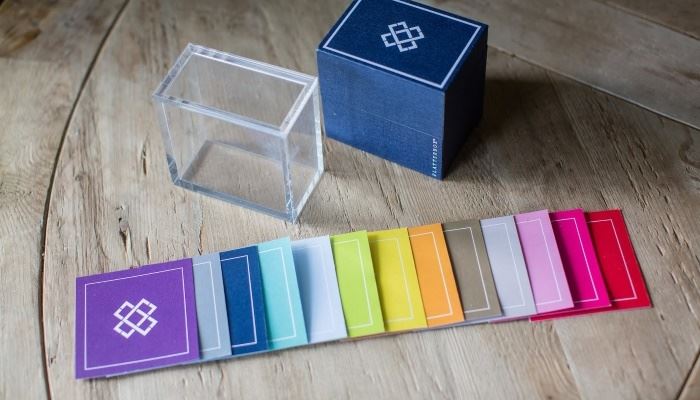 I really enjoy this gift. This is a flatter box, and it has a bunch of words of advice, flattering sayings as well as compliments to give to your loved one.
All you have to do is choose the occasion type, and you'll be given a set of cards that match Valentine's Day perfectly!
For $49.00 on FlatterBox.com
Idea #39 – Apology Notepad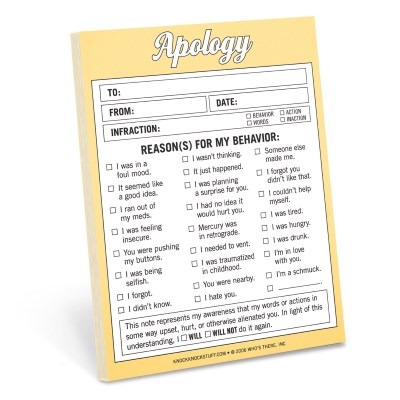 What did you do?
It's so difficult for men to say sorry – it's human nature – but when it's the one you love, you pull out all the stops. This is a nifty apology notepad that has everything you need in it to apologize to her – in template form.
There is a total of 50 sheets included. If you did something wrong this Valentine's Day, this gift is the right choice for you.
And this item costs just five dollars, so you can buy it for any occasion!
For $5.00 on KnockKnockStuff.com
Idea #40 – Heart Book Box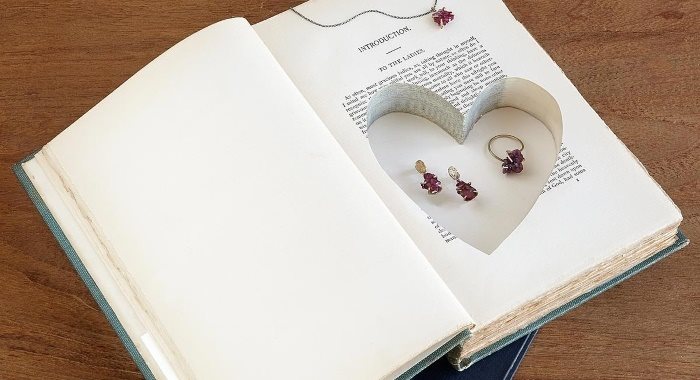 Have you ever seen in the movies how they have hollowed out books that are typically used as safes? This is the same idea. This is a book, or box rather that has pages when you open it, but in the center, is heart cut-out where you can place items.
If you're going to be giving her a bracelet or a pair of earrings this Valentine's Day, this is the perfect way to conceal the item for her special surprise.
If she's a bookworm, she will love this gift!
For $55.00 on UncommonGoods.com
This Valentine's Day, why not get her something special? The 40 items that were listed in this three part series will do the trick. Most of them are extremely affordable and can be bought alongside other gifts to make this Valentine's Day extra special.