Valentine's Day is right around the corner (you didn't forget, did you?). Flowers and candy are classic gifts, but let's face it, this day is all about love and passion.
This year, get her something sexy – something that will make her blush.
And hey, if that new set of lingerie make you happy, too, even better, right? We've got 35 sexy gifts that she's sure to love this Valentine's Day.
The first part of this 3-part post is all about lingerie, body paint, and balms.
Sexy Lingerie & Underwear
Idea #1 – Jenna Quilted Satin & Lace Bra with Thong by Frederic´s of Hollywood
Pink satin and black lace – the epitome of Valentine's Day. This gorgeous lingerie set is feminine and sexy, but still comfortable. Double straps and sheer lace cups create a showstopper look.
You won't dare look anywhere else!
And the set comes with a matching pink and black lace thong to complete the look. Want to take it one step further (you know you do)? Spring for the matching garter belt and a pair of oh-so-sexy thigh-highs.
The Jenna Quilted Satin & Lace lingerie set comes directly to you from Frederick's of Hollywood and is available in four sizes: S, M, L, and XL.
For $48.50 ($34.50 bra & $14.00 thong) on Fredericks.com
Idea #2 – Lace Halter Babydoll by Victoria Secret
Give her something she'll feel confident wearing in the bedroom. Victoria's Secret's sexy lace halter babydoll features floral stretch lace and extra coverage for a perfect fit no matter her body type.
A plunging neckline gives way to a feminine flared waistline that hugs every curve. Available in seven colors and five sizes, you're sure to find the perfect size/color combo for her.
For $34.50 on VictoriasSecret.com
Idea #3 – Satin Kimono by Victoria Secret
Few things are sexier than satin, and this kimono from Victoria's Secret turns up the heat. It's just the right length to make your heart race and comfortable enough to make her enjoy every second in it.
If you've already bought her lingerie, this is the perfect accessory to go with it. But even if you didn't, she'll love this kimono. It comes in 8 colors and two size combinations: S/M and M/L.
For $49.50 – $52.00 on VictoriasSecret.com
Idea #4 – Coquette Garter Belt by Kiki De Montparnasse
Want to go all out with luxury lingerie from one of the most famous brands in the industry?
Kiki de Montparnasse's Coquette set will make her swoon. This sexy black lace garter belt will complement her curves, and make you a happy man.
Here's a tip:
Use the size guide to buying her the right size garter belt. You'll need her pant size, so sneak off and check her tags before buying.
For $150.00 on KikiDM.com
Idea #5 – Lace Top Backseam Fishnet Thigh High by Frederic´s of Hollywood
Fishnet thigh highs. Need I say more?
Okay, maybe this gift is more for you than her, but she'll love it anyway. What woman doesn't want to feel sexy, right?
If you're on a tight budget this year, this is a great affordable gift. It also makes a great accessory to any lingerie set, so feel free to pair it with another gift.
Oh, and if she doesn't have one already – make sure that you get her a garter belt to go with it!
For $14.00 on Frederics.com
Body Paint, Balms & Oils
Idea #6 – Edible Body Paint by Shunga
Forget dessert. Forget the whipped cream and chocolate sauce. Edible body paint is where it's at. Shunga's paint is delectable and incredibly sexy.
It's made from top quality ingredients with no artificial coloring!
It won't stain either, so you can be as wild or subtle as you want. A sexy brush is included, and you have three flavors to choose from: strawberry wine, chocolate, and vanilla and chocolate.
For $14.00 on Shunga.com
Idea #7 – Honey Dust by KamaSutra
Tickle, tease and be playful with KamaSutra's Honey Dust. This edible dust comes with a feature for foreplay and three delicious flavors: strawberry dreams, honeysuckle, chocolate and raspberry.
Honey Dust is a gift that keeps on giving. And when she's done having her way with you in the bedroom, she can use this rich powder as part of her daily beauty routine.
It's a win-win for everyone – especially you!
For $29.99 on KamaSutra.com
Idea #8 – Low-Temperature Drip Candles by ELISEL
Is kinky more her style? Get her a set of low temperature drip candles. You enjoy all the pleasure without the pain of boiling hot wax.
Designed exclusively for adult use, she'll get a thrill out of dripping (mildly) hot wax on you. Each set comes with three colorful candles and costs you less than $10.
For $6.30 on Amazon.com
Idea #9 – Cake Cookie Dough Body Butter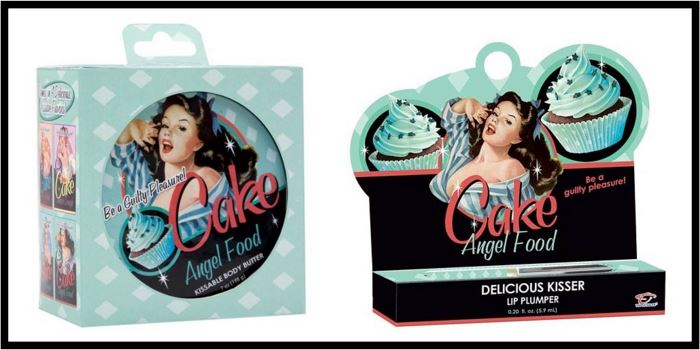 You know what everyone loves? Cake. And body butter. Why not combine these two loves together? That's exactly what Cake Body Butter did.
Delicious and edible with a mouth-watering aroma, this is one gift that both of you will love.
For $17.98 on BobHQ.com
Idea #10 – Spearmint Pleasure Balm by KamaSutra
A kissable body treat that she's sure to love. From KamaSutra, Spearmint Pleasure Balm is refreshing, tingling and cooling. Use this in the heat of the moment to take the pleasure to the next level.
Not a fan of spearmint? No problem. The Pleasure Balm also comes in Crème de Menthe, Strawberry Dreams, Raspberry Kiss and Lime Mojito.
For $16.99 on KamaSutra.com
Bondage
Idea #11 – Fetish Fantasy Purple Bondage Tape
Not into handcuffs? Try bondage tape. This PVC non-sticky tape only sticks to itself, so you never have to worry about it pulling out her hair and ruining the moment.
Use it to blindfold, gag or bind her up for a kinky night of fun. Available in four colors (red, black, pink and white), you'll both love this Valentine's Day gift.
For $9.99 on SexToy.com
Idea #12 – Silky Sensual Cuffs by Bijoux Indiscrets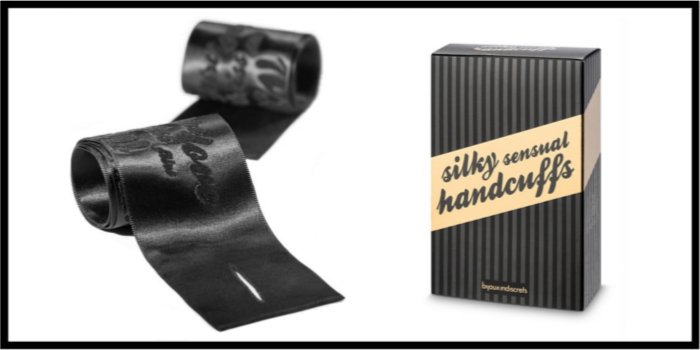 Bondage tape not her thing either?
Get her something sensual and sexy – the Bijoux Silky Sensual Cuffs. Each satin cuff features velvet words of love and lust to heat things up in the bedroom. Go the extra mile, and pair these with the Blind Passion Mask.
For $17.99 on TheVelvetLily.com
Idea #13 – Lelo Dare Me Pleasure Set
A kinky gift set that will make her blush and her heart race. The Dare Me Pleasure Set comes with a pair of silk handcuffs, a suede whip and a couple of Luna Beads Noir.
If she likes to be dominated – or to dominate – this is the ultimate sexy gift for her on Valentine's Day.
For $139.99 on Lelo.com
Idea #14 – Premium Soft Leather Flogger Whip by HB Leather
If she's into bondage, go all out and get her a premium soft leather whip from HB Leather. Made of top-quality leather, this flogger features a braided handle and a wrist loop, so she never loses her grip.
It's got some weight to it, and a sting that will make her (or you) quiver with pleasure.
For $139.00 on Amazon.com
Idea #15 – Fur Lined Love Mask
There's something exciting about not being able to see your lover make their next move. With the fur-lined love mask, she'll slip into sightless pleasure.
Comfortable and easy to wear, you can pair this mask with any one of the accessories above for a night of passion she won't soon forget.
For $12.84 on Amazon.com
Fun & Games
Idea #16 – Sexy Truth or Dare: Pick-A-Stick
Who doesn't love a good game of truth or dare? These sexy truth or dare sticks feature 100 seductions that will spice things up in the bedroom.
Each set comes with 50 sticks with an erotic truth on one side, and a dirty little dare on the other.
For $14.95 on Amazon.com
Idea #17 – Pole Dancing Lessons
Want to make her feel sexy and confident?
Enroll her in pole dancing lessons at one of the best studios in Los Angeles – Luscious Maven. The studio offers classes for every level from an intro class to beginners, intermediate, and advanced lessons.
Pole dancing has been shown to boost self-confidence in the bedroom, so this is one gift she's sure to appreciate!
For $20.00 on LusciousMaven.com
Idea #18 – Romance Sugar N Spice Dice Game
Roll the dice. What will it be?
The Sugar N Spice dice game will have you and your lover rolling three dice for a spontaneous and spicy night. One dice determines the body part, another the sexy action, and the third the destination.
You may be kissing her lips on the couch, tickling her toes on the couch, or doing something a little naughtier. You won't know until you roll the dice.
For $7.99 on BedroomJoys.com
Idea #19 – The Fantasy Sex Deck
She's adventurous in the bedroom, so get her a sex game that can keep up with her needs. The Fantasy Sex Deck features 50 role-plays for a passionate night in the bedroom.
From sex toy play to bondage, this deck has a little bit of everything. Some are a little tame while others are quite extreme.
Have an open mind, and let her play out these scenarios with you this Valentine's Day.
For $14.95 on Amazon.com
Idea #20 – A Naughty Game – I Dare You: 30 Sealed Seductions
A more sophisticated, erotic game of truth or dare, the I Dare You game is fun and exciting. I'll admit that some of the cards are cheesy or goofy, but laughter is just as important in between the sheets.
If she's into sex games and doesn't mind a good laugh now and then, this is the gift for her.
For $14.95 on Amazon.com
Idea #21 – Dirty Darts by Red Envelope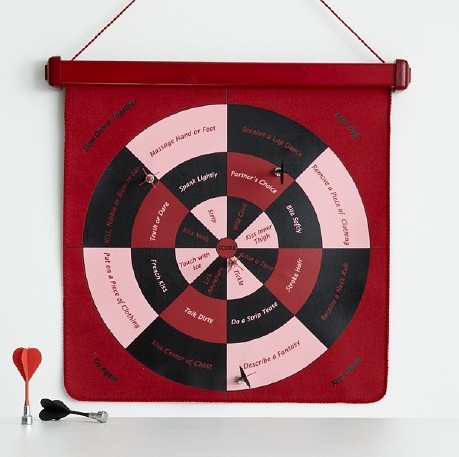 Forget the usual game of darts. Kick it up a notch with the Dirty Darts game by Red Envelope. This isn't the same game you'd find in the bar.
Each time you throw, your dart lands on a sexy action.
The actions get steamier the closer you are to the bullseye, so there's definitely an incentive to play your best. She'll love competing with you to see who can "score" first.
For $35.95 on Amazon.com
Idea #22 – Try The Sexy Little Book of Sex Games
More of a guide than a sex game, this book is jam-packed with fun ideas to heat things up in the bedroom. You'll have a good time trying out the games, techniques, foreplay ideas, dirty talk tips, role-playing scenarios and more.
It even covers erotic massages and sex fantasies. If she wants to be more adventurous in the bedroom, she'll love this guide.
For $12.95 on Amazon.com
Idea #23 – Kinky Love Coupons
Treat her to a little night of pampering with a book of Kinky Love Coupons. Each coupon can be customized to include whatever you want from kisses to something more naughty.
You can even include fine print and an expiration date!
It's a personalized gift that she'll appreciate. And not every coupon has to be for something sexual. Tickets for a massage or home-cooked meal will make her just as happy.
For $8.45 on CouponsforMyLover.com
Idea #24 – Oral Pleasure Mints Cherry Bomb (Warming) by Eat Play Love
Want to make her melt in your hands?
Buy a box of the Oral Pleasure Mints and use them to enhance your oral foreplay. These mints warm up your mouth, pushing her pleasure to the limits while sweetening and freshening your breath.
The best part?
She can use the mints, too, so it's a win-win for both of you. Each package comes with 40 mints.
For $9.99 on PinkCherry.com
Idea #25 – The Art of The Kama Sutra
The Kama Sutra – the age-old guide to passionate sex and pleasure. This translated new edition reveals all of the teachings in the original Sanskrit texts, which are designed to enhance a couple's love life on all levels.
She'll love reading this guide to "sexual etiquette," and you'll both enjoy putting these tips into practice. As an added bonus, the book itself is a beautiful and easy to read.
For $18.00 on Amazon.com
Sex Toys
Idea #26 – Shower Sex Kit with Foot Rest & Handle
Let's face it – sex in the shower is hard. It's slippery and strangely, not lubricating at all. The Shower Sex Kit can, at least, take care of one of these problems.
For fun and easy sex in the shower (without slipping and falling), Sportsheets offers a Suction Foot Rest and a Suction Handle, so you can get the leverage and grip you need for steamy pleasure in the shower.
For $18.99 on SportSheets.com (handle) and SportSheets.com (foot rest)
Idea #27 – OhMiBod Freestyle Wireless Music Vibrator
A wireless vibrator that will make her sing – okay, it's the vibrator that does the singing. Connect this sex toy to an iPhone or iPod and it will pulse with the music for a dual-sensory, unique experience.
And if she doesn't feel like moving to the beat, she can switch over to the manual mode, which boasts seven vibration patterns.
For $120.00 on OhMiBod.com
Idea #28 – GIGI 2 G-Spot Vibrator by LELO
The GIGI 2 will be her new best friend. This vibrator features a curved and flattened tip to hit her in all the right places. It's perfect for solo pleasure, but you can add it to your sexual adventures to maximize her pleasure.
The GIGI 2 is one of the most popular G-spot massagers out there. Trust me, she'll love this gift.
For $139.00 on Lelo.com
Idea #29 – Fashionistas Pony Tail Glass Butt Plug
If she's into pony play, she'll love this glass butt plug from Fashionistas. With a tapered tip, this plug is made of borosilicate glass and is phthalate-free.
She'll enjoy every pleasure-and-pain filled moment when using this plug.
For $44.99 on Amazon.com
Idea #30 – Really Expensive Fuji Glass Dildo with Whip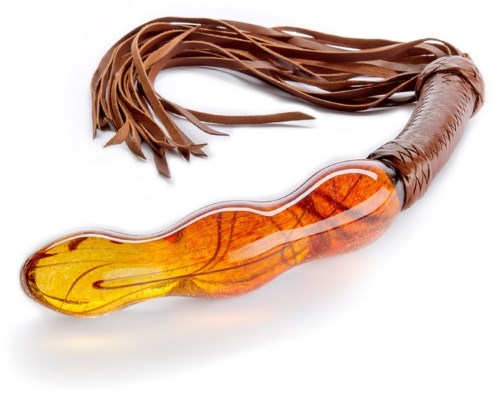 Have a huge budget for Valentine's Day? Get her the ultimate glass dildo and whip!
This handcrafted Fuji glass dildo is a true piece of art and was created using the highest quality materials. Attached to the dildo is a kangaroo-hide whip that was expertly braided by the Queen of England's whip-maker.
If you want to impress her with one of the most expensive, luxurious and beautiful dildos, this is it.
For $1,452.24 on Coco-De-Mer.com
Idea #31 – Hello Touch Wearable Vibrator
The Hello Touch brings futuristic pleasure to the present moment with a wearable vibrator she's sure to melt over. Use it during foreplay for an incredible sensation that will send her over the top.
Small finger-top vibrators attach to a wristband that delivers tingling, pleasing sensations wherever you touch. She'll love this vibrator for solo play, or for foreplay.
For $79.00 on JimmyJane.com
Idea #32 – G-Spot Finger Extender
The G-Spot Finger Extender may be a lesbian-based sex toy, but couples of all types can use its pleasure-filled design.
This over-the-top dildo features two fingers side-by-side, so she can enjoy a mind-blowing experience with a little help from you, her lover. The G-Spot Finger Extender ships in discreet packaging and is billed discreetly, too.
For $39.99 on BettysToyBox.com
Idea #33 – Ora 2 by Lelo
She loves oral sex (who doesn't?), but you're not always there to give it to her. Give her the Ora 2 to keep her satisfied when you're away – or to spice things up in between the sheets.
One of the best oral sex toys on the market today, the Ora 2 may give your tongue a run for its money. It features ten different stimulation patterns and an ergonomic design for comfortable handheld pleasure anytime.
For $169.00 on Lelo.com
Idea #34 – Indulge Me Pleasure Set by LELO
Indulge her. Tickle her. Please her.
That's exactly what the Indulge Me Pleasure Set will let you do. Included in the set is a silk blindfold, feather teaser and LELO's famous NOA Couples' Massager. The massager delivers both internal and clitoral stimulation for an unforgettable night of passion she won't forget.
With the silk blindfold, she'll be guessing your every move, while the feather will make her tingle all over.
For $179.00 on Lelo.com
Idea #35 – Titani 3 by LELO
Want a sex toy that both of you can enjoy? The Titani 3 is it! This world-famous massager vibrates externally and internally to give her ultimate pleasure.
The best part is that the device comes with a remote control, so you can ramp up or tone down the pleasure whenever you desire.
For $179.95 on Lelo.com
These are 35 of the best, sexy Valentine's Day gifts for her. If you're looking to spice things up in the bedroom or enhance your already-steamy bedroom romps, any one of these gifts will do the trick.