Germany produces some of the best beers in the world, and there are many that you've probably never heard of. We're going to discuss 12 of the best beers that come out of Germany, and tell you a little bit about each one offered.
Brand #12 – Weltenburger Kloster Asam Bock
A beautiful mahogany color, this lager has a smooth, balanced taste with sweet malt, plum and raisin accents that will quickly settle in your mug. The aroma is somewhat nutty and reminds you of a strong English ale.
Our note:
The aftertaste is somewhat better, and the beer is thick!
Brand #11 – Roggenbier
Translated to "rye beer," this is a traditional beer found in Germany that consists of a high level of rye. You'll expect a very spicy and sour-like character and a multi-flavor.
These beers are often foamy, and there are several different brewers to choose from!
The Real Ale Brewer offers a beer by the same name, and this is an excellent option for first-time drinkers. The alcohol by volume level is 4.9%, and the spirit is available in the fall.
Our note:
Rich and clear, this beer is carbonated, offering a caramel-mixed flavor!
Brand #10 – Ayinger Celebrator Doppelbock
A stronger beer with an alcohol level of 6.7% by volume. Its aroma isn't the most pleasant, but this beer offers roasted smells and a fruity flavor.
You'll smell molasses, floral hops, and roasted malt; but don't let this fool you – the taste is fantastic! The flavor is complex and offers a syrup-like taste.
Our note:
This is a good beer to drink after dinner or a hearty meal, and you'll taste the flavors of cherries, bread pudding, raisins and sweet malt with every sip.
Brand #9 – Schneider Aventinus Weizen-Eisbock
Schneider Aventinus Weizen-Eisbock is a 60% wheat and 40% barley malt brew. Offering a nearly black color, this beer has a very strong flavor, and a powerful and intense aroma.
The aroma will leave you with hints of bitter almonds and ripe plums as well as bananas and cloves. When this beer touches your palate, it'll be warming and delicious.
Our note:
It's recommended that you drink this beer after a great dish.
Brand #8 – Mönchsambacher Lager
This lager produces a beautiful deep yellow color, and you'll taste a distinct grass flavor when you take a sip. There's a slight bitterness in the mouth, but the lively carbonation offsets the bitterness and provides a delicious flavor.
Our note:
You'll also taste a crisp, fruity flavor that is both smooth and refreshing.
Brand #7 – Professor Fritz Briem 1809 Berliner Weisse
Offering a nearly opaque yellow, this beer has a fizzy white foam and an aroma that is milky and chalky. A rustic flavor, you'll taste straw, lemons and the sweet yeast flavor that is loved in Germany.
This is more of a traditional beer, and it offers a slightly spicy flavor when drank!
Our note:
While marked as a refreshing, this beer is a little thicker.
Brand #6 – Allgäuer Brauhaus St. Magnus Heller Bock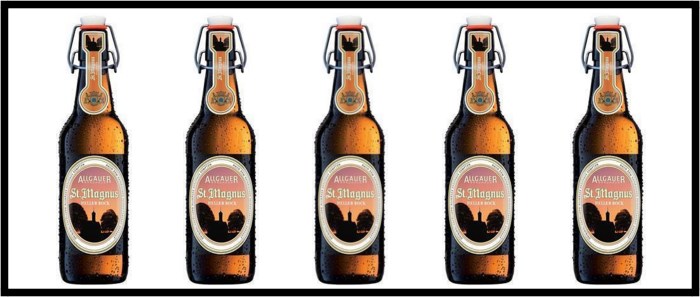 The body of this beer is a beautiful dark gold color, and the aroma is grainy with a hint of tobacco. You'll also notice a slight metallic taste and a husky grain. This is a light drink, and the warmth starts to really be felt after a few glasses.
As it hits the back of your throat, the taste on your tongue will dissipate, and the malt will turn into a slightly bitter or sour flavor.
Our note:
Easy to drink, this beer has a unique flavor that needs to be experienced first-hand to really be appreciated.
Brand #5 – Andechs Weissbier Hell
Untreated and in its natural state, this beer was released in 1993 and has a beautiful honey color. Creamy, you'll find that this beer has a fruity aroma that smells a lot like bananas and honeydew with a hint of cloves.
A refreshing treat, this beer has a soft body and a tangy flavor.
Our note:
Bitterness is felt at the back of the throat and quickly dissipates to offer harmonious aftertaste that is impossible to describe.
Brand #4 – Hofstettner Granitbock Ice
The aroma of this beer will hit you with a roasted toffee scent, a hint of licorice and dark malt. While not too sweet, the finish does taste a little bit like medicine and the tannish foam will leave about 1 inch in your cup.
Offering very little carbonation, this is a nice complex beer that will not leave you too intoxicated after a few drinks. The taste that will hit your palate includes dates, plums, earthy hops, a bit of tobacco, and roasted malt.
Our note:
The taste is extreme – you'll either love it or hate it!
Brand #3 – Aktien Brauerei St. Martin Dunkler Doppelbock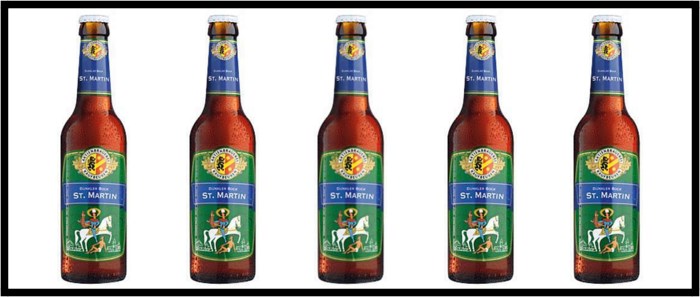 A beer that is one of the most flavorful we've ever tasted. A deep brown color, you'll smell rich caramel and toffee as well as dates and figs when drinking this beer. Not too strong, this beer offers a chocolate flavor and is minimally carbonated.
Our note:
You need to taste this complex flavor of this beer at least once before you die!
Brand #2 – Weihenstephaner Hefeweissbier
It's not often that a beer is nearly perfect, but this is one type of beer that will knock your socks off. When it's poured, there's a white foam that emits a flavor that's refreshing and smells like bananas.
Pairing excellently with fish, cheese, and other seafood, this beer has a banana and fruit aftertaste and is a golden yellow color.
Our note:
Sweet, fruity and smooth is the best way to describe this beer. You won't be disappointed by this beer – it's one of the best!
Brand #1 – Aecht Schlenkerla Helles
A beer brewed in Bamberg; this brand offers a "smoke" taste with a smoky bacon flavor. Low in calories, this beer is 4.3% alcohol by volume, and the malt used in it is smoked over a wood fire to create the perfect taste!
German beers are often paired with food, and all of the beers above offer a very distinct flavor and aroma. Always try a new beer at the bar, as you never know what the flavor may hold!