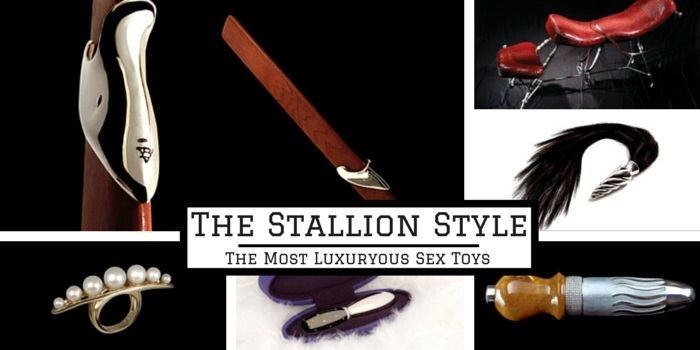 REMEMBER: Below Are 8 Most Expensive Sex Toys That Will Make Her Scream in Pleasure! Toy Number 8 Is REALLY Popular! These Tips Helped Over 26,000 Readers! Photos INCLUDED!
It's kind of sad that buying something of decent quality means having to buy high-end stuff and spending more than you should. But that's reality. If getting her steamed up and horny means using a vibrator, you need the best stuff your money can buy.
Making love is always somewhat of a mind game for any woman who has at least half a brain or more. Any adult and kinky toy that is going to tease her physically enough to make her scream with true pleasure must first manipulate her conscious psyche.

Toy #1 – Fuji Glass Dildo With Whip ($1,400 / £900)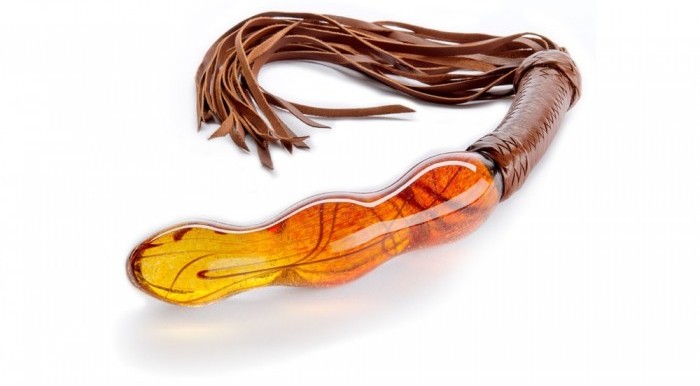 The first exclusive sex toy I want to introduce to you is called Fornicouture Fuji glass dildo with whip. This model is very sensual and is handcrafted by a renowned sculptor.
The flogger part of this dildo is inspired by volcanic Mount Fuji and was created using only the finest materials, such as: translucent amber-colored glass & kangaroo hide. The handle features a spray of thick leather fronds for ultimate spanking experience!
Toy #2 – Ostrich Feather Tickler ($2,515)
There is nothing better that to blindfold your girl and then start to tease her with something fluffy. She starts to feel that tingling feeling not knowing that her skin is softly touching a luxurious jewel worth $2,515.
This is amazing and exclusive product designed by famous Betony Vernon! You can get it in variety of colors such as: White, Black, Red, Purple, Emerald or Pink Champagne.
Its length is around 26,7 inches and is hand-made in Italy. It is composed from two ostrich feathers and its handle is created from Sterling silver of very high quality.
Toy #3 – Silver & Cherry Wood Spanking Rod ($3,000)
Who does not love to get slapped from time to time? If you feel that being spanked by a hand is rather old-fashioned, then I highly recommend you to look for something really elegant and expensive.
Yes, I am speaking about this exclusive spanking rod that is again invented by Betony Vernon. As you can see on the image above (that I have borrowed from her official website) this one has great anatomically designed handle that is made from Sterling silver.
My opinion: I bet that every women would love to be slapped at her ass with this and she would probably even pardon you if you will be hitting too hard.
Toy #4 – The Tally Ho Chair ($14,000 / £8,400)
This is a special piece of furniture that can make her scream before she even gets into bed. It's around $14,000 – the chair that is combining beautiful metal construction together with comfortable leather upholster. Each piece is hand crafted by famous furniture designer Mark Brazier Jones.
What is more, his products are great for various positions with different angles. It has even a footstool that is the best place to sit when you are doing oral. Just remember that every woman's g-spot is in a slightly different location.
Keep in mind: I bet you know what it's like to miss that spot. Now learn to hit it directly. She'll be impressed by your efforts to go for new things. Just try this on her and watch her orgasms coming!
Toy #5 – INEZ by Lelo ($15,000)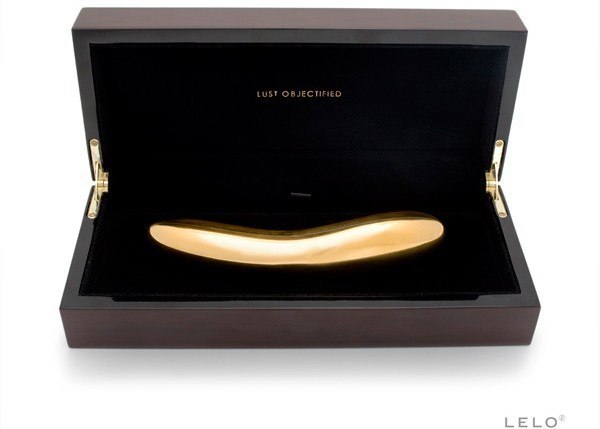 Can a gold-plated vibrator be really necessary to make her scream? To be honest, sex is a mind game for all ladies, so she'll be wet over the idea of a gold stroking her pussy. The Lelo brand offers an exclusive and elegant gem. As already mentioned it is made form 24K gold-plate.
What is more, it even has a special switch that won't accidentally shut off. Don't grumble because cheaper vibrators may not have this feature, after all, this brand comes from no other place than Sweden, and no one seems to know more about these types of things than the Swedes do.
Pay attention: The Lelo makes the top ten list for "million-dollar sex toys" even though it can be had for a mere $15,000 or so. It also comes with full-year guarantee and matching .
Toy #6 – The Nell Pleasure Seed Vibrator ($19,363.20 / £12,000)
The sixth luxury sex toy on my list was created by Coco De Mer. As you can see in the image above, the form of this product was inspired by the shape of a coco de mer seed and is encased in 18 carat gold plate.
This very elegant toy has 5 different vibration patterns with possibility to enjoy each on various levels of intensity of stimulation. It is packed in a beautifully crafted wooden box that is lockable and featuring golden detailing!
Toy #7 – The Eternity Dildo ($38,000)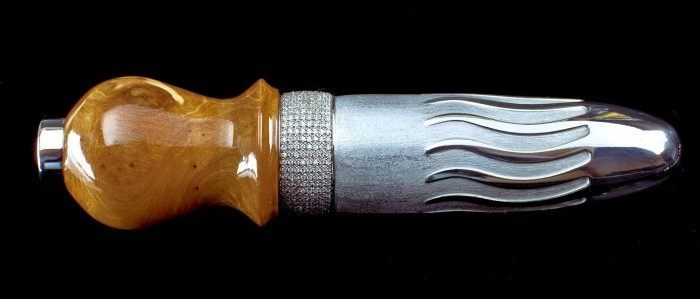 This really exclusive product was created by the famous jeweler Colin Burn. It belongs into his line of really expensive kinky toys called Scarlet Armour.
The Eternity Dildo is composed from:
Polished oak handle.
Ring completely covered with diamonds.
Body made from smooth platinum.
Except this Colin Burn has designed various other exclusive stuff such as whips from oak, silver and human hair, vibrating egg from gold and diamonds and Casanova vibrator, however this one is leading with its enormous price of $38,000.
Toy #8 – Victor Phantasm ($60,000 / £35,500)
The Victor may make ordinary Lelo dildos seem like rental cars. This $60,000 product is a Rolls Royce for the price of a Mercedes, and it comes with jewelry she can wear along with the smile on her face. It is a two-piece toy. It includes two egg-shaped pleasure sources so that it can go deep and make her feel the curves of each egg one at a time – thicker to thinner to thicker.
The base egg is studded with 27 diamonds. It's recommended that she (or you if you're doing it for her) go slow and deep. What is more, the two egg-shaped pieces are removable (they screw onto a center shaft). An elegant ring (including additional 90 diamonds) separates these and of course it can be removed while the eggs stay securely in place.
It is recommended to remove it during use for protection, and she'll want to wear it anyway. It's like a personalized toy with a jewel to say she belongs to you, even when she's pleasing herself with it; either way you will be the victorious one as she screams from climaxes.
Toy #9 – JCobra Cock Ring ($73,000 / £46,200)
This beautifully crafted cock ring is ergonomically bent and made out of solid gold. Created in 10 hours by Master Silversmith from the UK – Jelle Plantenga, this model features 8mm White or Black Pearl and weights only 240 grams.
This cock ring is designed so it will massage your perineum area and stimulate your first chakra. This will lead to firm erections & stronger orgasms!
Toy #10 – King Cobra Cock Ring ($192,000 / £123,200)
Ninth product on this list is amazing King Cobra cock ring! As stated on its official website, this is "the most exclusive CockRing on the globe"! Individually handcrafted by Master Silversmith in the UK (100 hours of work in general), this product is made completely out of platinum and weights around 515 grams.
The ergonomic design in the shape of a Cobra looks great on any man! Not only that, it stimulates his perineum area that leads to firmer erections and stronger orgasms.
Toy #11 – Pearl Royale ($1,000,000)
Diamond-studded dildos may be just for show, but one that have pearls and sapphires as well are a different story. This little "buddy" has together 1000 precious gems including Sapphires, Pearls, White & Pink Diamonds. Some of these pearls can be popped out to be worn on a necklace that can be quite tantalizing to each lady that can get her hands on it.
Every chick will be aroused just by the idea that you bought it only for her, and you have bought not only a sex toy but a beautiful jewelry too. If you can't be with her, remind her she's got a million-dollar dildo until you get back. This is something irreplaceable!
Toy #12 – Beckham´s Gift ($1,800,000)
The only adult toy pricier than a Bentley that was found after some research is "Beckham's Gift". Sadly, there is no image of this one so no one knows how precisely it looks like. However, it should be made of platinum, its base covered by 10K diamonds and connected to diamond necklace (16K).
If this one makes her scream more than any of the others it really has to be because of its rarity and price! There are only ten of them in the world and are the exclusive brain child of David Stringfellow, owner of an upscale London Strip Club.
He made the original as a gift for Victoria Beckham, wife of soccer legend David Beckham, who purchased it for her when she was with child. At $1.8 million each, you might be better off buying a Bentley.