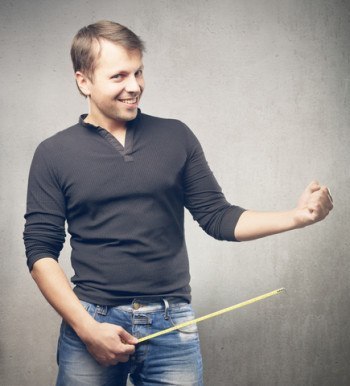 Getting your penis measurements may not be an activity that many of you have real haste to discuss.
Nor one that you want to actually seek out advice in accomplishing.
But in reality, there are many dudes out there who do not have any idea how to do this properly.
[Are You Using These? 8 Great Oral Sex Tips For Men]
Therefore I have decided to create this simple guidance to help them to get to their most accurate numbers.
Why To Actually Measure Your Size?
Because the idea of having large phallus is so tightly intertwined in society with some people's ideas of machismo and security, having a well-established and precise numbers on where exactly one stands as far as length and girth go can be a step forward into knowing oneself better and fostering a much greater self-esteem and power in everyday life.
Just as you cannot choose physical qualities that you are born with when it comes to height, facial features and skin color, how your "little buddy" will look like is also part of person's identity and should not be something that you should be ashamed of.

What Will You Need
There is a variety of ways to accurately measure your own penile size, and they can all be accomplished with the inclusion of just a few simple tools that can be found in any household.
The common things that you will need to do this task are:
Ruler
Soft Measuring Tape
String
Pencil Or Pen
Sheet Of Paper
Before setting out to getting numbers, you should first understand that there are two different parameters to consider while assessing your shaft:
In order to properly measure any of those, it can be helpful to first choose a lubricant that you are comfortable with to achieve erection of your "little buddy" to its maximum possibilities.

No. 1 – Measuring Length
[I Bet This Will Interest You: Are Male Enhancement Pills Toxic & Dangerous?]
A more manual and direct way to do this is to make use of following household items:
Measuring Tape Or Ruler
Pencil Or Pen
Something To Make A Mark On (Paper, Etc.)
This is really simple process that can be conducted in three steps:
Firstly, position the ruler at the very base of the shaft.
Secondly, take care to press into the pubic bone in order to prevent fat deposits from hiding your accurate length.
Thirdly, proceed to marking how long your shaft is from the base all the way to the end of tip of your glans.
That is it!
No. 2 – Assessment Of Penile Girth & Diameter
Both of these are similarly easy processes and all you will need is:
Measuring Tape
Piece Of String
Pen
Your girth can be measured very easily in a three-steps process. To accomplish this, you can make use of a piece of string and pen to get an accurate idea of circumference:
Firstly, you should gently wrap the string around the thickest part of your erected shaft.
Secondly, mark where the beginning of the wrap meets it again once it has been circled around your base just one time.
Thirdly, once the mark has been made, you may simply put this string up alongside a piece of measuring tape for the proper number.
Diameter: What is more, you can figure out width or diameter of your phallus by dividing its girth by 3.14.
After you have solid numbers in all three dimensions you can be assured that now you have the most accurate possible measurement of your penile size. However, it would be wise to conduct repeated trials of each procedure in order to establish an "average" and increase the credibility of the final numbers that you will come to when you are done.
BTW: Here, I have written great article about quick fix ways to last longer in bed that may interest you!

The Authentic Women´s Penis Size Preference Chart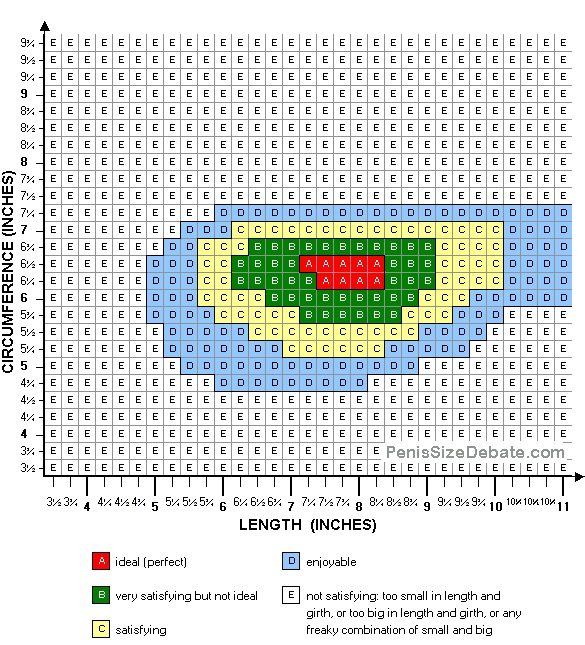 Additional Tips & Average Size
The knowledge of accurate measurements does help you to choose the right condom, which can assist to avoid a potentially embarrassing situation that can result from bringing into the bedroom one that is either too big or too small.
Other Useful Articles:
Condoms come in measurements that are tailored towards the national averages in different sizes. Here are national numbers (in erected state):
Length – 5.5" to 6.3"
Girth – 4.5" to 5.1"
Diameter – 1.4" to 1.6"
FYI: Do you know that you can add some inches to your phallus permanently and in a natural way? Read more about such workouts in my article here.
Therefore, if one's penis is close to these, it would be most beneficial to purchase an average sized sheath. Because different brands can often use various standards of measurement, it can also be beneficial to take a rubber and measure one's erected "little buddy" alongside it to gauge compatibility.
[Article Update: 17/04/2014]
PS: There is even mobile app that will help you get your length and girth for choosing proper condom at PCMag.com!