REMEMBER: I Reveal COMPREHENSIVE Methods to Measure Your Size and Girth! These Tips Helped Over 250,000 Readers of THE STALLION STYLE! The Authentic Women´s Penis Size Preference Chart INCLUDED!
Are you that BIG boy or are you lingering just around the national average? Can you really boast that you have an "elephant trunk" in your trousers?
Many men around the world think they know their size but actually, they did their measuring wrong! Therefore, I have decided to give you a treat – a simple step-by-step guide to your accurate numbers.
Why to Actually Measure Your Size?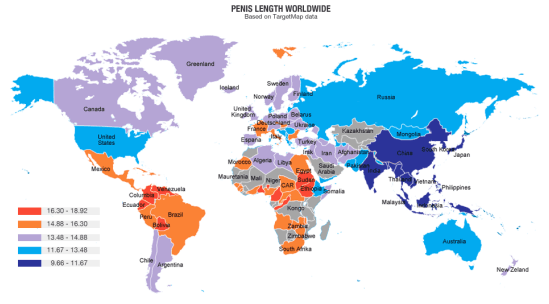 Because the idea of having massive manhood is so tightly intertwined in our society with some people's ideas of machismo and security, knowing where exactly you stand on the scale of length and girth can be a step forward in fostering a much greater self-esteem and confidence in everyday life.
Make sure you read this in case you have small penis:
Keep in mind: Just as you cannot choose physical qualities that you are born with when it comes to height, facial features, and skin color; how your "little buddy" will look like is also part of person's identity and should not be something that you should be ashamed of!
There are 3 main measures you will want to get – the length, girth, and diameter of your penis!
#1 – How to Measure Your Length
You will need: Ruler, pencil or pen, and paper or something else to make a mark on!
Optional: Lube.
The first technique I am going to guide you through is really simple and focuses on your length. All you will need to do is to follow these steps:
Achieve a full erection (you can use lube for added pleasure).
Position the ruler at the very base of your shaft.
Place paper over the ruler.
Take care to press the ruler into your pubic bone!
With you pen or pencil make a mark on a paper where the end of your glans is.
Measure on the paper how long your shaft really is from its base all the way up to the end of your glans.
Pay attention: Pressing the ruler into your pubic bone will prevent fat deposits from making your length smaller than it actually is! These 6 steps are all it takes to get your accurate length.
#2 – How to Measure Your Girth
You will need: Measuring tape or a ruler, piece of string, and a pen.
Optional: Lube.
Getting accurate girth numbers for your penis is very easy and simple process as well! All you need to do is to follow these steps:
Again, you need to achieve a full erection (use lube for added pleasure).
Locate the thickest part of your fully erected shaft and gently wrap a piece of string around it!
Make a mark where the beginning of the string wrapped around your penis meets itself after it has been circled around your shaft just one time.
Once you made the mark, put the string up alongside a piece of a measuring tape or the ruler for the accurate measure of your girth.
Keep in mind: Many women say that this measure is even more important than your length! I recommend you to check out these quick-fix ways to last longer in bed that will interest you as well.
#3 – How to Measure Your Diameter
You will need: Measuring tape or a ruler, piece of string, and a pen.
Optional: Lube, and a calculator.
Getting your diameter right is closely connected to the above process. You will need to follow these steps:
Achieve a full erection (use lube for added benefit).
Get your accurate girth measurements (see the guide above).
Divide the girth of your penis by 3.14 (you can use a calculator to avoid making a mistake).
The number you get as a result is the width (diameter) of your member!
Pay attention: It would be wise to conduct repeated trials (at least 3) of each measurement to establish an "average" and increase the credibility of the final numbers that you will come to when you are done. If you don't do this, you won't be able to measure penis size accurately.
2017 Authentic Women´s Penis Size Preference Chart
According to the size chart above, the ideal penis size is between 7.0 – 8.25 inches in length and 6.25 – 6.5 inches in circumference.
2017 Penis Size by Country in Inches

According to the size chart from TargetMap, the average length in the USA and Canada is between 4.5 – 5.5 inches.
Average Penis Size Chart
You can easily get the national average size thanks to condoms, as these are tailored to these middling numbers.
They come as follows:
Length – 5.5" to 6.3"
Girth – 4.5" to 5.1"
Diameter – 1.4" to 1.6"
Pay attention: So, are you above the average? If not, do not worry as you can actually enhance your size naturally with permanent results. Just check out my exclusive list of 16 ways to make your penis bigger permanently!
Choosing The Right Condom Size
Now that you know how to measure your penis size correctly, you need to pick the right condom. Trust me that you do not want to experience that embarrassing situation when you try to slip on "rubber" that is either too big or too small!
As already stated, condoms come in measurements that are based on national averages (see paragraphs above). Therefore, if your "buddy" is close to those numbers, you should get an average sized "protection". For buying the perfect condom, check out this: Top 10 Condoms That Bring Insane Sexual Pleasure
How to Choose the PERFECT Size and Feel
Click on the Image Above to Watch the Video
Because different brands can use various standards of measurements, you should take a condom and measure your erected penis alongside it to gauge the compatibility.
For your interest: Do you know that you can add some inches to your phallus permanently and in a natural way by repeatedly doing some exercises? Read more about such workouts in my article here: 8 Natural Penis Enlargement Exercises You Have to Try Right NOW!
I hope you like this guide and the numbers you have! Just let us know how you stand on the scale and remember that you can actually increase your size without getting scammed of your money!
Read Next on THE STALLION STYLE